After hearing that I'm from Sweden people in the US often ask 'what is Sweden known for again?' And that doesn't really surprise me, because why would they know about this remotely located land in the cold Nordics, covered in darkness for half the year, and home of a measly 10 million socially awkward and abnormally tall people who all dance around a maypole on midsummer's eve.
But despite our small numbers, harsh conditions, remote location, and sometimes weird people — Sweden seems to somehow have made an impact on the world, so I thought I'd list all the things and people I could think of that Sweden is known for, so that you can whip out this list the next time you are wondering to yourself: What is Sweden Known For?
---
So yeah, that's some of the things Sweden is known for, but as you can probably guess far from all. Feel like going a bit deeper still?
Let's dive in and look at all the things Sweden is most known for, accompanied with examples of people and companies that especially stand out (better strap in, it's quite a long list!).
38 Things Sweden Is Famous For
Swedish Furniture Design: IKEA, Minimalism, and Functionalism
Sweden is the home of minimal and functional furniture design, not the least in the form of IKEA, one of the world's largest furniture retailers.
On top of their ready-to-assemble furniture, kitchen appliances, and home accessories, IKEA is known for its minimalist designs and functionalism, which emphasize simplicity and practicality; two very important Swedish design principles.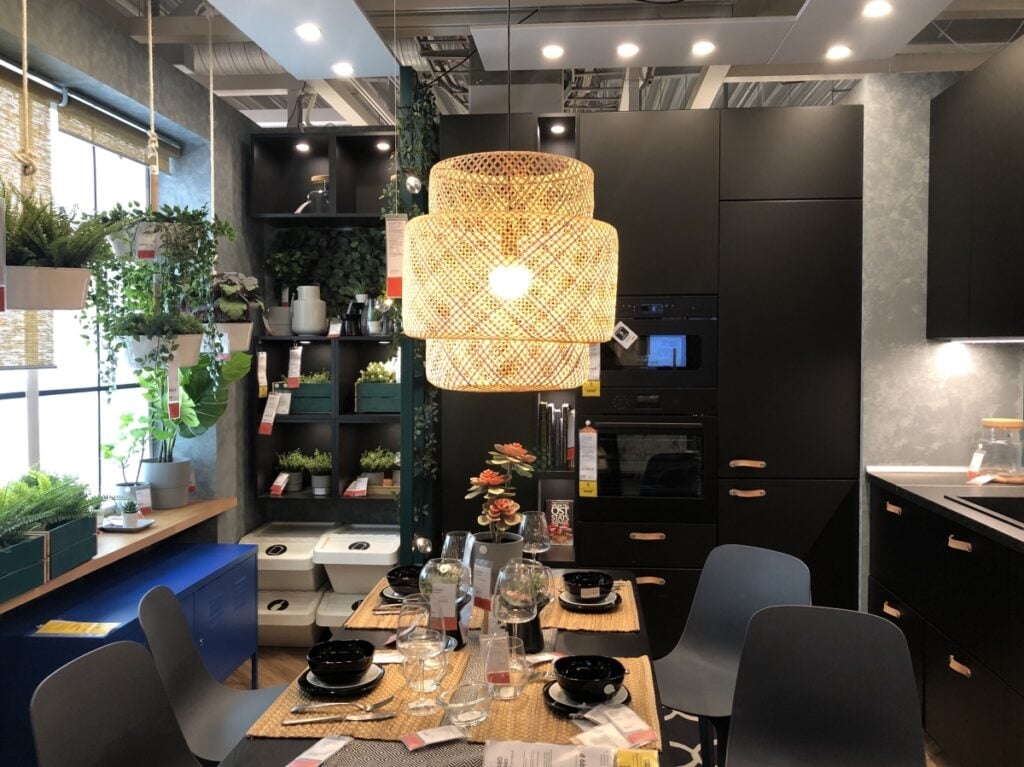 Famous Swedish furniture designers include Estrid Ericson, Bruno Mathsson, Monica Bratt-Wijkander, Carl Malmsten, and Göta Trägårdh.
The 1920s and 1930s saw the development of modern furniture design in Sweden, and the rise of the Functionalist architecture movement. You'll see the legacy of this if you walk through any Swedish city; with whole neighborhoods designed in the Functionalist style with its long hallway-focused apartments and simple concrete or brick facades.
It arose from the ideas of architect Gunnar Asplund, who believed that an ideal modern home should have functionality and practicality above all else. And so, Miljonprogrammet ("the Million Programme") was born — the ambitious public housing project of the 1960s and 70s that had a goal of building homes with good standards at reasonable prices for a million new residents (mainly from lowest income group).
If you'd like to read more about Swedish (and Nordic) design, read my complete beginner's guide to Scandinavian Design.
Stockholm: The Capital of Sweden
The capital of Sweden was founded in 1252 by Birger Jarl, and has since evolved into a major metropolis with a population of over 1.5 million people, and a very popular European tourist destination.
It spans across 14 islands where Lake Mälaren meets the Baltic Sea, and has a beautiful archipelago located just outside the city that is partly accessible by ferries from central Stockholm (an excellent way to get around in Stockholm in general!).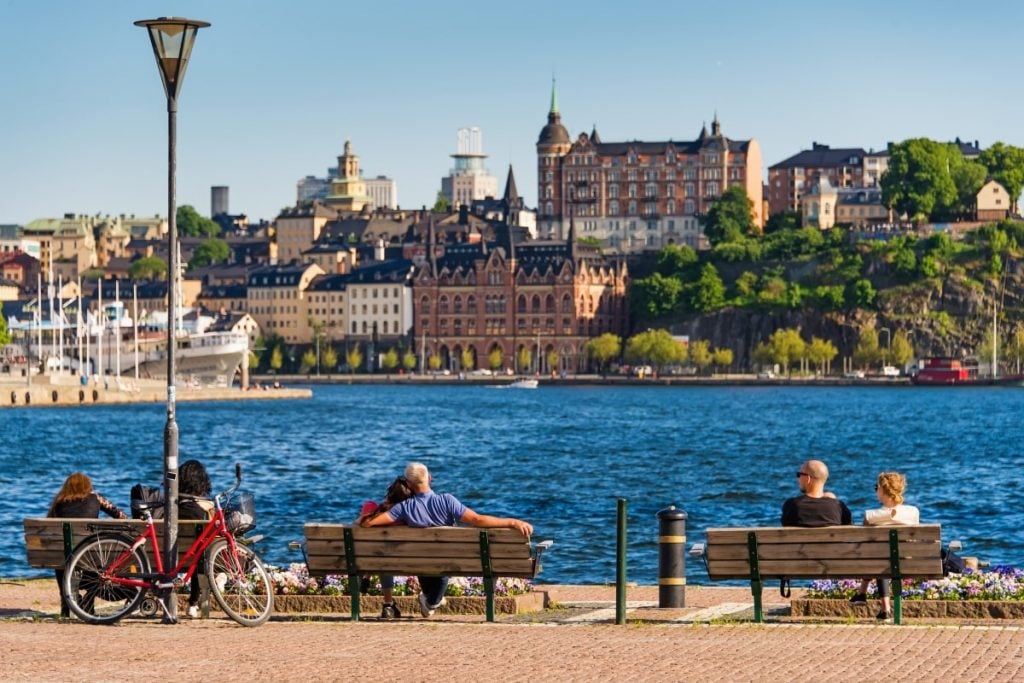 It is sometimes nicknamed "the Venice of the North", and although this is taking it a bit far in my opinion there is no doubt that the waterfronts of Stockholm are picturesque.
The capital has a medieval old town (Gamla staden), a royal palace (Kungliga slottet), and many unique and picturesque neighborhoods you can wander around in, and take the subway between.
Stockholm also ranks in the top 20 in a quality of life survey from Mercer, which compares how it is to live in 231 different major global cities.
Nordic Noir Stories: Millenium, Bron, and Wallander
Stieg Larsson's Millenium series
Larsson was born in 1954 in Skelleftehamn, a small town in the north of Sweden, but moved to Stockholm in the 1980s. In the capital he started working for Expo, a magazine and website that focuses on racism and right-wing extremism (not unlike his main character in the Millenium book series).
In 2002, Larsson's career as an author took off when he published the first book in his Millennium series, The Girl with the Dragon Tattoo (published in English in 2009).
The book became an international bestseller, and was later adapted into both a Swedish and US movie trilogy (with the Swedish being the better of the two). Larsson died suddenly of a heart attack in 2004, shortly before the release of the second book in the series.
In 2015, Larsson's family started a foundation in his name to promote the writing of Swedish crime fiction.
Henning Mankell's Wallander series
Henning Mankell was a Swedish writer and dramatist. He wrote novels, short stories, and essays, as well as plays.
Mankell was the creator of the popular detective character Kurt Wallander, a book series that resulted in numerous TV and movie adaptations.
Among the renditions is a British one starring Kenneth Branagh, but the most iconic one is without a doubt the one Krister Henriksson stars in between 2005 and 2013 (trailer for one of the films below).
Some of his other famous novels include Faceless Killers, The Dogs of Riga, and One Step Behind.
Bron / Broen
The Danish-Swedish crime drama Bron / Broen (The Bridge) has captivated viewers around the world with its suspenseful plot and moody settings. The show is set in Copenhagen and Malmö, and follows the investigations of a murder that takes place on the Øresund Bridge, which connects Denmark and Sweden.
The series has been praised for its accurate depiction of Scandinavian culture, and its talented cast of actors. It has also been successful commercially, with viewership numbers that rival those of some of the biggest shows on TV.
Maj Sjöwall och Per Wahlöö's Beck
In the 1990s, a new kind of Swedish crime thriller hit the airwaves. Beck, named after its main character, was a dark and atmospheric series of books that quickly gained a following all over the world with its series of movies based on the books.
Though there were many actors that portrayed the main character Martin Beck, the most famous one is undoubtedly Peter Haber who has portrayed him since 1997 (and still going strong as of 2022).
The show follows the investigations of Beck, who works in the Stockholm police department with his team of detectives (including his aggressive partner Gunvald, my personal favorite), solving complex crimes that often have political undertones.
Beck is praised for its realistic portrayals of both police work and Scandinavian life, and it has been credited with helping to make Sweden a popular tourist destination.
Even after all these years, Beck has continued to be popular among both domestic and international viewers and readers, and is due to start its 9th season in its current format in 2023.
Swedish Pop Music: Abba, Avicii, and Zara
ABBA
ABBA was a (or more accurately the) Swedish pop group hugely popular in the 1970s and 80s around the world. The group consisted of four members: Agnetha Fältskog, Benny Andersson, Björn Ulvaeus, and Anni-Frid Lyngstad (the first letter of each name forming the name ABBA).
The group saw massive success with their songs, and they are still popular today. ABBA released their first album in 1972 and their last album in 1982. In 1999, the group was inducted into the Rock and Roll Hall of Fame.
Roxette
Roxette is a pop duo from Sweden that has been making music together since the 1980s. The group is made up of Marie Fredriksson and Per Gessle, and they have sold over 75 million records worldwide.
Roxette's biggest hits include "Listen to Your heart" (above), "The Look," "It Must Have Been Love," and "Joyride." The duo took a break in the early 2000s, but reunited in 2009 to tour around the world one last time.
Max Martin
In the music industry, Max Martin is a superstar. He has written and produced massive hits for some of the biggest artists in the world, including Taylor Swift, Katy Perry, Britney Spears, and Justin Bieber. His songs are instantly recognizable and have topped charts around the globe. What many people don't know is that Martin is from Sweden.
He started his career in the early 1990s, writing and producing songs for Swedish artists like Ace of Base and Robyn. After establishing himself as a top producer in his home country, he started working with international stars like Backstreet Boys, Britney Spears, and N'SYNC — and hasn't stopped since.
Avicii
Avicii was one of the most popular DJs and electronic music producers in Sweden. He was known for his remixes of songs by other artists, as well as his own original songs. His biggest hits include "Levels", "Wake Me Up", "Waiting For Love" and "Hey Brother".
To get a sense of Tim's impact on the world of pop music, the music video for Wake Me Up (above) has been watched 2.1 billion times.
Avicii retired from touring in 2016 due to health concerns, but he continued to produce music until ultimately taking his own life in 2018.
Swedish House Mafia
For EDM fans and music festival-goers, Swedish House Mafia requires little introduction. But for those of you who don't know, they're a popular electronic music group that saw their peak in popularity in the 2010s (though they recently reunited and started touring again).
The group formed in 2008 and released its "final" album in 2013 (after reuniting in 2021, more followed). They were known for their upbeat, electronic music which gained them a large following all over the world.
In 2013, the members of the group announced they were splitting up, only to reunite in 2021 with a new album and tour dates.
I have written a complete guide to SHM if you want to dive a bit deeper and find out more:
The Cardigans
The Cardigans is a Swedish rock band that was formed in Jönköping, Sweden, in 1992.
The group is composed of five members: Nina Persson (vocals), Peter Svensson (guitar and keyboard), Magnus Sveningsson (bass guitar), Bengt Lagerberg (drums), and Per Svensson (keyboard).
The Cardigans achieved mainstream success with their debut album, "First Band on the Moon" (1996), which yielded the international hit single "Lovefool".
After a two-year hiatus, the band returned in 2000 with the album "Gran Turismo", which featured Persson's husband, drummer Ronnnie Deckert. In 2004, they released another album, "Super Extra Gravity".
The Cardigans have sold over 15 million records worldwide.
Europe
Europe is a Swedish hard rock band that was formed in 1979 (and incidently my favorite band when I was a young Swede of 7 or so years old). The band is best known for their smash hit "The Final Countdown", which has featured heavily in pop culture since its release.
The band has released 10 studio albums and has sold over 25 million records worldwide. In 2003, the band was inducted into the Rock and Roll Hall of Fame.
Zara Larsson
Zara Larsson is a Swedish singer and songwriter who first gained fame in 2012 as a contestant on the television show Talang, the Swedish version of Got Talent. She went on to release her debut album in 2015, which spawned the hit singles "Lush Life" and "Never Forget You," both of which reached number one in Sweden.
Her sophomore album, released in 2017, debuted at number one on the Billboard 200 chart. Zara also featured on the Clean Bandit song Symphony in 2017, a doing that's been viewed over 1.15 billion times:
Larsson has also become known for her outspokenness on social media and her support of feminist and LGBTQ rights.
Ace of Base
Ace of Base is a Swedish pop band that was formed in Gothenburg, Sweden in 1990.
The band consists of three siblings, Jonas Berggren, Jenny Berggren, and Malin Berggren, and their cousin Linn Berggren. They are best known for their 1993 hit song "The Sign", which was the best-selling single in the United States that year.
The band has released six studio albums, and has sold over 30 million records worldwide.
Swedish Entertainment Tech: Spotify, Minecraft, and Candy Crush
Sweden is home to some of the most popular entertainment technologies in the world: Spotify, the world's leading music streaming service; Minecraft, one of the world's most popular games; and Candy Crush, one of the most popular mobile games ever released.
Sweden's entertainment technology industry is not only thriving but also expanding rapidly. In addition to the above companies, Sweden is also where several other successful tech startups got started, including Skype (founded in 2003 and one of the first video chat services) and Digital Illusions (founded in 1992 and behind the massively successful Battlefield games).
Sweden's success in the entertainment technology industry can be attributed to several factors including its strong engineering culture, its access to capital and investment, and its highly educated population. Spotify ́s founder Daniel Ek, for example, is an engineer by training.
Skype
Skype is a computer program that enables users to make voice and video calls over the Internet. The program is available for a variety of platforms, including Windows, Mac, Linux, iOS, and Android. Skype also offers paid services such as calling landlines and mobile phones, as well as adding extras such as voicemail and call forwarding.
The Skype software was created by Niklas Zennström and Janus Friis while the two attended Uppsala university in Sweden, and was originally used for file sharing (much like their previous venture, Kazaa).
The two quickly realized its potential for making calls over the Internet, and in 2005 Skype was acquired by eBay for $2.6 billion, and sold to Microsoft for $8.5 billion in 2010.
Mojang
Mojang is a Swedish video game developer best known for developing the video game Minecraft (which has sold in over 238 million copies since its release in 2009.
Mojang was founded in 2009 by Markus Persson (a.k.a. Notch) and Jakob Porsér (a.k.a. JahKob).
The company was acquired by Microsoft in 2014 for $2.5 billion, and Mojang currently employs around 100 people.
Massive Entertainment
Massive Entertainment is a video game developer based in Malmö, Sweden. The company was founded in February 1997 by David Perry and Fredrik Wester. Perry had previously founded Shiny Entertainment, while Wester was an executive at Ubisoft. Massive's first release was the real-time strategy game Earth 2150 in May 2000.
The company is best known for developing the World War II first-person shooter video game series Call of Duty, with the first game released in 2003. Other notable titles include Tom Clancy's The Division and its sequel, Tom Clancy's Ghost Recon Wildlands, and South Park: The Fractured but Whole.
The studio has recently been working on the much anticipated Avatar: Frontiers of Pandora, a game based on the Avatar movie franchise and due to be released in 2022.
Digtal Illusions CE (DICE)
Digitial Illusions was founded in Växjö, Sweden in 1992 by Andreas Axelsson, Markus Nyström, Fredrik Liliegren, Olof Gustafsson and Ulf Mandorff, initially focusing on Amiga games such as Pinball Dreams.
The company expanded and grew in the early 2000s and set their sights a bit higher with the release of Battlefield 1942 in 2002, which ultimately became the first Swedish game to hit the #1 spot in the US.
The game was made in to an epic series, most recently releasing Battlefield 2042 in 2021. Since 2004 DICE is owned by Electornic Arts, and many of its early employees went on to found new gaming companies.
Paradox Interactive
Paradox Interactive is a Swedish video game developer based in Stockholm. It was founded in 1995 as Target Games, releasing games such as Svea Rike (a strategy game centered around the foundations of the Swedish kingdom and available as a board game also).
The company has expanded and grown significantly in the 2000s, and is most known for developing succesful multi-platform grand strategy games such as the Crusader Kings, Europa Universalis, and Stellaris series, as well as publishing games such in collaboration with studios such as Cities: Skylines, Steel Division: Normandy 44, and Prison Architect.
King Digital Entertainment
King Digital Entertainment, creator of the extremely popular Candy Crush games, is headquartered in Sweden. While the company has received some criticism for its business practices (like many other mobile game developers), the success of their products ultimately speak for themselves.
King was founded in 2003 by Toby Smith and Sebastian Knutsson, and was the workplace of Marcus "Notch" Persson before he founded Mojang and created Minecraft. King was purchased by Activision Blizzard for $5.9 billion in 2016.
Swedish Athlete Superstars: Zlatan, Björn, and Annika
Relative to the small size of the country, Swedish athletes have consistently been successful in international competitions across a wide range of sports. Some of the most famous and successful ones include Zlatan Ibrahimovic (Football/Soccer), Björn Borg (Tennis) and Annika Sörenstam (Golf).
Zlatan Ibrahimovic
Zlatan Ibrahimovic is one of the most famous Swedish athletes of all time, and has scored over 570 goals in his career so far. He has played for some of the biggest teams in Europe, including Barcelona, Manchester United, AC Milan, and Paris Saint-Germain.
He is known for his incredible goalscoring ability and his arrogant and playful style on and off the field. Ibrahimovic has been a controversial figure at times, due to his outspoken nature and clashes with coaches and teammates.
However, he is also widely respected for his talent and achievements. Zlatan is playing the 2022/23 season for AC Milan in the Italian Serie A, at 41 years old (and counting…).
Björn Borg
Björn Borg was one of the most successful professional tennis players of all time. He won 11 Grand Slam singles titles, and is the only player to win six consecutive Wimbledon Championships.
After retiring from tennis in 1983, Borg went on to become a successful businessman. He has also been involved in various charitable initiatives, and is a goodwill ambassador for the United Nations Children's Fund (UNICEF).
Peter Forsberg
Forsberg was born in Örnsköldsvik, Sweden on July 20, 1973 and started his professional career with Modo Hockey in 1990, before getting drafted to the NHL by the Philadelphia Flyers in 1995.
Though the Flyers drafted him, he was ultimately traded to the Colorado Avalanche which is where he had his most successful years and where his #21 hangs today, retired in honor of Forsberg's impact on the team.
He is a seven-time NHL All-Star and a two-time Stanley Cup Champion (1996 & 2001). He has also been awarded the Art Ross Trophy (2000), Hart Memorial Trophy (2003), and Lester B. Pearson Award (2003).
Finally, his performances for the Swedish national team in several international tournaments, including the 1994 and 1998 Winter Olympics, are forever etched into the minds of Swedish hockey fans.
His gold-winning penalty in the 1994 Olympics even became a national stamp: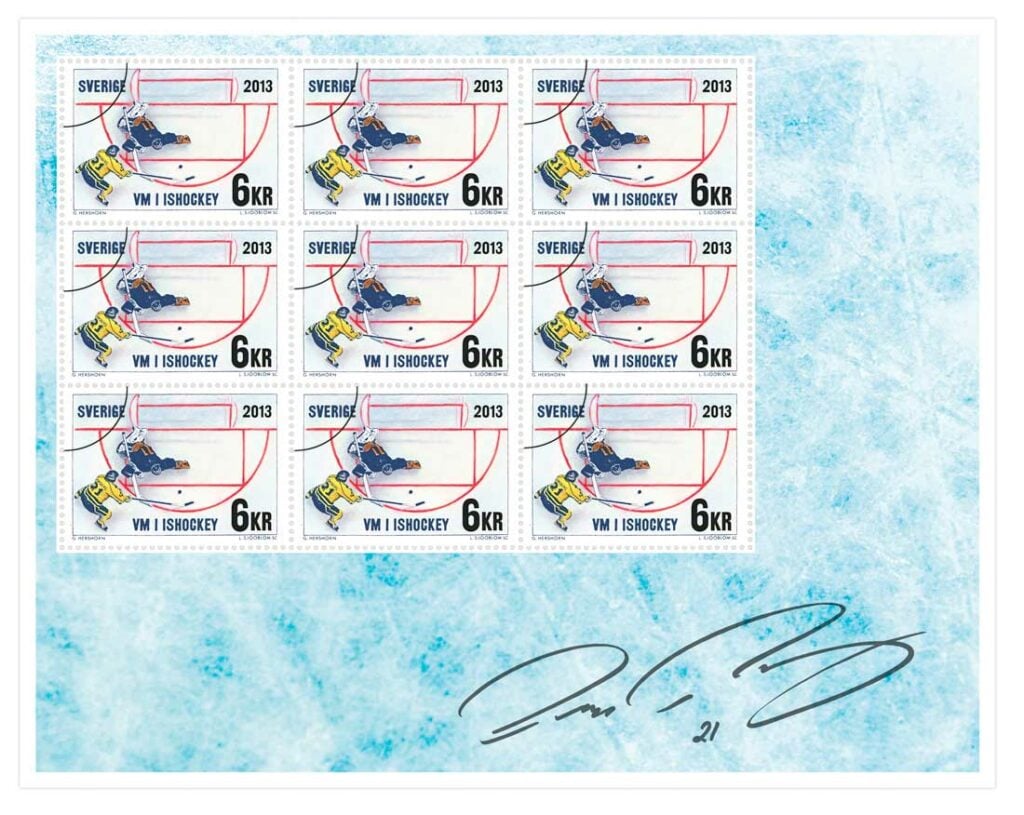 Ingemar Stenmark
Ingemar Stenmark is a name that is synonymous with skiing excellence. He is a Swedish former alpine ski racer who won three gold medals and two silver medals in the men's downhill event at the Olympic Winter Games.
He also won four World Cup overall titles, and remains the most successful skier in men's World Cup history.
Born in February 1956 in Tärnaby, Sweden, Ingemar Stenmark began skiing at an early age. He made his World Cup debut at the age of 17, and won his first race just one year later.
In addition to his Olympic and World Cup victories, he also boasts a long list of other accomplishments, including winning the prestigious Hahnenkamm race on three occasions.
Anja Pärson
Anja Pärson is a Swedish alpine ski racer who competed in the 2002, 2006, and 2010 Winter Olympics. Born in Östersund on October 6, 1981, Pärson made her World Cup debut at the age of 17 in 1998 and won her first World Cup race in 2001.
At the 2002 Winter Olympics in Salt Lake City, Utah, Pärson took home a silver medal in the giant slalom and a bronze medal in the combined event. She also won a gold medal in the giant slalom at the 2006 Winter Olympics in Turin, Italy.
After taking some time off to have a child, Pärson returned to competition for the 2010 Winter Olympics in Vancouver, British Columbia, Canada, where she finished third in the women's super combined and fourth in the downhill event.
Ingemar Johansson
Ingemar Johansson was a Swedish heavyweight boxer who won the world heavyweight championship in 1959. He is the only Swedish boxer to ever win a world title.
Johansson's most famous fight was his first title defense, against Floyd Patterson. Johansson knocked out Patterson in the third round to become the new champion – still considered one of the greatest upsets in boxing history as Patterson was regarded as "the man to beat," with a record of 20-0 (20 knockouts).
After winning the title from Floyd Patterson, Johansson went on to be ranked as the #1 heavyweight by Ring Magazine for 10 consecutive years (from 1959-1969).
Johansson retired in 1969 with a record of 56-3-2.
Annika Sörenstam
Annika Sörenstam is a Swedish professional golfer who was born on October 9, 1972 in Stockholm, Sweden.
She is best known for being the first female golfer to play in a PGA Tour event. In 2003, she also became the first woman to shoot a 59 in an LPGA Tour event. Sörenstam has won 72 tournaments as a professional, including 10 major championships.
In addition to her success as a professional golfer, Sörenstam is also highly respected for her work as a spokesperson for various charities and causes.
Swedish Internet Personalities: PewDiePie, Greta Thunberg, and Anomaly
PewDiePie
PewDiePie is a Swedish internet personality who first rose to fame on YouTube. He has since become one of the platform's most popular content creators, with over 96 million subscribers.
PewDiePie is known for his humorous and often outlandish commentary on gaming videos, and he has also ventured into other types of content, including vlogging and prank videos.
Here is his own funny take on the history of Sweden, as an example of his popular non-gaming content:
Greta Thunberg
Greta Thunberg is a 16-year-old Swedish activist who has become well-known for her work protesting climate change. In 2018, Thunberg began skipping school to sit outside the Swedish parliament building every day to demand action on climate change.
She has since become a prominent figure in the global climate movement, speaking at events around the world and meeting with politicians and business leaders.
Anomaly
Anomaly is a Swedish YouTuber who vlogs and makes gaming videos. He is best known for his popular channel "Anomaly Plays."
Anomaly has over 1.3 million subscribers and his videos have been viewed over 190 million times. He joined YouTube in 2011 and has since become one of the most popular Swedish content creators on the platform.
Anomaly's style is very relaxed and he often interacts with his viewers in the comments section of his videos. His most popular video is a Call of Duty: Modern Warfare 3 gameplay video which has been viewed over 16 million times.
Roomie
Roomie has gained a massive following on the popular video sharing site for her quirky and humorous videos. Her content covers a range of topics, from fashion and beauty to travel and lifestyle.
She is also known for her collaborations with other Swedish YouTubers, which have helped to grow her audience even more. In addition to her online presence, Roomie has also released two music albums, both of which have been fairly successful.
Teeqo
Teeqo is a Swedish Youtuber who has garnered a following of over 2.6 million subscribers on his channel.
Teeqo is known for his gaming content, which often features popular games such as Call of Duty and Fortnite. In addition to gaming, Teeqo also posts vlogs and challenges, which have helped him to build a strong following on YouTube.
Teeqo is one of the most popular gamers in Sweden, and his content has resonated with viewers all over the world. His videos are funny and entertaining, and he always puts his own unique spin on popular games. In addition to his success on YouTube, Teeqo has also done well in competitive gaming tournaments.
forsen
Forsen is a 31-year-old Swede who has been uploading videos since 2009. His channel has over 2 million subscribers and his videos have been viewed over 350 million times.
Most of Forsen's content consists of gameplay commentary and vlogs. However, he also does occasional challenges and collaborations with other YouTubers. Forsen is known for his dry sense of humor and his ability to entertain his viewers while playing games they might not normally watch.
He got his start on YouTube by streaming games on the website Twitch, which he still does occasionally. However, YouTube has become his main focus in recent years.
Panda (Tobias Näslund)
Panda, whose real name is Tobias Näslund, started his YouTube channel in 2009 and has since amassed over 8 million subscribers and over 1.8 billion views. His content mainly revolves around gaming, but he also posts vlogs and occasional challenges with friends. In addition to his Swedish following, Panda also has a large international following; in fact, he was the first Swede to reach one million followers on Instagram.
Despite being one of Sweden's most well-known YouTubers, Panda has faced some criticism over the years. In particular, some people have accused him of exploiting his young viewers by posting inappropriate content (e.g., promoting gambling and drinking).
Iskall85
Iskall has over 1.6 million subscribers on his channel. He is known for his Minecraft videos, which have amassed a total of 280 million views so far.
Swedish Cars: Volvo, SAAB, and Koenigsegg
Volvo
Volvo is a Swedish auto manufacturer that is most notably known for its high-end consumer cars, though the Volvo brand can be seen on trucks, buses and other vehicles as well.
Today there are essentially two different Volvo brands:
Volvo Group is the original company, still operating out of the same location the first Volvo car rolled out in 1927. Today the Volvo Group produces, distributes, and sells trucks, buses and a vast selection of heavy construction equipment. They no longer produce cars though, as Volvo Group sold Volvo Car Corporation to Ford Motor Company for $6.45 billion in 1999.
Volvo Cars is currently owned by Chinese car manufacturer Geely (after a decade as part of the Ford Motor Company), though it still operates with full autonomy in Sweden as they have been from the beginning.
The Volvo brand is shared by the two companies and is almost synonymous with safety. As an example of the company's dedication to safety, it was a Volvo engineer (Nils Bohlin) who invented the three-point safety belt in 1959, which has been one of the most influential inventions for humanity in the modern era, likely because the patent for this was released in the open by Volvo in the interest of safety, and thus made available to all other car manufacturers for free.
The company currently employs around 100,000 people worldwide.
Saab
Saab was founded in 1945 as a manufacturer of aircraft for the Swedish Air Force, and in 1948 the company began producing automobiles. It became known for its innovative designs and safety features, but as GM sold Saab to Dutch automaker Spyker Cars NV in 2010, the car maker saw the beginning of the end.
In early 2012, Spyker Cars NV filed for bankruptcy, placing Saab's future in doubt. The Saab brand was ultimately removed from the remains of the car manufacturer, now owned by Chinese car company NEVS.
The brand "SAAB" is currently focused on the defense and aerospace business once again (as Saab Group), just like it was when it first started, along with one part that is focused on trucks and commercial vehicles (as Saab-Scania).
Koenigsegg
Koenigsegg is not your typical Swedish car manufacturer, as they focus entirely on producing ultra high-end sports cars, often in pursuit of the "fastest car in the world" record.
The company was founded in 1994 by Christian von Koenigsegg, with a stated goal to build the fastest car in the world. The first model, the Koenigsegg CC, was released in 2002, with the fourth generation named CCR breaking the Guinness World Record for "the fastest production car in the world".
Koenigsegg has since produced a variety of models, including the Agera, Regera, Jesko, and Gemera (the first four-seater). Most of these models have individually been recorded as the world fastest car, including when the Agera RS reached a speed of 447.23 km/h (277.75 mph) in 2019.
Koenigsegg cars are known for their high performance and luxury features. They often compete in races such as the 24 Hours of Le Mans and the Gumball 3000. In recent years, Koenigsegg has become more popular in the United States and Canada.
Swedish Food: Meatballs, Fika, Surströmming and Aquavit
Meatballs
Meatballs served with potatoes, lingonberries and gravy is without a doubt Sweden's national dish, which anyone who's been to an IKEA restaurant can attest to.
The Swedish meatball is usually made of a mix of ground pork and beef and other ingredients rolled into balls, and then cooked with butter in a frying pan. The dish is thought to have been influenced by Turkish cuisine, an influence that also spread to Italy (spaghetti and meatballs anyone?).
Ultimately there are many different recipes for Swedish meatballs, but they all typically include ground beef or pork, bread crumbs, eggs, onion, salt, and pepper. Some variations also include milk, flour, and nutmeg.
The traditional way to cook Swedish meatballs is to fry them in butter or oil until browned. They can also be baked in the oven or cooked in a gravy or sauce.
Swedish meatballs are almost always served with mashed or boiled potatoes and lingonberry jam. They can also be used in sandwiches (often combined with red beets), or as an appetizer (if you want to get fancy).
Fika
Fika is a Swedish word that can be translated to "having a coffee or tea break with someone, most preferably including pastries".
Taking a Fika break is heavily engrained in Swedish society and culture, with Swedes generally taking regular breaks from work or school to drink coffee and eat a pastry.
Fika is often enjoyed with friends or family, but is also commonly used as a dating activity. However you experience it, it is generally seen as an opportunity to relax and socialize.
Surströmming
Surströmming is a Swedish dish made from fermented Baltic herring. It is considered an acquired taste, as the strong odor can be overpowering (to say the least).
The fermented fish is typically eaten with boiled potatoes, sour cream, and diced onion on top of traditional Swedish light crispbread, and should not be eaten on its own.
Despite its unusual flavor, surströmming is a popular dish in Sweden and can be found in grocery stores and street kitchens throughout the country.
Swedish Aquavit
Aquavit means "elixir of life" and is a distilled spirit that is produced and enjoyed primarily in Sweden and the other Nordic countries. The spirit is made from grain, potatoes, or other vegetables, and is infused with herbs such as caraway, wormwood, dill, or anise.
Aquavit is typically consumed cold or at room temperature, and is often served with pickled herring, smoked salmon, or other seafood dishes.
The spirit has been produced in Sweden since the 15th century, and the country is known for its high-quality aquavit brands. Some of the most popular Swedish aquavits include O.P. Andersson, Skåne Akvavit, Hallands Fläder, Piratens Besk, and Bäska Droppar,.
Is Sweden known for its cheese?
Just as with chocolate, cheese isn't something that Sweden is necessarily well-known for compared to countries like Switzerland, Spain, Italy, or France. There are still many different top-class Swedish cheeses, including Västerbotten, Hagbard, Sju Gårdars, Räven & Osten, and Orranäs.
Sweden exports a lot of its cheese to other countries, and it has become a very popular ingredient in many dishes.
Why is Sweden known for its meatballs?
There are many things Sweden is known for, but one of the most popular is their meatballs. Swedish meatballs are made with a combination of beef and pork, along with breadcrumbs, onion, salt, and pepper. They are usually served with a creamy gravy, potatoes, and lingonberry jam on top.
The history of Swedish meatballs is a bit uncertain, but it is believed that they were brought over from Turkey by King Charles XII in the early 1700s. They quickly became popular throughout Sweden and are today considered a national dish that can be found in restaurants all over the country.
There are many theories as to why Swedish meatballs are so popular. Some people say it's because they're flavorful and easy to make, while others believe it's because they're a traditional dish that has been passed down through generations. IKEA has definitely had some influence, serving it in their restaurants all over the world.
Swedish Movies: Bergman, the Skarsgårds, and the Fares brothers
Sweden is known for its many talented filmmakers and actors, including Ingmar Bergman, Greta Garbo, the Skarsgårds, and the Fares brothers.
Which movies is Sweden most known for?
Sweden is most notably known for its dark, moody crime thrillers and equally dark comedies, written by the likes of Stieg Larsson, Henning Mankell, Ingmar Bergman and Lukas Moodysson.
These movies often explore the seedy underbelly of Swedish society, and have been praised for their high-quality writing and suspenseful plot lines. Some of the most popular Swedish films include The Girl with the Dragon Tattoo and Let the Right One In.
Greta Garbo
Greta Garbo was born on September 18, 1905, in Stockholm, Sweden, and was a film actress who achieved worldwide fame. She is best known for her roles in the films "Anna Christie" (1930), "Grand Hotel" (1932), and "Ninotchka" (1939).
Garbo decided to become an actress after seeing a play at the age of 15, and made her stage debut in 1924. She appeared in several Swedish films before making her Hollywood debut in 1930, and her performances in "Anna Christie", "Grand Hotel", and "Ninotchka" were acclaimed by critics and audiences.
Garbo retired from acting in 1941 and moved to New York City, where she lived until her death on April 15, 1990. She was inducted into the American Film Institute's inaugural Hall of Fame in 1990.
Max von Sydow
Max von Sydow is a Swedish actor who has starred in many acclaimed films, including Utvandrarna/Nybyggarna, The Seventh Seal, The Exorcist, and Hannah and Her Sisters.
He won the Best Actor award at the Cannes Film Festival for his performance in Pelle the Conqueror. He also appeared in the popular HBO series Game of Thrones as the Three-Eyed Raven.
Ingmar Bergman
Ingmar Bergman was born 1918 in Uppsala, Sweden. He grew up to become one of the most influential filmmakers of all time.
His films often explored the innermost depths of the human mind and soul, and were praised for their artistic value as well as their psychological insight.
Among his most famous films are The Seventh Seal (1957), Wild Strawberries (1957), Persona (1966), and Cries and Whispers (1972). Bergman won numerous awards over the course of his career, including four Oscars. He passed away in 2007 at the age of 89.
The Skarsgårds
The Skarsgårds are a prolific family of actors from Sweden. The family is best known for patriarch Stellan Skarsgård, who has appeared in over 100 films and TV shows.
His children, Alexander, Gustav, and Bill Skarsgård are also well-known actors, with Alexander starring in HBO's True Blood and Big Little Lies, Gustav starring in History Channel's/Netflix Vikings, and Bill breaking through with his role as Pennywise in I.T.
Josef & Fares Fares
Josef & Fares Fares are two Swedish brothers who are known for their work in the film and video game industry. They wrote and directed the movie, "Jalla! Jalla!" which was released in 2000 and became a major success in Sweden. The movie was about two immigrants who move to Sweden and struggle to find their place in society.
The brothers have also directed other popular Swedish movies such as "The Hornet's Nest" and "Evil. Josef and Fares have also directed commercials for Volvo and Coca-Cola.
After his Swedish success as a director and actor, Josef Fares chose to focus on the gaming industry instead, creating games such as Brothers: A Tale of Two Sons, and A Way Out.
Fares Fares chose to focus on Hollywood after his success in Sweden, and has starred in Zero Dark Thirty, Rogue One: A Star Wars Story, Chernobyl, and The Wheel of Time
Peter Stormare
Peter Stormare is a Swedish actor and musician. He was born on 27 August 1953 in Kumla, Örebro County, Sweden. Stormare began his acting career with the Royal Dramatic Theatre in Stockholm, Sweden in 1984. He moved to the United States in 1988 and played small roles in films such as Fletch Lives and Armageddon. His first major role in an American film was as Wolfgang Schmitz in the crime comedy film, Men In Black.
In 1996 Stormare famously portrayed the stone-cold thug Gaear Grimsrud in the Coen brothers film Fargo, for which he won a Cannes Film Festival Award for Best Actor.
He followed this up with another iconic Coen brothers role as a nihilist on the Big Lebowski in 1998, as well as the character John Abruzzi in the hit television series Prison Break. In 2009, he starred in the critically acclaimed Danish film The Killing Season alongside Ulrich Thomsen and Sofie Grabol.
Tomas Alfredson
Tomas Alfredson is a Swedish film and television director, best known for the vampire film Let the Right One In. Alfredson was born in Lidingö, Sweden, in 1966. After attending the School of Photography in Stockholm, he started his career as a photographer. In the early 1990s, he moved into directing commercials and music videos. His feature debut was the 2002 crime thriller film based on the novel by Jo Nesbø, The Man Who Loved Yngve.
Alfredson's international breakthrough came with the 2008 vampire love story Let the Right One In, which was adapted from John Ajvide Lindqvist's novel of the same name.
The film won numerous awards, including Best Foreign Language Film at the 2009 Critics' Choice Awards and Best Horror Film at both the 2009 Saturn Awards and Scream Awards.
Alicia Vikander
Alicia Vikander is a Swedish actress whose breakout role was in the Danish film The Wave. She has since starred in several Hollywood hits, including Ex Machina, The Man from U.N.C.L.E., and Jason Bourne.
I especially enjoy her performance in Ex Machina, and A24 movie that explores the future of AI and humanoid androids in beautiful and nail-biting way:
Vikander won an Academy Award for her performance in the 2015 biopic The Danish Girl. She is also a UNDP Goodwill Ambassador.
Swedish Children's Books: Astrid Lindgren's Emil, Pippi, and Ronja
Astrid Lindgren was a prolific Swedish author who wrote over 100 books, many of which have been translated into other languages and remain popular to this day.
Her tales often featured strong female protagonists who were independent and resourceful, and her writing was characterized by a sense of humor and warmth that resonated with young readers.
Let's take a look at some of her most famous characters:
Pippi Långstrump (Pippi Longstocking)
Pippi Longstocking is a fictional character created by Astrid Lindgren, and I can safely say she is very familiar with every single Swedish person alive.
Pippi is the first Lindgren story I read to my own boys, and it's no doubt because of how fun it is to read about and get to know the strongest girl in the world, who wears mismatched socks, lives alone in a giant house, doesn't go to school, and whos father is a pirate captain.
For the uninitiated among you, Pippi is a girl who lives alone in a villa with her pet monkey, Herr Nilsson (Mr. Nilsson), and her horse, Lilla Gubben (Little Old Man). She often plays with the neighboring kids, Tommy and Annika, whom she repeatedly makes up fun adventures with. She has superhuman strength, which she sometimes uses to save villagers from trouble, and sometimes to teach bad guys right from wrong.
Pippi is also noted for her outrageous fashion sense and for her habit of speaking her mind bluntly, especially to authority figures (teachers, police officers, doctors, etc.) — a concept not many children's stories bring up.
Pippi was originally published in Sweden in 1945 and has been translated into 77 different languages.
The character has been adapted for television, film, and stage productions. In 2009, TIME magazine named Pippi one of the 100 best characters in fiction since 1923.
Emil i Lönneberga (Emil in Lönneberga)
The 1970s Swedish children's book, Emil in Lönneberga, is a story about a young boy who gets into all sorts of scrapes and adventures in the small village he lives in. The tales are based on author Astrid Lindgren's own childhood memories. Emil is a likeable and determined character, whose ingenuity often gets him out of trouble.
Although set in Sweden, the stories have been translated into dozens of languages and been adapted for stage and screen. They remain popular around the world, thanks to Emil's universal appeal as a plucky underdog. Today, Lönneberga is a tourist attraction for visitors keen to see the real-life settings for Emil's escapades.
Ronja Rövardotter (Ronia, The Robber's Daughter)
Ronia, The Robber's Daughter is a story by Astrid Lindgren that has been made into numerous movies and tv renditions, the latest being a Studio Ghibli take on Lindgren's beautiful story that is available in multiple languages, including Swedish and English.
It is a story about a young girl who lives in a robber's fort with her father, the robber chief, and her mother, who takes care of her family and their band of robbers.
Ronia learns how to survive in the forest and how to navigate the wonderous world of Lindgren, and we get to follow along as she gets to know every little part of it.
Bröderna Lejonhjärta (The Brothers Lionheart)
In 1973, author Astrid Lindgren wrote a book called The Brothers Lionheart about two brothers, one of whom is dying.
The story has been read by children and adults all over the world and is considered a classic.
What makes the story so special is the way it teaches young readers about life and death in a way that is gentle and understanding, while still bringing up some very hard subjects.
The Brothers Lionheart has been translated into more than 60 languages and is still popular today (I recently read it for my sons).
Swedish Fashion: H&M, Acne, and Filippa K
A Swedish fashion has recently swept across the world, with the likes of H&M, Acne, and Filippa K conquering fashionable minds like there's no tomorrow.
H&M
H&M is a clothing company that was founded in Sweden in 1947, and today one of the biggest fashion retailers in the world.
The company is known for its affordable prices and trendy clothes (often dubbed "fast fashion").
ACNE studios
ACNE is a Swedish clothing company that was founded in 1996 by three brothers, Jonny, Olof, and Sebastian. The company started out as a small streetwear brand, but has since grown into one of the most popular fashion brands in the world.
ACNE is known for its high-quality jeans and minimalist designs, and its clothes are popular among celebrities and fashionistas alike. The company has stores all over the world, and its products can be found in major department stores such as Nordstrom and Saks Fifth Avenue.
Tiger Of Sweden
With a focus on quality and contemporary design, this Swedish company has become a favorite of fashion-savvy men around the world.
Tiger of Sweden started out as a small tailoring shop in 1903, and over the years has expanded into a leading lifestyle brand. Today, its collections include everything from suits and sportswear to accessories and home decor.
Björn Borg sportswear
Björn Borg sportswear is a popular Swedish clothing company. It was founded in 1984 by Björn Borg, a former World No. 1 professional tennis player.
The company produces sportswear and underwear for men, women, and children. Björn Borg sportswear is known for its high quality, innovative designs, and comfortable fabrics. The company's products are sold in over 60 countries worldwide.
Filippa K
Filippa K is a fashion designer from Sweden who is known for her minimalist designs.
She started her own fashion label in 1993, and her clothes are now sold in over 30 countries. Her designs are simple and timeless, and she often uses natural materials like cotton and wool.
Filippa K has been praised by critics for her unique approach to fashion, and she has won several awards over the years.
I have written a much more in-depth guide to Swedish clothing brands, so head on over to read that if you're more fashionably inclined.
The Swedish Arctic: Ice Hotel, Abisko, and Northern Lights
North of the polar circle in Sweden is home to some amazingly unique attractions, including the Ice Hotel, Abisko National Park, and the Northern Lights phenomenon.
The Ice Hotel is one of the most popular — and definitely among the most unique — tourist destinations in Sweden, and one I can highly recommend (I went there in 2008 and it seems to have only gotten better since).
Here's the "Mush-room" that I slept in: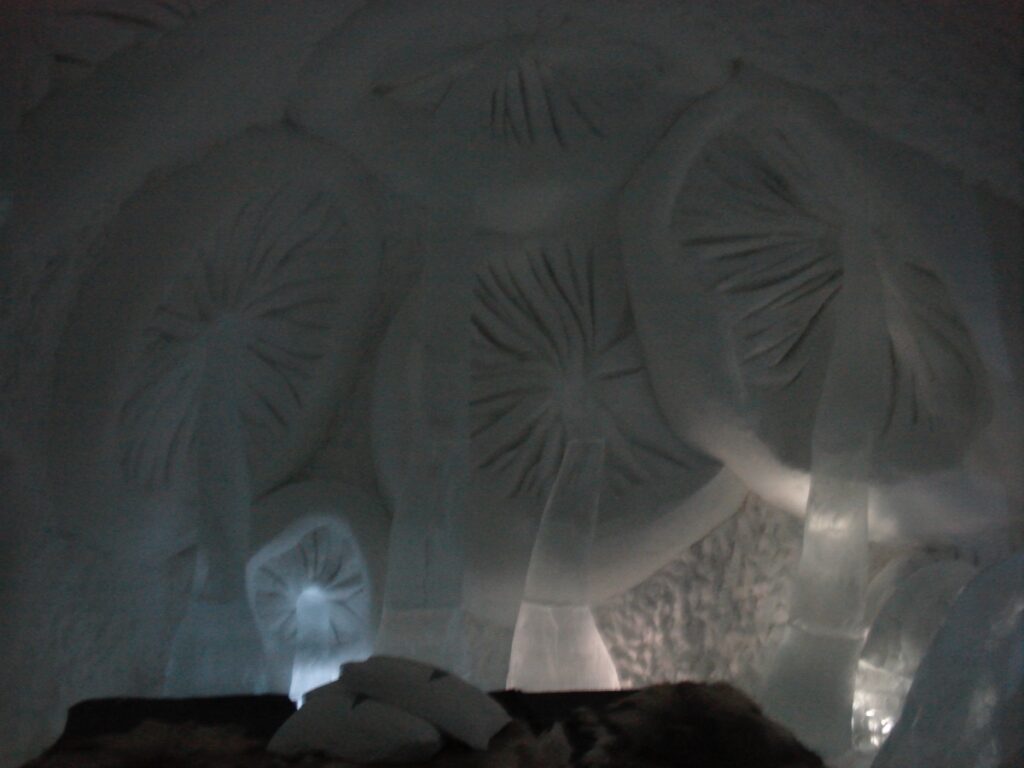 It's a hotel that's made from scratch every year entirely of ice and snow, where you can sleep in rooms and beds entirely made of ice.
Due to the nature of this hotel, it's only open from December to April.
Abisko National Park is another popular attraction in the Swedish Arctic that attracts people around the year. It's known for its stunning scenery and its great opportunities for seeing the Northern Lights.
The Northern Lights are a natural phenomenon that can be seen in the sky above the Swedish north:
They're caused by collisions between electrically charged particles from the sun and atoms in the Earth's atmosphere.
The Swedish Royal Family: Palaces, Drama, and Tradition
The Swedish royal family might not have any real power in today's society, but it is steeped in tradition and is one of the most popular tourist attractions in the country.
There are three palaces that are open to tourists: Stockholm Palace, Drottningholm Palace, and Gripsholm Castle.
The current king and queen of Sweden are Carl XVI Gustaf and Silvia Sommerlath, and they have four children: Crown Princess Victoria, Prince Carl Philip, and Princess Madeleine.
Crown Princess Victoria is next in line for the throne and is married to Daniel Westling since 2010 (with whom she's got two children: Princess Estelle and Prince Oscar).
Extreme Swedish Seasons: Harsh Winters & Bright Summers
Sweden is known for its long, cold winters and short but surprisingly warm summers.
Winters in Sweden always see temperatures dropping well below freezing, often accompanied by lots of ice and snow. While most Swedes stay indoors during this season, many like to take advantage of the snow and go skiing or snowmobiling.
While the summer is much shorter than the winter, it's also a whole lot warmer. The temperature usually stays above 20 °C (68 ℉) and to say that there's is a lot of sunlight is putting it mildly (Northern Sweden sees 24 hours of daylight during the summer months).
Swedes practically drop everything to go swimming, camping, fishing, or hiking during the summer, and usually try to find any excuse to seek out the sun.
Multiculturalism in Sweden: Open Arms and Open Borders
Multiculturalism is a big part of Swedish society, though opinions within Swedish politics tend to swing all across the spectrum in this matter. Since the migration crisis of 2015 and immigration rates almost doubling, almost all the parties seen to agree that Sweden can no longer sustain those levels in the long run.
The country has previously had open arms and open borders, and Sweden is known for its tolerance and acceptance of different cultures, but going forward the country will likely limit the number of new migrants that are received every year.
That said, the country has always been a place where people can come and escape persecution or violence, for example as one of the first countries to offer safe haven to refugees fleeing World War II.
Sweden's Strong Economy: Exports, Wages, and Growth
Sweden's comparably strong economy is primarily due to its strong exports, wages, and growth. Sweden's exports are valued at over $100 billion, and it has a GDP of over $500 billion.
In addition, the country has a high standard of living and a low unemployment rate, with high wages a steady economic growth in recent years.
Swedish Natural Resources: Forests, Iron Ore, and Hydro Power
Since the Ice Age, Sweden has been blessed with an abundance of natural resources. Forests cover nearly half of the country, and provide valuable resources such as lumber and paper. Iron ore is mined in the north, and provides a significant percentage of the world's supply.
Hydro power is also plentiful, and accounts for nearly half of Sweden's electricity production. These natural resources have helped to make Sweden one of the most prosperous countries in the world, and we'll explore them in some more detail:
Swedish forests
Sweden has more than 1 billion acres of forest, which accounts for nearly two-thirds of the country's landmass. The forests are a vital part of Swedish life and culture, providing residents with timber, recreation, and wildlife habitat.
The trees in Swedish forests come in a variety of shapes and sizes, from tall pines to sprawling birches. The forests are also home to a diverse array of wildlife, including elk, deer, bears, lynx, and wolves. For centuries, Swedes have relied on the forests for sustenance and shelter; today, they continue to use the forests for logging and recreational activities like hiking and camping.
Swedish hydropower
Hydropower accounts for about half of the Sweden's electricity production. The country has a long history of using hydropower to generate electricity, dating back to the early 1900s. The country's many rivers and lakes provide ample opportunities for hydropower generation.
Today, Sweden is home to some of the world's largest hydropower plants, including the Harsprånget plant, which is the world's largest pumped-storage plant.
Swedish minerals
Sweden is thought to have the second-largest reserve of minerals in Europe, after Russia. The most common minerals in Sweden are iron ore, copper, lead, and zinc. These minerals are found in abundance in the country's north and central regions.
One of the most famous Swedish mines is the Falun copper mine. Extractions from this area have been conducted since the Viking Age (around 800 CE), and the mine was vastly expanded as Sweden became a great power in Europe around 1667.
The mine ceased mining activities in 1992 The Falun mine is a UNESCO World Heritage Site and one of Sweden's most popular tourist destinations. Interesting fact: The copper from this mine is the main reason why so many houses in Sweden are red, as pigmentations from this mine is used to create a paint and color called Falu Red, by far the most popular choice for wooden houses in Sweden.
It still scores among the best for both function and least environmental impact.
Other notable Swedish mines include the Kiruna iron ore mine and the Boliden silver mine. Both of these mines are located in Lapland, the northernmost region of Sweden.
Sweden's Standard of Living
Sweden has one of the lowest poverty rates in the world, offers its citizens generous social welfare benefits, and has a strong economy, with a GDP per capita that is among the highest in the world too.
This combination of a high standard of living and a strong economy makes Sweden a generally good and desirable place to live.
This high standard of living is due in part to its well-developed infrastructure, including publicly funded and well-serviced roads, railways, bridges, and internet networks. On top of this, Sweden also has a public healthcare system that includes some of the best hospitals in the world.
Sweden's education system is also highly respected (although it's often been bested by its Nordic neighbors in recent years), and its universities are some of the most prestigious in Europe.
The Nordic Middle Way: Sweden's Welfare State
Sweden is known for its typically Nordic welfare state, developed over the years since the end of world war 2, and today one of the most comprehensive social programs in the world.
It is based on the idea that all citizens should have access to a range of social services, regardless of their income or wealth. These include healthcare, education and childcare, as well as social security payments in times of need.
The Swedish welfare state is often described as a "Nordic Middle Way", usually meaning that it combines elements of both socialism and capitalism. The government owns and operates some key industries, such as healthcare and education, but there is also a strong private sector, with free-market economies and a high level of entrepreneurship.
The Swedish welfare state is often considered to be one of the main reasons for Sweden's success as a country.
The Dark Side of Sweden: Cold & Sun-Deprived Winters
Sweden is known for a lot of things, but one thing that often goes unspoken is just how cold and dark it can get in the winter. This is likely a big factor behind the high rates of depression among Swedes, as the long and dark winters may lead to a deficiency in Vitamin D, as well as isolation.
Because Swedes can often get quite socially isolated, especially in the winter when everyone's focus is on staying warm, with many opting to stay inside as a matter of logistics.
Swedish Morality: A Country that Likes to Forbid Things
Sweden is a country that is known for its many rules and regulations. Swedish people are taught from a young age to obey the law and follow the rules. This can be seen in the way that Swedes tend to be more risk-averse than other cultures. They are less likely to break the law, even if it means they have to give up something they want.
Swedes also like to forbid things. There are many laws and regulations in Sweden that prohibit behavior or activities that some people might find harmful or offensive. For example, there are laws against drinking alcohol in public, smoking in public places, and driving under the influence of alcohol.
Cannabis prohibition in Sweden
Though Sweden is generally known for its advancements in technology, science, and a liberal mindset, the country has been slow to adopt the global trend of cannabis reform (and in many cases willfully ignorant to it).
Despite the Public Health Agency of Sweden recommending a new approach to the ban on drugs, and the fact that a majority of Swedes support legalization – the government has thus far been extremely hesitant to change their stance on the popular green plant that has recently been decriminalized in many parts of the world (with mostly positive outcomes).
There are a few reasons for this lack of progress: a strong pharmaceutical industry who wants to maintain the status quo, the Class B drug status making it illegal and hard to study, and Swedish hestiancy to stray away from the norm too much.
Swedish Vikings
Sweden is known for its Viking heritage. The Vikings were a people who lived in Sweden and other parts of Northern Europe from the 8th to the 11th centuries.
They were known for their fierce warriors, their exploration and colonization of new lands, and their boat-building skills.
Many of the myths and legends about Vikings come from this time period, including stories of their raids and settlements in the British isles, France, Russia, and Ukraine.
I've written heaps more about Swedish vikings and their adventures in a separate article, so head on over and read that if you're an epic Viking nerd (like me).
Swedish Green Thinking: Aiming For the Lowest Possible Footprint
Sweden has been pursuing a greener agenda on a national level since the 1960s, when the country's paper industry started seeing more industrial waste in connection with paper production agreed to follow more environmentally friendly processes. The country's environmental goals have since then been to have the lowest possible environmental footprint.
In pursuit of this goal, Sweden's parliament was the first in the world to adopt a goal of zero net emissions by 2050, and it has been a leader in renewable energy.
About half of Sweden's electricity comes from hydro and wind power, and the country even imports waste from neighboring countries as a means of electricity production.
Sweden also has a strong recycling culture, with a goal of recycling or composting at least 70 percent of all waste by 2020. Swedish green thinking has been influential around the world, and other countries are looking to Sweden as a model for how to reduce greenhouse gas emissions.
Sexy Times in Sweden: The Swedish Sexual Revolution
Sweden is often considered a bastion of sexual liberation. Since the early 1970s, the country has had a liberal attitude towards sex, with comprehensive sex education and easy access to contraception.
While it's difficult to pinpoint a single cause, Sweden's sexual revolution is likely due to a combination of factors, including strong feminist movements, government support for family planning and sexual liberationists pushing for change.
The country's liberal policies have been praised by many as being beneficial for society as a whole; however, they've also sparked criticism from those who believe that Sweden has gone too far in its embrace of sexual freedom.
Swedish Animals: Moose, Lynx, Reindeer, and more
Sweden is a country that is known for its natural beauty and its abundance of wildlife.
Some of the animals that are found in Sweden include moose, lynx, reindeer, fox, bear, beaver, wild boar, red deer, and wolf.
Among the more unique animals, the moose is the largest land mammal in Sweden and is known for its impressive antlers, the lynx is a large cat that is native to Sweden and is known for its hunting abilities, and the reindeer is a deer that is found in Northern Sweden and probably most known for its use as a mode of transportation for a certain man in a red coat.
There are also many different species of birds that can be found in Sweden, including eagles, hawks, and owls.
What animals are Sweden known for?
Sweden is known for its variety of animals, many of which are featured in the country's zoos. The most popular animals in Sweden are undoubtedly the moose, with Danish, German and Dutch visitors often going on long pilgrimages of sorts to find the elusive "king of the forest".
Moose can be found all over Sweden, and they are often spotted near highways and in other rural areas. Red deer, which are slightly smaller than moose, can also be found throughout Sweden, but they are more commonly seen in the south.
Other animals that can be found in Sweden include bears, deer, wolves, lynxes, and otters. In addition to these wild creatures, Sweden is also home to a number of domesticated animals such as cows, pigs, horses, sheep, and goats.
Equality For All in Sweden: Gender, LGBTQ, & Minorities in General
Since the early 1970s, Sweden has been a champion of gender equality, trying to close the gender gaps in pay, influence, and say in society. It's also one of the most LGBTQ-friendly countries in the world, and offers a high degree of protection for minorities.
Gender equality is enshrined in Swedish law, with both men and women having the same rights and opportunities in all areas of life. This includes equal pay for equal work, as well as shared parental leave and childcare.
In reality, there is still an income gap present between the genders, but admittedly it is much more narrow than in other western economies.
Swedish Booze: Absolut, Aquavit & Craft Beer
Like many other countries, Sweden is well-known for its alcoholic spirits; ranging from vodka and aquavit to craft ciders and beers.
Absolut Vodka is the most popular liquor in Sweden, accounting for over 30% of Swedish alcohol consumption. The first Absolut Vodka was distilled in 1896 at the Stora Enso brewery in southern Sweden and was marketed as "Absolut Enkelt" (meaning "Absolute Simple").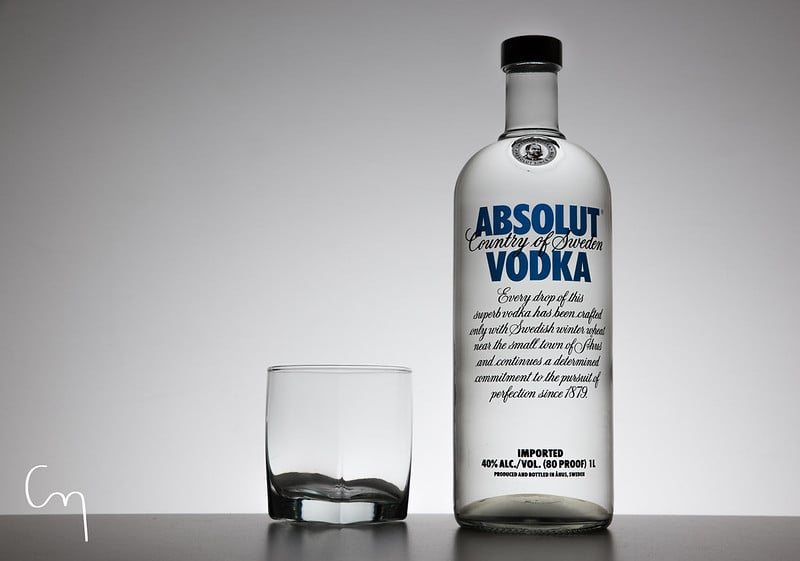 In the 1980s Absolut Vodka started getting popular outside of Sweden as well, partly due to its clever ad campaigns and iconic bottle design. The first Absolut ad ran in "The New York Times" in 1896, and the brand became so popular that a year later it was one of Sweden's largest export products.
The country has a long history of distilling liquor, with aquavit being one of the most popular drinks historically speaking. Aquavit is a spirit made from potatoes or grain that is flavored with caraway and other herbs. It is often served as a shot with food on pretty much every single Swedish holiday, or mixed with juice or water. The distillers of Sweden maintain a decent share in the international market, with exports over 100 million liters annually.
Sweden's craft beer scene has also exploded in recent years, with breweries popping up all over the country. Some of the most popular Swedish craft breweries include Omnipollo, Bar Fly, and Änglahjortron.
There are over 1,000 breweries in Sweden with more than 40% of the total craft beer production.
Sweden's love of craft beer is finally also evident in the many beer festivals that take place throughout the year, such as the Stockholm Beer & Whisky Festival and the Göteborg Craft Beer Festival.
Swedish Holidays: Midsummer, Walpurgis, Christmas
Midsummer is a major Swedish holiday that celebrates the summer solstice. It is typically celebrated on June 23rd and is considered the most important holiday in Sweden. Midsummer festivities include dancing, singing, and eating around the maypole.
Walpurgis Night is another major Swedish holiday that celebrates the arrival of spring. It is typically celebrated on April 30th and includes bonfires, fireworks, and parades.
Like elsewhere in the western world, Christmas is a huge holiday in Sweden, but it is celebrated on Christmas Eve (December 24th) instead of Christmas Day. Swedes typically celebrate Christmas by spending time with family and friends, exchanging gifts, and eating traditional Christmas foods like ham and gingerbread cookies.
Swedish Candy: Lördagsgodis ("Saturday Candy") & Fredagsmys ("Cozy Fridays")
If there's one thing expats notice about Swedes after living here for a while, is how strong their love of candy is. Swedes have a particular sweet tooth and enjoy indulging in lördagsgodis (Saturday candy) every weekend. This typically consists of a variety of sweets, such as chocolate, licorice, and gummy bears.
In addition to Saturday candy, Swedes also love to partake in fredagsmys (cozy Fridays). This tradition typically includes spending some quality time with family and friends, eating comfort food like tacos, pizza or pasta bolognese (very Swedish, I know!), and watching movies. It's a way for Swedes to relax and enjoy the end of the workweek.
I've written an article on the best Swedish chocolate brands if you'd like to find out more about Swedish chocolate, and if you're curious about which to try.
What are some types of Swedish candy?
Sweden is known for its numerous sweets and candies. One of the most popular is called Polkagris ("Polka Pig") which is a a type of candy cane that comes in a ton of different flavors. The classic red and white cane has a sweet strawberry flavor overtaken by a fresh minty flavor, and is often eaten as a treat or given as a gift.
Other iconic Swedish candies include Ahlgrens bilar, Daim, Kex Choklad, Gott & Blandat, and of course "Kanelbullar" (cinnamon buns).
Swedish Business: Innovative Tech & Products
Sweden is known globally for its innovative brands and companies, with some of the most famous Swedish companies including Volvo, Ericsson, Ikea, and Spotify. The country has a long tradition of producing world-class engineering and design innovations, with some of the most notable Swedish inventions including the zipper, ballpoint pen, adjustable wrench, three-point seat belt, and dynamite.
Sweden is also home to some of the world's leading tech companies. In fact, about 20 percent of all global digital exits have occurred in Sweden. This includes deals like Skype, Candy Crush Saga maker King Digital Entertainment, and Mojang (the company that created Minecraft).
Swedish tech companies are often at the forefront of new trends and technologies. For example, Spotify was one of the first streaming music services, and King was one of the first mobile game developers.
Sweden also has a strong tradition of manufacturing high-quality products. In 2005, Sweden was the world's leading exporter in the manufacturing of cars and trucks. In 2013, Sweden was #1 in industrial robots globally. And in 2015, Sweden retained its lead with a share of 25% of global production of LED lamps.
What is the main export of Sweden?
Sweden is known for its exports of iron ore, timber, and hydroelectricity. The country's main export partners are Germany, the United States, Norway, and the United Kingdom. Sweden's main export commodities are machinery and transportation equipment, chemical products, paper and pulp, and metals.
What products is Sweden known for?
Sweden's most famous products are probably IKEA furniture, H&M clothes, and Absolut Vodka liquor; three global brands that dominate their niche currently. But these products are not what Sweden exports most of.
During 2020 Sweden's biggest exports included vehicles (e.g. Volvo cars), pharmaceutical products (e.g. AstraZeneca drugs), non-electric machines (e.g. dynamo products), mineral oils, paper, iron, and steel.
What is Sweden known for economically?
Sweden has a very diversified economy, with a strong emphasis on both manufacturing and services. Some of the country's main exports include automobiles, telecommunications equipment, pharmaceuticals, and iron ore.
Swedish Architecture
Sweden is known for its stunning architecture. From the centuries-old palaces and churches to the modernist buildings and suburbs, Sweden has something to offer everyone who appreciates great design.
Some of the most famous Swedish architects include Gert Wingårdh, Helgo Zettervall, Ingeborg Bugge, Ragnar Östberg, Gunnar Asplund, Aron Johansson, Sven Markelius, Ingrid Wallberg, Ferdinand Boberg, and Stig L. Andersson.
One of the most iconic Swedish buildings is the Royal Palace in Stockholm. Completed in 1754, it's one of Europe's largest palaces. It's also home to Sweden's royal family.
Other popular tourist destinations include Drottningholm Palace (a UNESCO World Heritage Site), Vasa Museum (which houses a 17th century warship that sank and was recovered from the bottom of a harbor), and Ulriksdal Palace (a Rococo palace dating back to the 18th century).
The Swedish Healthcare System
Sweden is known for its high-quality, affordable healthcare system. Everyone in Sweden is covered by medical insurance, which is funded through taxes. This means that everyone has access to healthcare, regardless of their income or health status. The Swedish healthcare system is ranked as one of the best in the world, and it has been praised for its efficiency and quality of care. In addition to providing universal coverage, the Swedish healthcare system also offers a wide range of services, including mental health care and dental care.
Cold Swedes: A Reserved Population Influenced by a Cold Climate
A lot of Swedes can be a bit reserved and I have no doubt that our cold climate has a lot to do with it. No time to socialize when you gotta focus on keeping warm!
Swedes are also known for being (generally) reliable, hard working, and practical. We tend to value honesty and punctuality, and some of these collective characteristics can no doubt come off as cold at times. Despite our sometimes reserved nature, we Swedes are a friendly people once you get to know us.
Swedish Dark Humour
How about Swedish dark humour? This unique form of humour is often dry, ironic and—you guessed it—dark. It's not for everyone, but those who appreciate it find it utterly charming.
Swedish dark humour can be traced back to the country's bleak winters and long nights. It's a way for Swedes to cope with the darkness and isolation.
Killinggänget (The Killing Gang) are the kings of dark comedy
The jokes are often morbid, satirical and self-deprecating. They make light of the country's tough climate and conservative culture, and take solace in the fact that we all share the pain.
It can be found in books, movies, TV shows and online, with some of the most famous examples including the comedy by the Killing gang (Nile City, Torsk på Tallinn), and the Lorry gang (Lorry, Yrrol).
Swedish Education: A Well-Educated Population
A recent study by the Organization for Economic Cooperation and Development (OECD) found that Sweden has the second-highest proportion of adults with tertiary education in the world. In addition, Swedish students have some of the best test scores in the world.
There are many reasons for Sweden's success in educating its citizens. One reason is that the government has made a strong commitment to education. The government provides free education from preschool through university, and it invests heavily in education research and development.
Another reason for Sweden's success is its focus on teaching critical thinking skills. Swedish students are encouraged to think for themselves and to question authority. This approach helps them learn how to solve problems and think creatively.
Finally, Swedes place a high value on equality and cooperation.
Swedish Life Expectancy: Swedes live a long and mostly healthy life
According to the World Health Organization, Swedish women have the second highest life expectancy in the world at 83 years, and Swedish men rank sixth with a life expectancy of 78.5 years.
So what makes the Swedes so healthy?
There are many factors that contribute to Sweden's high life expectancy; Swedes have access to high-quality healthcare, one of the best healthcare systems in the world, and it is free for all citizens.
Healthcare is provided by the government through a system of regional health authorities. This system ensures that everyone has access to quality care, regardless of their income or where they live.
Despite all the Gloominess, Sweden is one of the happiest countries in the world
I know, I know. A bit further up I said Sweden was known for being dark and depressing. Still, Sweden is one of the happiest countries in the world according to the World Happiness Report.
The report ranks 156 countries by their happiness levels, based on factors such as GDP per capita, life expectancy, social support, freedom to make life choices, and corruption levels. Despite its cold climate and long winters, Sweden ranks fourth in the world for happiness.
One reason for Sweden's high ranking may be its strong social safety net. The country has a generous welfare system that provides free healthcare and education, as well as unemployment benefits and other social assistance programs.
Swedes also have a high degree of personal freedom and control over their lives, thanks to a robust democracy and a healthy amount of gender equality.
---
Sources:
https://si.se/app/uploads/2021/04/arsrapport-2020.pdf
https://www.media.volvocars.com/global/en-gb/media/pressreleases/18405
https://www.folksam.se/tester-och-goda-rad/vara-tester/test-av-utomhusfarger
https://ec.europa.eu/eurostat/web/products-eurostat-news/-/edn-20210910-1
https://www.gp.se/nyheter/sverige/tunga-instanser-vill-utreda-sveriges-drogf%C3%B6rbud-1.64591052
https://www.sverigesmiljomal.se/sa-fungerar-arbetet-med-sveriges-miljomal/miljomalssystemets-historia/
https://publications.lib.chalmers.se/records/fulltext/local_153696.pdf
https://www.nytimes.com/1999/07/12/business/media-business-advertising-absolut-top-selling-imported-vodka-country-extends.html
https://flm.nu/2012/08/de-25-basta-svenska-filmerna-genom-tiderna/