Whether you're here on a day trip from Copenhagen, or a couple of days stay as part of your Scandinavia trip, you'll find plenty of interesting things to see and do in Malmö. Keep this list in handy when you plan your next visit, and check as many off as you can while you're here!
Since moving back to Malmö I've had the pleasure to host lots of friends from my travels and studies, as well as our US-based side of the family on multiple occasions, and I've always been happy to show them around the city I grew up in.
I usually take them out on walks around the city which covers the must-see spots in Malmö, and it's always something both the visitors as well as my whole family of Malmö natives enjoy (everyone should be a tourist in their home city every now and then!).
Here's a map followed by a list of the must-see attractions and places I recommend in Malmö:
You can press each marker on the map for more info with a link to open in Google Maps. Note that you might not be able to make it to all of these in one day.
Kungsparken / Slottsparken / Slottsträdgården
Malmö's central parks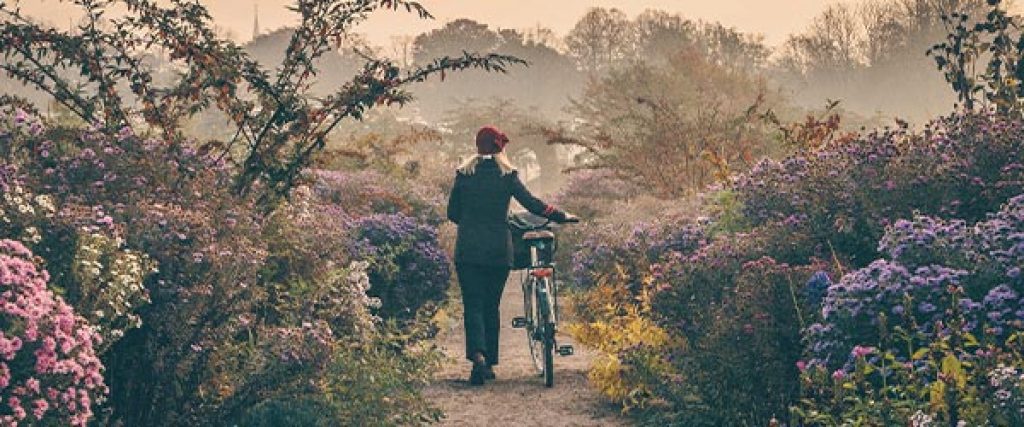 Malmö's tiny version of Central Park is actually three parks split by Malmö canal, and together they connect the surrounding neighborhoods Gamla väster, Davidshall, and Slottsstaden with picturesque walking and biking paths.
I go here almost every day for a morning walk or afternoon adventure with the kids, and there are enough playgrounds and places to explore for the hours to go by fast and with plenty of good times involved.
The many paths you'll come across here make their way through the park, over the canals, around the pond, and through the many inviting grass fields, benches, and tables you'll also come across here.
In other words, this is where you go if you are looking for a green and calm oasis when you're hanging out in central Malmö. Go for a picnic, a cheeky glass of boxed wine, a playdate, or just a calm moment to yourself. Enjoy good food and drinks by the canal, communal plant patches, and the many flowers that you'll find behind Malmöhus / Malmö Castle. Only open during the warmer half of the year. 
↗️ Open in Google Maps
Folkets Park
The People's Park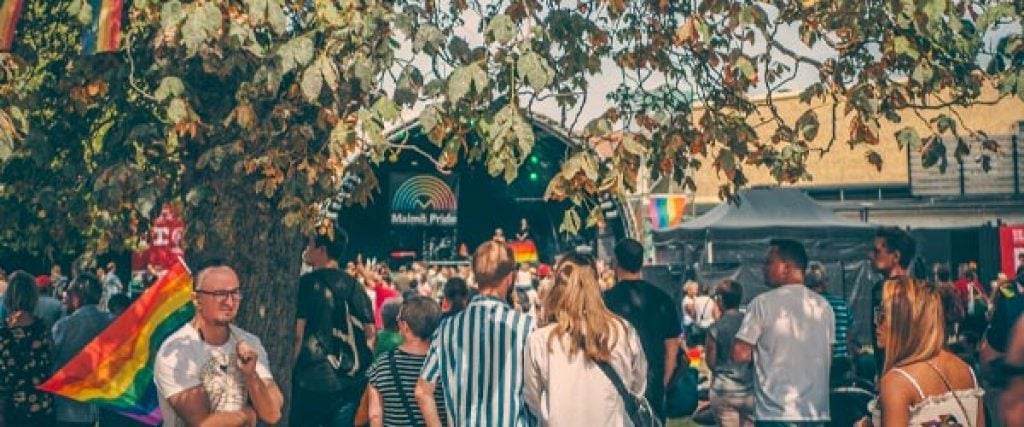 Folkets park is the oldest people's park in the world, and one of Sweden's most visited places. For 125+ years people have been coming here and enjoying the public spaces, specifically built to be open and welcoming to all.
That's not an empty promise either, as there is something for everyone here. We love going here because of the awesome playgrounds with jumping pads, a kiddie pool, and a minigolf course for the kids. Or maybe it's the Mikkeller bar, live music venue Moriska Paviljongen, and bohemian pizza place Far i Hatten that makes us come back again and again in the summer?
Either way, the whole family loves going here, and as it's a public park entry is free for everyone too.
↗️ Open in Google Maps
ℹ️ Website A hip spot located by the south-western entrance to Folkets park. Go here for the original and unique pizzas, the hip atmosphere, and the very cozy outdoor seating (some of which is under a roof cover for the rainy days).
Few places can beat the atmosphere Far I Hatten in Folkets Park offers its guests, and the food is good too!
This bohemian paradise is usually filled with loads of young people mixed with families with young ones, and with everyone usually smiling and having loads of fun (don't miss the board games while you wait for your pizza).
↗️ Open in Google Maps
Malmö Saluhall
A Modern Food Market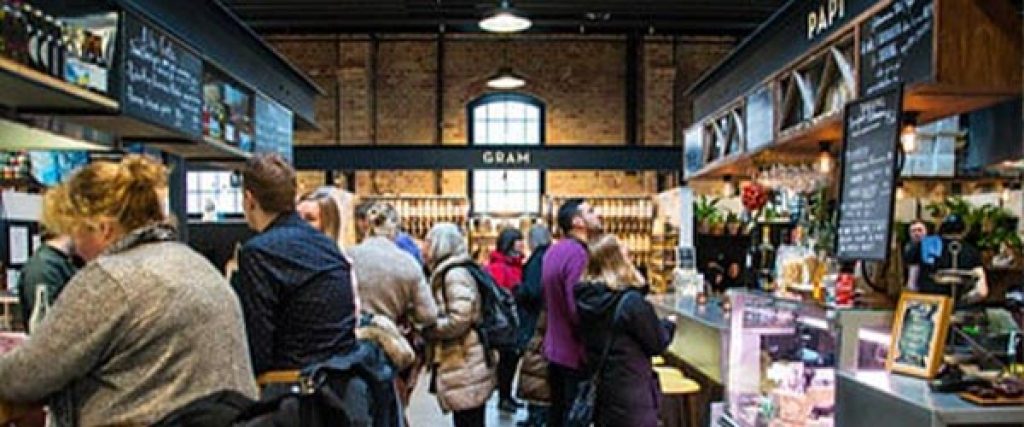 The first stop I recommend to any foodie visiting the city, is always the trendy Malmö Saluhall; A modern food market packed with restaurants, cafés, and food shops that has something for everyone. The renovated building offers a modern interior infused with elements from the original walls, and really captures Malmö's creativity and culture in a great way.
I love going here for a cozy and easy lunch getaway with family and friends, because there will be something everyone in the company will like in one of the many food spots. I also love being able to mix and match food and beer across multiple places (because there are so many good options across all of the places in here).
Here are my favorite spots in Malmö Saluhall, they haven't disappointed yet (and we tend to set the bar high):
Pink Noodle Bar – Great-tasting, unique and modern Asian food by Aussie chef Wade Brown. My personal favorite in here. Hedvigsdal – Artisan pizzas paired with a good selection of wine and beers Poms – Scanian/American hybrid sandwiches with excellent smashed potatoes Favvo glass – Nothing like Malmö's yummiest icecream in the shade after a day in the sun Falafel & Burgers – Recently chosen as Malmö's best burger by newspaper Sydsvenskan
↗️ Open in Google Maps
ℹ️ Website
Fiskehoddorna
A picturesque fishing village next to the castle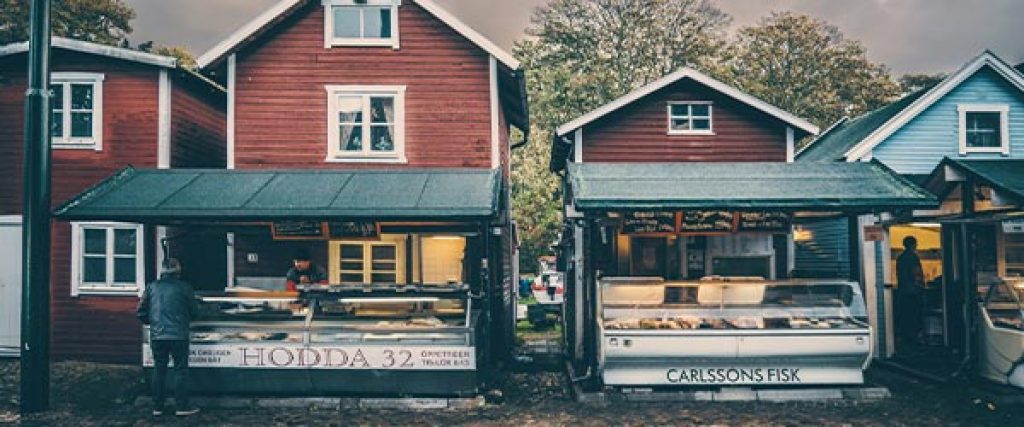 I don't just go here for the fresh fish and cozy fishing village atmosphere, I go for what is always a rewarding and fun chat with the fishermen. They always offer a dose of fresh perspective from the local waters of Öresund and Kattegat (the straits between Sweden, Denmark and Norway) along with all the seafood.
Go here for fresh locally sourced fish, smoked delicacies, or like me, just to have a nice chat with the fishermen.
↗️ Open in Google Maps
ℹ️ Website
Gamla Väster
The western part Malmö's old town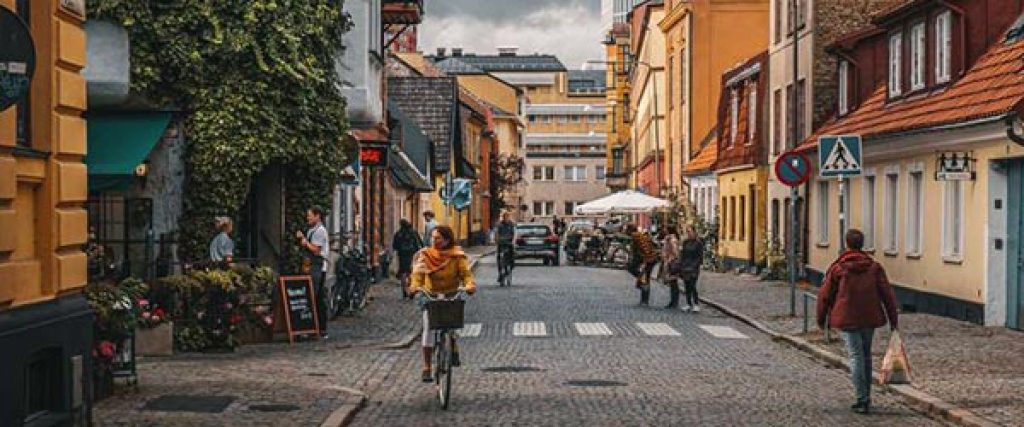 Gamla väster is so much more than just the mandatory visit to Lilla torg. The old town neighborhood surrounded by the canal has loads of hole-in-the-walls tucked away on the picturesque cobblestone alleys. If you stray away a bit from the beaten path you'll find some true gems here!
I feel lucky to walk and bike up and down the cozy streets of Gamla väster every day (on my way to and from pre-school, school, and clients), and I can really recommend setting a couple of hours aside to explore this neighborhood.
Turning Torso
Architectural wonder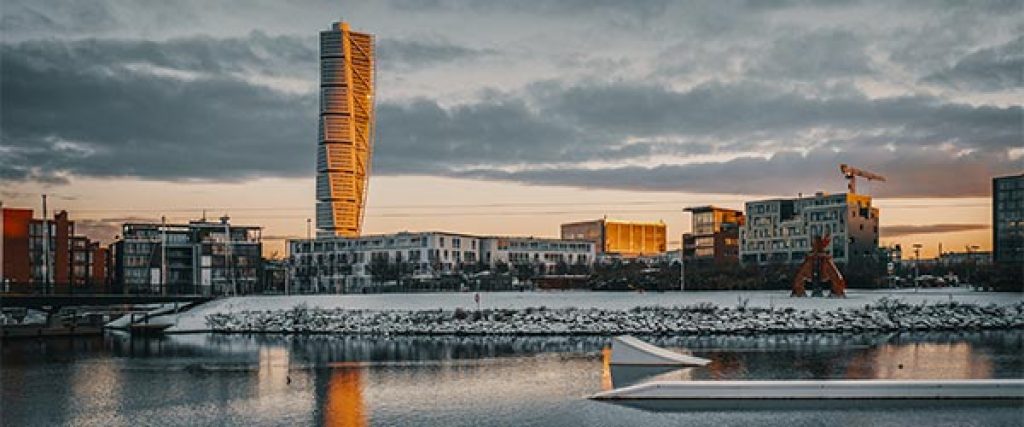 Turning Torso is located in Västra hamnen, Malmö, was designed by Santiago Calatrava, and stood ready in all its twisting glory in August, 2005. The neo-futurist tower turns 90 degrees from bottom to top, and reaches 54 stories and 190 m/623 feet up in the air (making it the tallest building in the Nordics).
I recommend a visit for visitors in Malmö not just for the magnificent sight of the skyscraper, but also for the surrounding Bo01 housing exhibition area in Västra hamnen: an innovative, sustainable, and super walkable neighborhood with cozy alleys and canals mixed with ocean boardwalks and… an enormous twisting skyscraper tower, of course.
↗️ Open in Google Maps
ℹ️ Website
📞 Phone
Ribban Beach / Ribersborgs Kallbadhus
Popular ocean activities year-round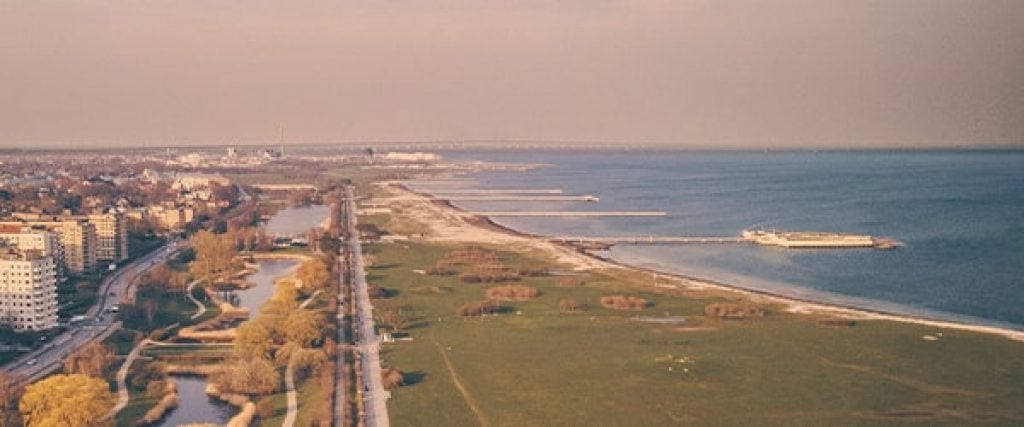 ↗️ Open in Google Maps
ℹ️ Website
📞 Phone
It won't take you many minutes to walk to Ribersborg "Ribban" beach from the central station, and the beach will offer plenty of white, soft sand and a view of the now fairly famous Öresund bridge (from Bron/The Bridge TV series) as well as Turning Torso.
I love going on runs here and going swimming in the summer of course, but you'll also find lots of other activities such as a brand new outdoor gym, numerous barbeque spots, beach volleyball courts, beach football courts, basketball courts, two big playgrounds, and plenty of cafes, ice-cream carts, fruit stands, and coffee-on-wheels bikes to keep you refreshed and happy on a sunny day on the beach.
Ribban beach—very popular during the warmer months—can also be a great destination deep into the southern Swedish winter (which usually hovers around 0°C/32°F). All throughout winter, the people of Malmö flock to Ribersborg's Pier 1 for a uniquely Nordic experience; ice-swimming at Kallis.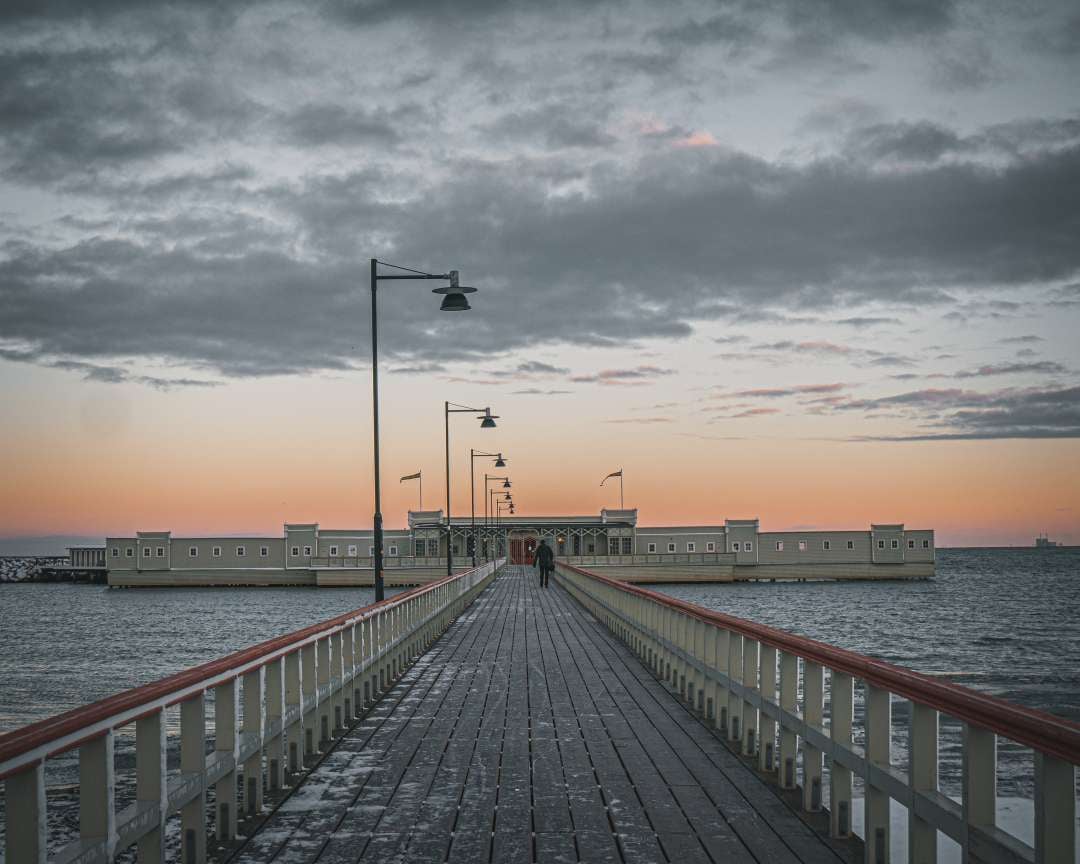 Kallis
is an open-air public bath open for skinny dipping all year long, and nothing short of a Malmö classic.
The bathhouse has two separate sections for men and women, each with two saunas and a hot tub to get warm after the cold dip. There is also a mixed sauna for those who prefer that, and a cafe/restaurant in connection to the bath.
↗️ Open in Google Maps
ℹ️ Website
📞 Phone
❄️ Ice-dipping is a very popular winter activity in most of the Nordics, and is something I first started doing in the Swedish army (where it's used as an educational moment as well as a well-being tactic to strengthen the immune system). Later in life it's also been a great and fun bonding experience with friends and family, and something I look forward to introducing to my kids some day. The ice-cold water has been observed to elevate your body's production of white blood cells, which in turn has been shown to make you more resistant to common colds and the likes for up to a year after.
Möllevångstorget
Market stalls and pubs everywhere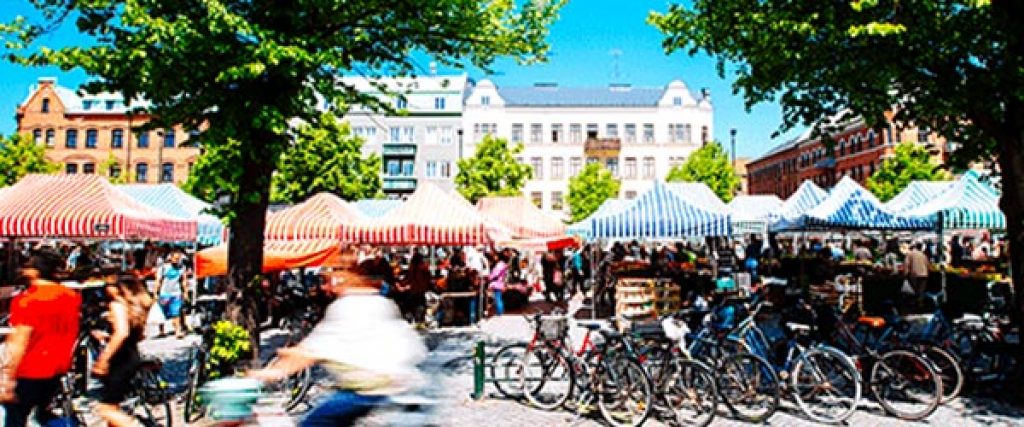 Möllan is the most hipster-heavy and multicultural neighborhood of Malmö, and as such home to a multitude of international food stores and restaurants—and the city's cheapest "stor stark" (large beer). The neighborhood might have been gentrified over recent years, but it's still a melting pot of people from all over the world, coexisting and cooperating to create a lively and friendly neighborhood.
The square is famous for it's fruit and vegetable markets, and is lined with bars and restaurants where you can enjoy some food and drinks in good company, for a lot less then other outdoor seating areas usually charges.
At "Möllan" you'll also find the shopping place Mitt Möllan, home of an excellent food court full of hip Malmö favorites with culinary inspirations from all over the world.
On match days you'll find thousands of MFF fans either pre-gaming or watching the away games around the square, especially at the Ölkaféet bar on Skolgatan.
Malmö Castle
Renaissance castle with museum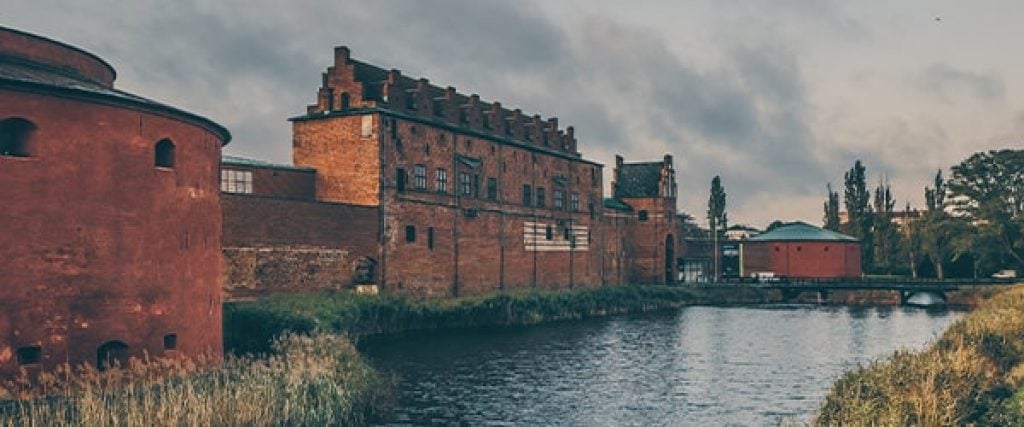 Malmöhus Castle is the Nordics' oldest renaissance castle and was originally built in 1434, and then expanded in the mid-16th and mid 17th centuries to its current form. It has been a museum since 1937, and parts of Eric of Pomerania's original fort still remain here to this day.
I walk by the castle almost daily, and it's always like you travel back in time for just a few minutes as you walk along the sleepy moat and take in the raw beauty of the old fortress.
The castle offers visitors a unique and picturesque exterior with its moat and red bastions, and on the inside there is an aquarium, café, castle exhibit, and usually a changing exhibit that has some connection to Malmö.
↗️ Open in Google Maps
ℹ️ Website
📞 Phone
Gustav Adolfs Torg
A people hub surrounded by beautiful buildings and parks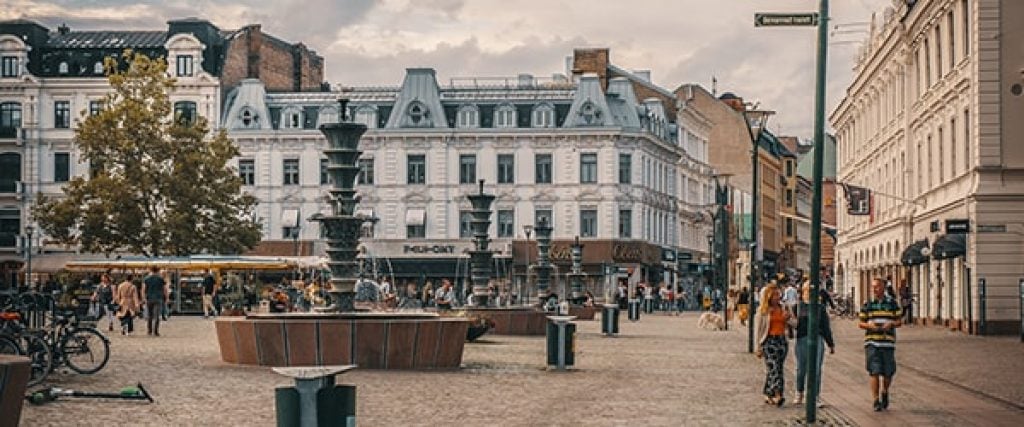 Gustav Adolfs torg is one of the bigger squares and a popular spot to meet up with your friends or start your shopping street spree.
Due to the size and central location, "Gustav" is usually where traveling markets, art exhibitions and similar events set up, and the square is always the food hub of the very popular yearly Malmö Festival.
You'll find a huge H&M store in the northeastern corner of the square, and the entire northern side of the square (a.k.a. "the sunny side") is lined with trendy cafes and restaurants.
Gågatan
Malmö's pedestrian-only shopping street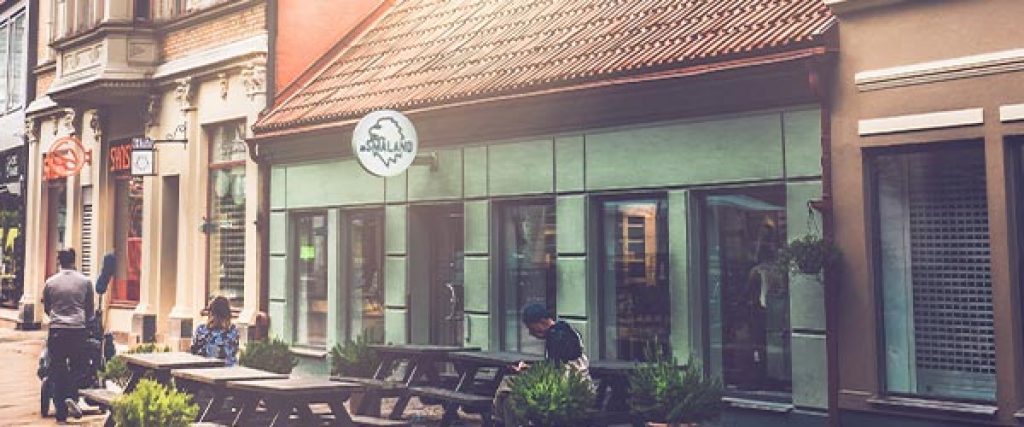 The most Malmö way to shop might be to walk along the so-called "shopping streets" that are going through the central parts of the city, from the Central station going south through Södergatan, Gustav Adolfs torg, Södra förstadsgatan, Triangeln, and all the way down to Södervärn/Möllevången.
For the most part this is a pedestrians-only street packed with shops, boutiques, cafes, and restaurants that'll keep you busy for hours if you want it to.
Södertull / Malmö Canal
Cozy canal-side area with food spots and shopping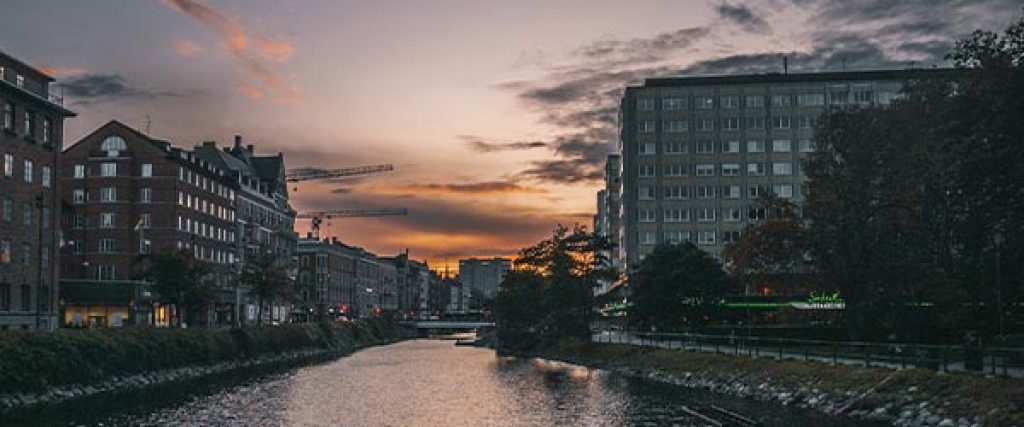 Södertull is not technically a square, but it surely would've been had there not been a canal running right through (this is where you get on the canal raft Flotten, by the way).
Said canal does make it a super cozy spot to sit and enjoy a glass of wine or a nice meal in one of the many restaurants lining the canal here, so that's definitely a plus in the end!
My recommendations would be Tugg Burgers if you want a top-quality burger and an IPA, or neighboring Sakanaya if you're feeling more like surprisingly good Japanese food and some nice wine.
Lilla Torg
Lively and popular square with pubs & cafes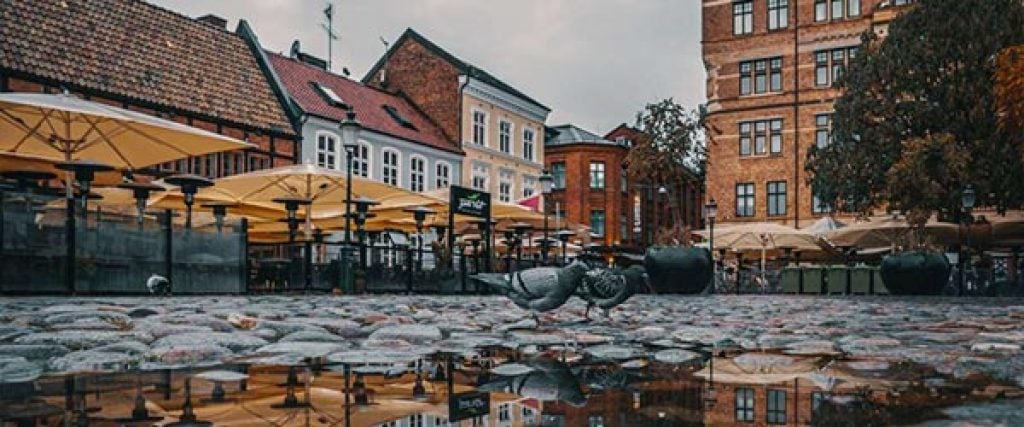 Lilla torg is probably the quintessential Malmö square and a must-see spot if you are short on time. The name literally means "little square" which gives away one of the more important aspects of the square; how small and cozy it is.
Covered with old (and not always even!) cobblestone and lined with timber-framed houses, it's quite easy to travel back in time when you sit down for a drink or bite in one of the many bars, cafes, and restaurants on the square.
The restaurants here won't offer the most authentic food experience, but the Moose Burger from Moosehead rarely disappoints, and I love going here for a cold beer or glass of wine with work or travel friends.
On the southern side of square, the more creatively inclined will find an art and design museum (Form/Design Center), an excellent and rare record shop (where you can also buy and drink beer/coffee), a cool craft store, and a phenomenal cheese shop.
Malmö Live
Modern foodie spots and brutal architecture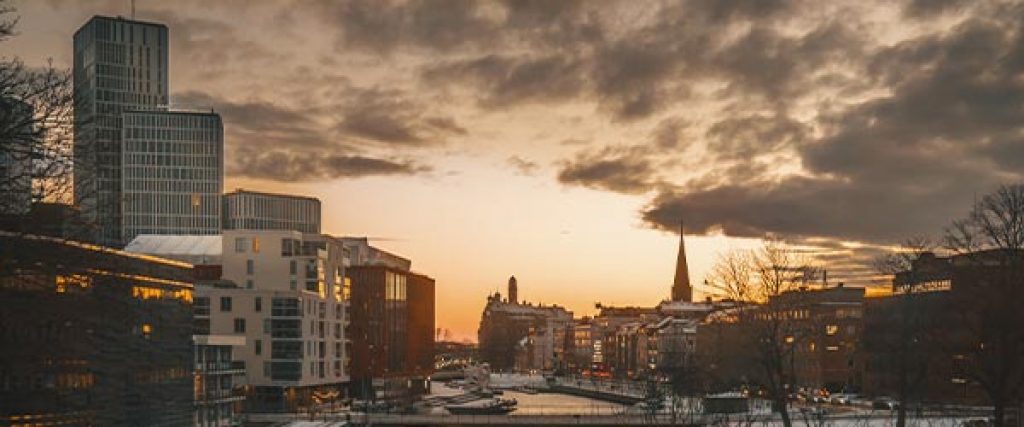 The Malmö Live area is a fairly recent addition to central Malmö, and is located on the canal right next to Malmö Central Station. The three towers and adjacent building houses a hotel, concert hall, conference facilities, offices, and apartments.
Although not everyone is a fan of the modernist brutalist style of these three towers and the attached concert hall, it's hard to resist the impact the building has had on the area.
Go and visit one of the many awesome local businesses that sprouted up around Malmö Live, take a stroll along the canal and the mini square, or just sit and enjoy the art on the boardwalk.
ℹ️ Malmö Live Concert Hall Website
📞 Phone
ℹ️ Malmö Live Hotel Website
📞 Phone Take the elevator up to the top floor and take in the spectacular view over Malmö as you have a cocktail or bite from celebrity chef Marcus Samuelsson's menu (currently running Red Rooster in Harlem, NY). Good Mexican food isn't the easiest to find in Malmö, and despite feeling a bit commercial and big Eatery Social really delivers the goods on the food front. You won't find a better Gin & Tonic in Malmö than the ones that are crafted here. Usually made with local tonics and craft gins, these passionate gin geeks create phenomenal cocktails in a really cool and unique atmosphere. It's hard not to love this place for late-night cocktails and discussions with your date or buds.
Drottningtorget
Play some boule and walk aroud the old blocks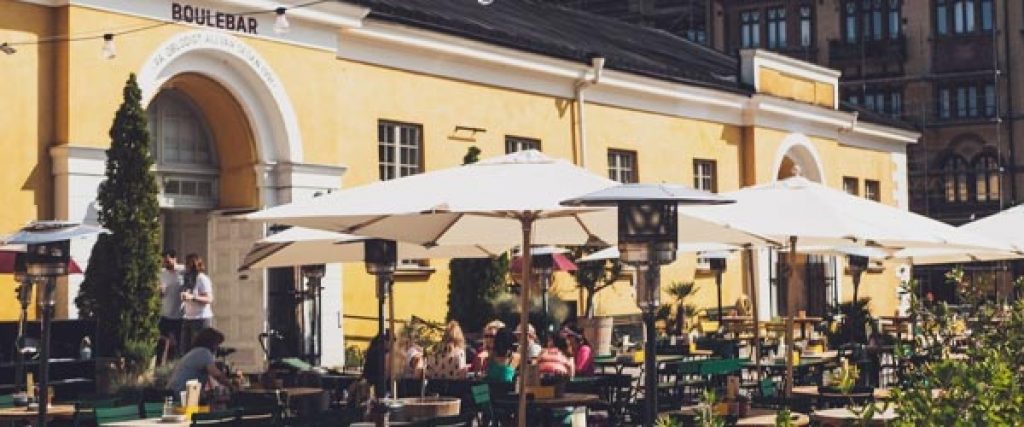 Drottningtorget is the home of a bunch of really good food spots these days, and is well worth a visit from the curious foodie.
With the unique Boulebaren you'll have entertainment and food year-round, and in the summer you'll also find an epic flea market every Sunday.
There are a couple of gorgeous old timber-framed houses from the 16th century right next to the square, Thottska huset and Diedenska huset.
Malmö Harbor / Malmö University
An old harbour with a modern university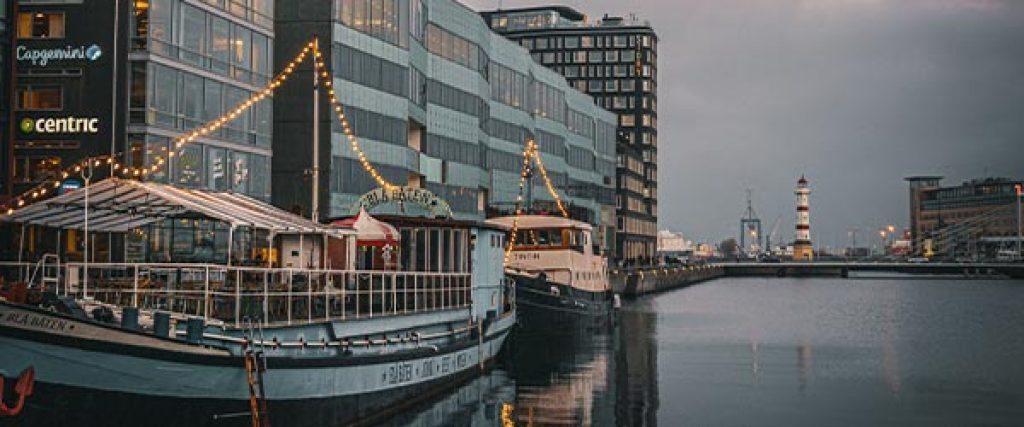 The university library Orkanen along the harbor is worth a visit if only just to stroll next to it on the boardwalk walking up towards the trendy Studio. The exterior of the building is fittingly lined with famous lines of text on top of the modern facade.
Dockan Marina
Arriving by boat? No problem!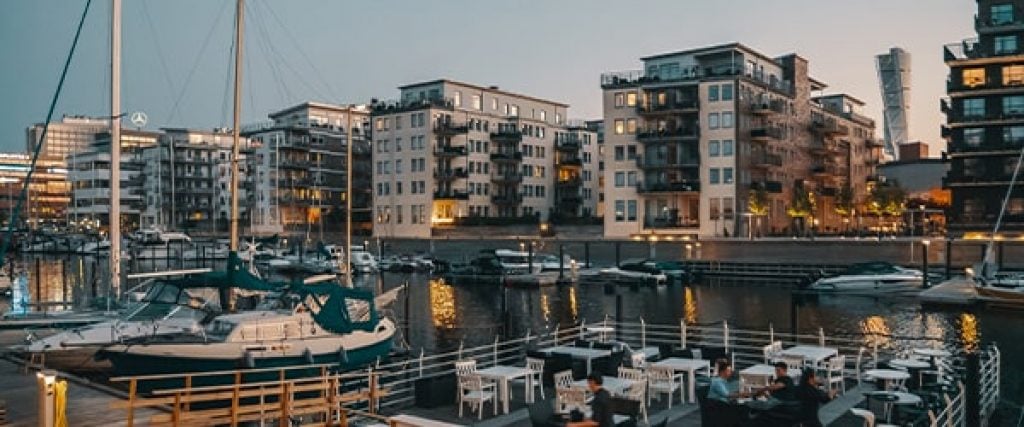 Dockan Marina is the most centrally located and also the newest marina in Malmö. Lined with trendy restaurants and cafés, this is the perfect spot for an evening drink on the water while watching the sun go down between the masts.
Davidshall
Vintage fashion and trendy food spots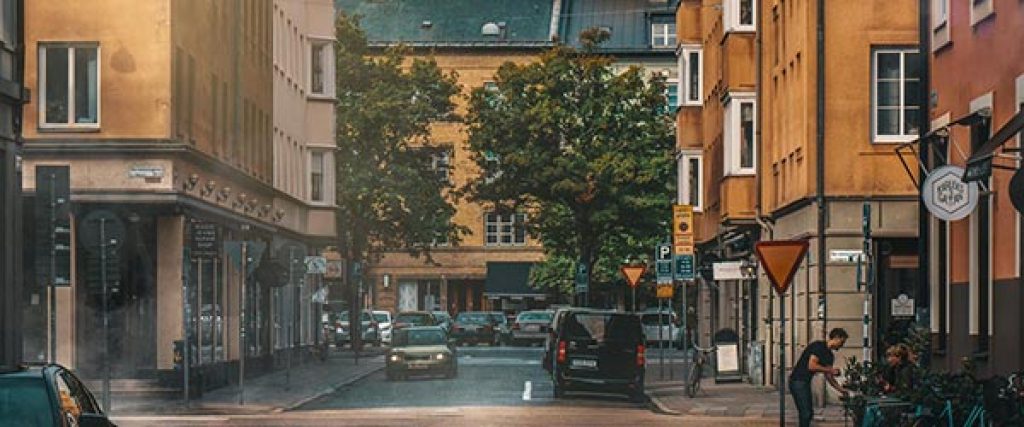 Davidshallstorg has some of the trendier shops, cafes and restaurants in town surrounding it, and is just a block away from the pedestrian-only shopping street Södra förstadsgatan (that you'll likely be walking on at some point).
Browse the many vintage and fashion shops, sit down at some of the hottest restaurants in town, or enjoy one of the smaller square markets that pop up here every now and then.
Sibbarp Beach
Camping, swimming, socializing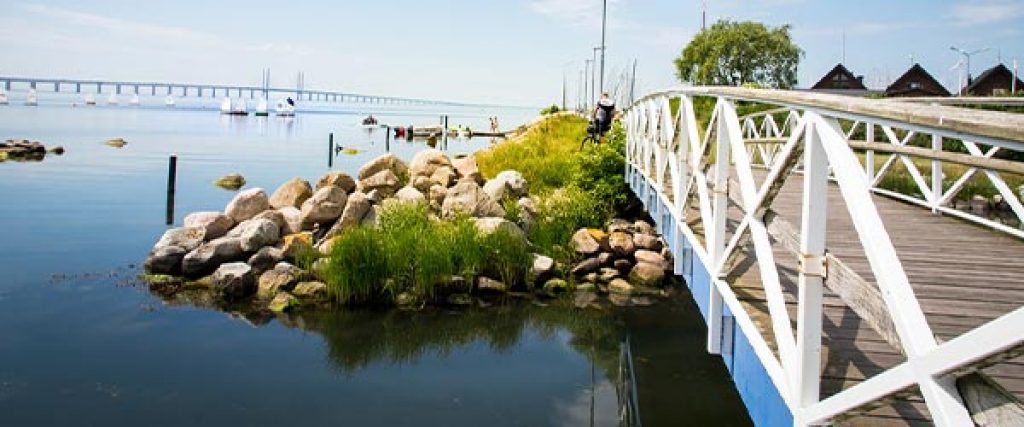 For those who find themselves in Limhamn or on the southern end of the Malmö coastline, there is also Sibbarp beach. There is both a small sandy beach, and a more grassy area with piers you can climb down from or jump from.
There is also a big campsite (First Camp Sibbarp) right on the water and just minutes away from cozy Limhamn.
↗️ Open in Google Maps
ℹ️ Website
📞 Phone
Slottsstaden
"Pacifier Town" with "Latte Dads" everywhere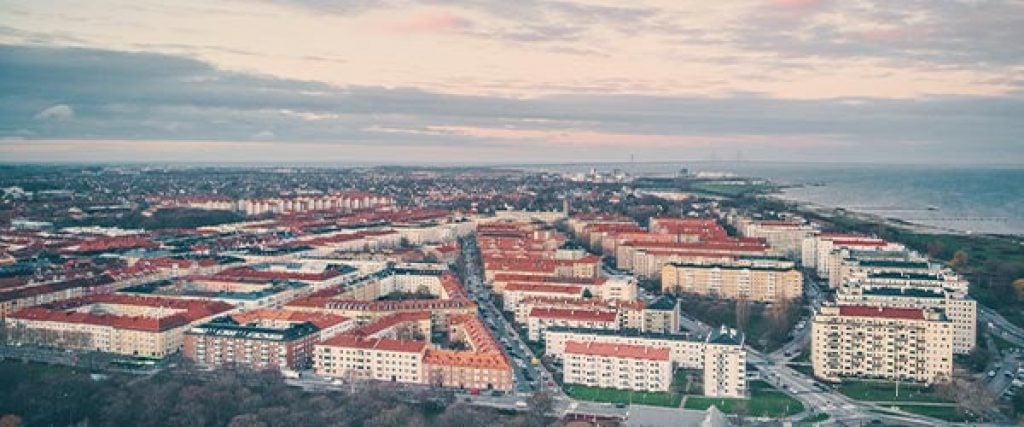 Slottsstaden is absolutely stuffed with cozy cafés and restaurants next to green areas and picturesque buildings. Walk around for a while and plop down your butt and the nearest café when you feel up for a snack and a drink.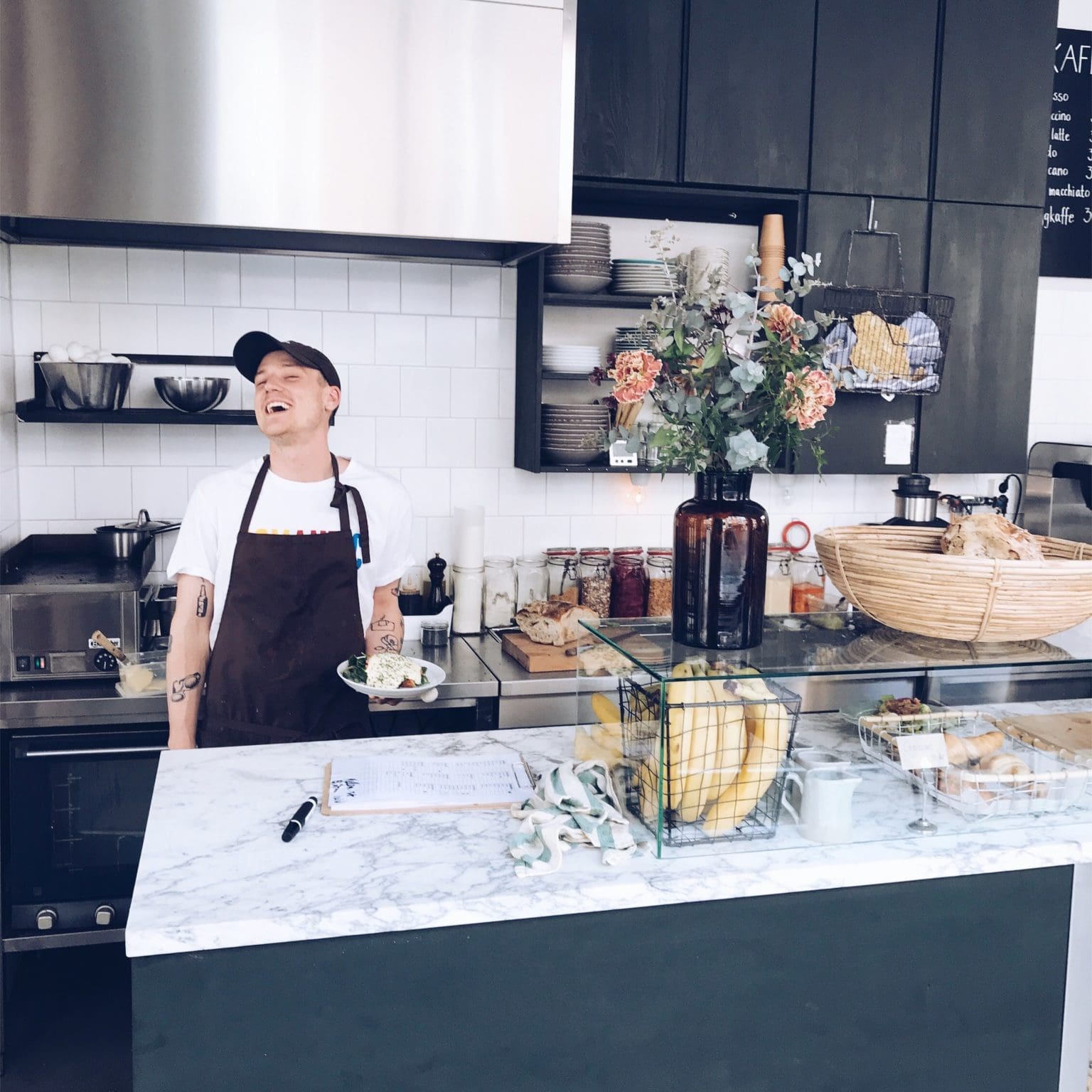 At Atrium you can chill in the shade in the very cozy outdoor seating aream, in a quiet but lively part of town.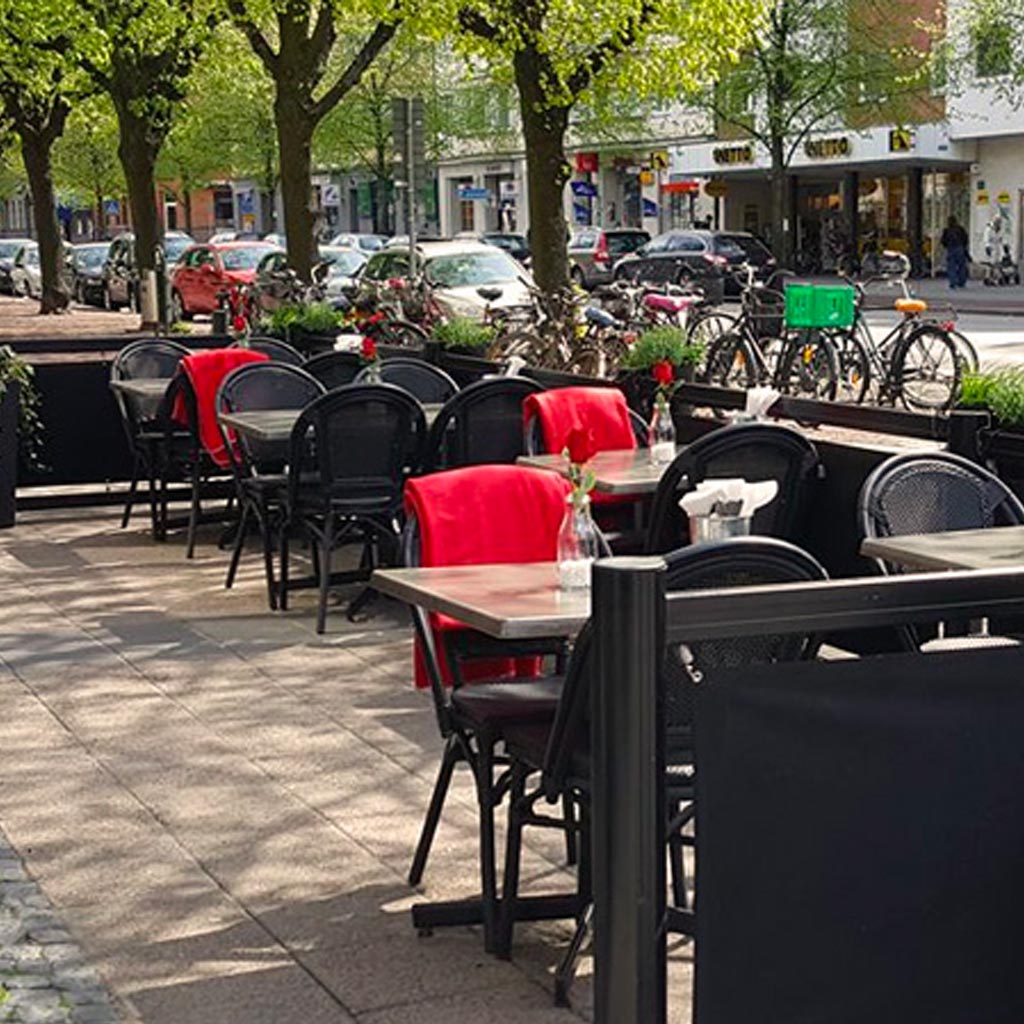 Hörnet offers an excellent Swedish lunch in the sunshine on the large but relatively calm Regementsgatan.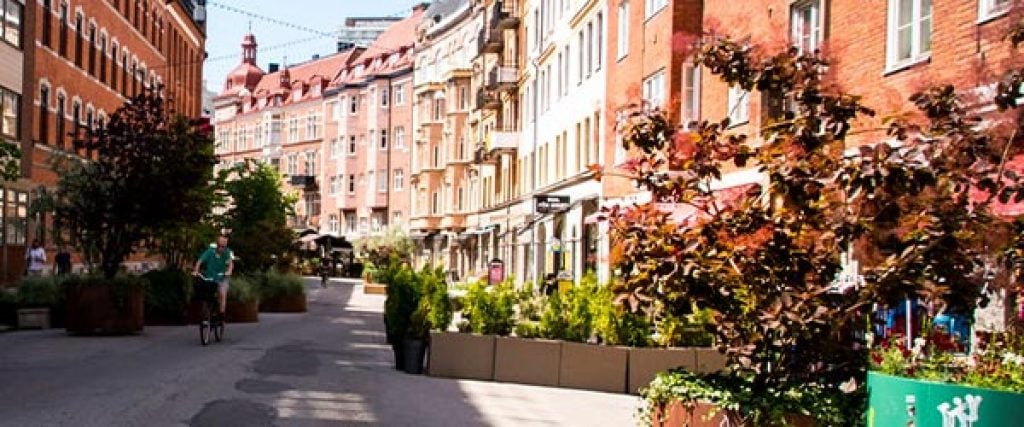 The beautifully curved Friisgatan is one of Malmö's most recent pedestrian-only streets, and is located next to the Triangeln square/shopping center.
I go here for the food spots and super cozy street atmosphere, and end up staying for a while because of all the surrounding trendy boutiques and hole-in-the-walls there is to explore.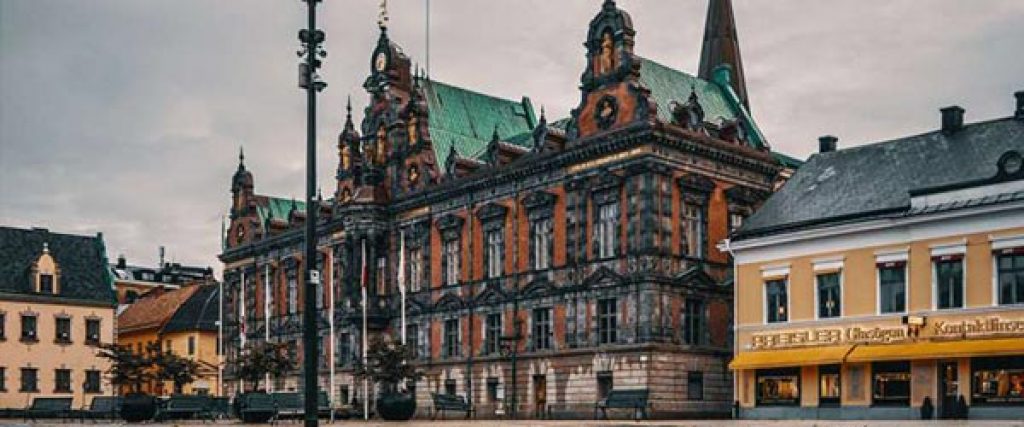 Although it might not be as cozy as neighboring Lilla torg, Stortorget still offers a beautiful mix of buildings, statues, trees, fountains, and more.
Walk around the square and take in the beautiful old courthouse, the picturesque building with the oldest pharmacy in Malmö (Lejonet), the statue of King Charles XI, and the many cozy alleys you'll find around the square's nooks and crannies.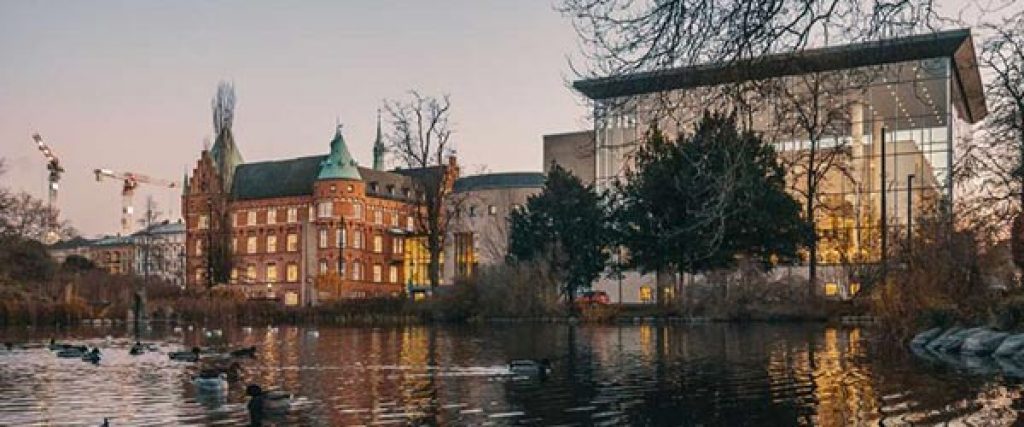 The Malmö City Library is split between three buildings; "The Castle" inspired by Danish and Swedish renaissance castles, "The Cylinder" which houses the entrance to the library as well as a cafe, and the striking "Calendar of Light" which is where you'll find the main book stacks as well as reading/study spots.
"The Castle" building has a kids area on the bottom floor that is lovely and also super popular with the young ones, whereas adults are always blown away by the huge glass building known as "The Calendar of Light".
The cafe has good food, a nice selection of coffee/juice/beers, and is very kid-friendly in general.
↗️ Open in Google Maps
ℹ️ Website
📞 Phone
---
💡 Want even more options and inspiration on where to go while you're in Malmö? I've written a complete guide of 31 reasons to visit Malmö that includes hundreds of local recommendations on where to eat, drink, shop, etc. Go check it out if you want to dive deeper!
Similar Posts: