As someone who has grown up in and lived in Malmö for the majority of my adult life, it's easy to see why travelers (especially from the US) would enjoy a visit to the city — but it may not be so obvious for someone who has barely heard of the city, let alone lived here.
Malmö is often described as one of the Nordics' most underrated cities, which is understandable considering its gritty, industrial past and fairly recent period of growth and transformation into a popular travel destination.
So in this article, I'll attempt to illustrate why you should include Malmö in your travel plans, by looking at what makes the city stand out among other European cities, and by comparing it to the much bigger and popular Scandinavian cities Stockholm and Copenhagen (which also might be part of your trip).
ℹ️ For more specific tips, ideas, and inspiration on what to do in Malmö, I've written a complete guide to things to do in Malmö that is filled with recommendations and interesting info, from a local's perspective.
What Makes Malmö Stand Out From Other Scandinavian Cities?
Malmö is the 5th biggest city in the Nordic region, and although it may be old (est. 1170), Malmö is one of Sweden's youngest cities population-wise with an average age of 36.
It also has loads of cozy and tucked-away spots (most of which aren't too busy), and is uniquely located just one bridge (yes, that would be The Bridge) or 25 minutes away from Copenhagen in Denmark — important factors behind why Malmö is sometimes referred to as the Brooklyn of Copenhagen (if you replace Manhattan with the Danish capital) and Little Berlin (due to its big sub-culture scene and similar architecture).
One thing that sets Malmö apart from other major Nordic cities (including the Danish capital) is that it can offer similar attractions and experiences, but it does not come with the same large crowds, noisy traffic, or high costs of the bigger cities.
In other words, it can be a nice change of pace to go to small and cozy Malmö, as part of your visit to the much busier Copenhagen across the sound.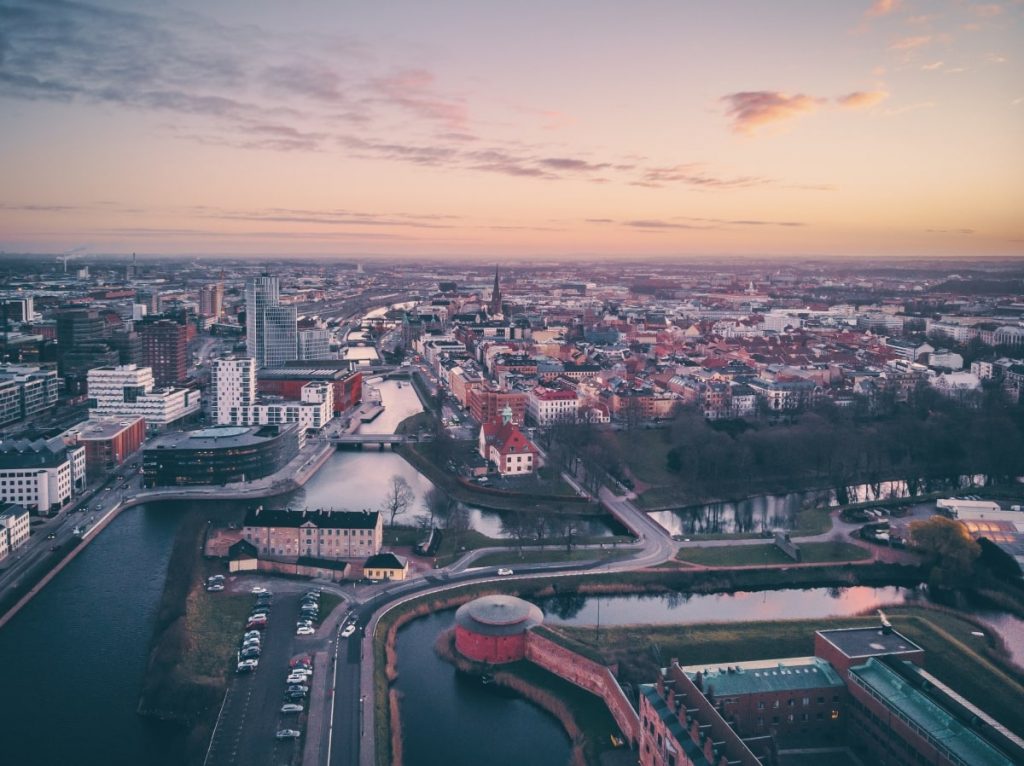 Malmö vs. Stockholm vs. Copenhagen – Big Survey Data
For those of you who are curious what the citizens of Malmö think about their city, and why they think Malmö is worth visiting, the European Commission conducted a massive survey to figure out how happy people are with life in their city. And if you ask the locals, Malmö has the best green spaces in Europe, is very quiet, has great public spaces, lots of retail shop availability, and very good cultural facilities.
I also wanted to compare Malmö to the two most popular Scandinavian cities for visitors (Stockholm and Copenhagen) to see how similarly they rank in quality of life indicators, as well as with the rest of the major European cities (rank in parenthesis):
Quality of Life Survey
How the three cities compare in the European Commission Quality of Life survey published in 2020
I am satisfied with living in my city
Total percentage who agree
I feel safe walking alone at night
Total percentage who agree
Most people in the city can be trusted
Total percentage who agree
Public Transport is affordable
Total percentage who agree
People cycling on a typical day
Total percentage
Cultural facilities in the city
Total percentage who are satisfied
Green spaces in the city
Total percentage who are satisfied
Public spaces in the city
Total percentage who are satisfied
Air quality in the city
Total percentage who are satisfied
Noise level in the city
Total percentage who are satisfied
Cleanliness in the city
Total percentage who are satisfied
There is corruption in the city's local administration
Total percentage who agree
Source: European Commission, 2020
According to the survey—with more than 58 000 respondents across 81 cities—Malmö ranks 1st in Europe when it comes to citizens' satisfaction with green spaces; 2nd when it comes to noise level (meaning it's Europe's second most quiet city), 5th when it comes to markets, squares, and pedestrian areas; 4th when it comes to availability of retail shops (2015); and 8th when it comes to cultural facilities.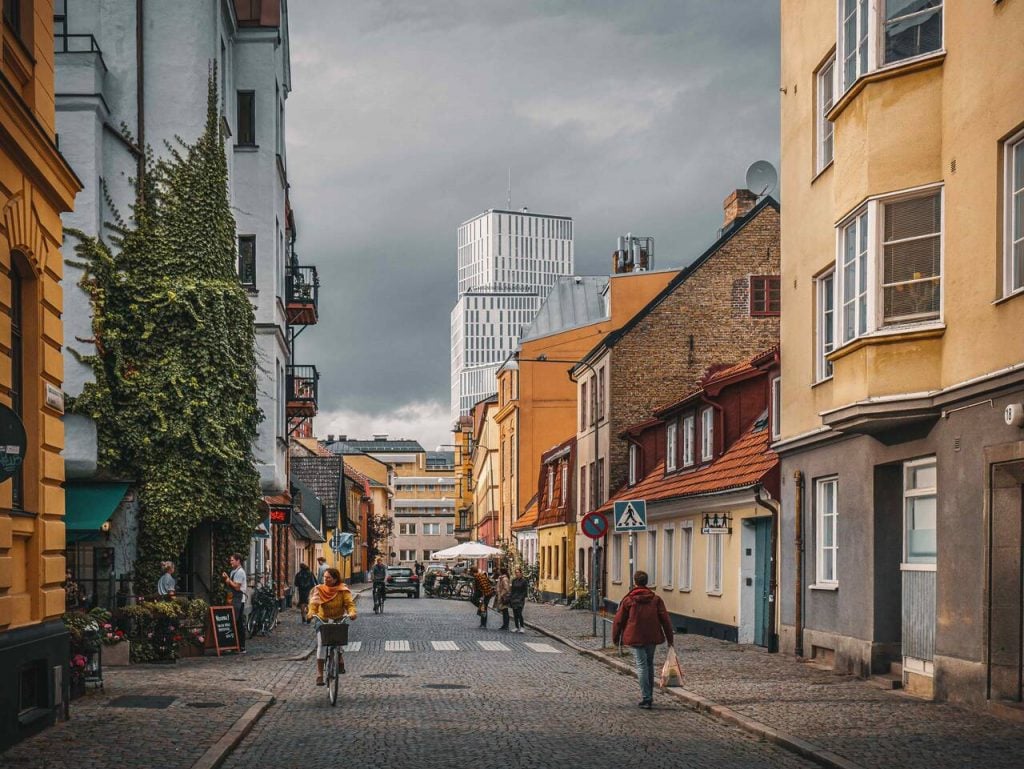 From a Rocky Past to a Commerce Boom
There is a unique spirit of overcoming obstacles in Malmö, as the city has shown a phenomenal ability over its entire history to adapt and transform itself; starting as a simple Danish ferry berth for visitors of nearby Lund in the 12th century, and eventually becoming the booming hub of commerce and creativity it is today.
To illustrate this, at least seven new businesses are started each day, and at least 30 major companies have moved their headquarters to Malmö in the last decade (among them the international furniture giant IKEA).
This makes Malmö an exciting city these days, filled with a young population that is eager to innovate and create.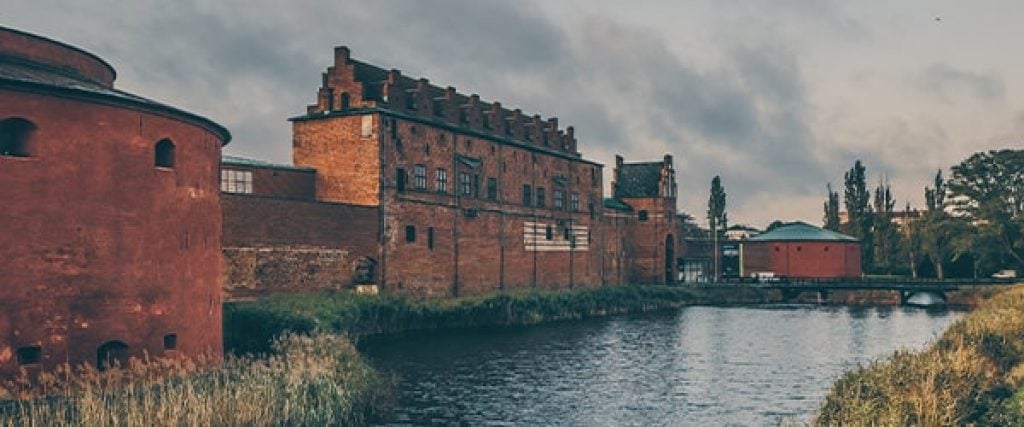 Summary
Whether you go as part of your Copenhagen trip or of your bigger Scandinavian trip, Malmö is well worth the visit. You can easily fill a single—or multiple—days in the city with good food, great sights, fun activities, and interesting neighborhoods, especially as Malmö has been experiencing both a commerce and tourism boom for the past decades.
Similar Posts: