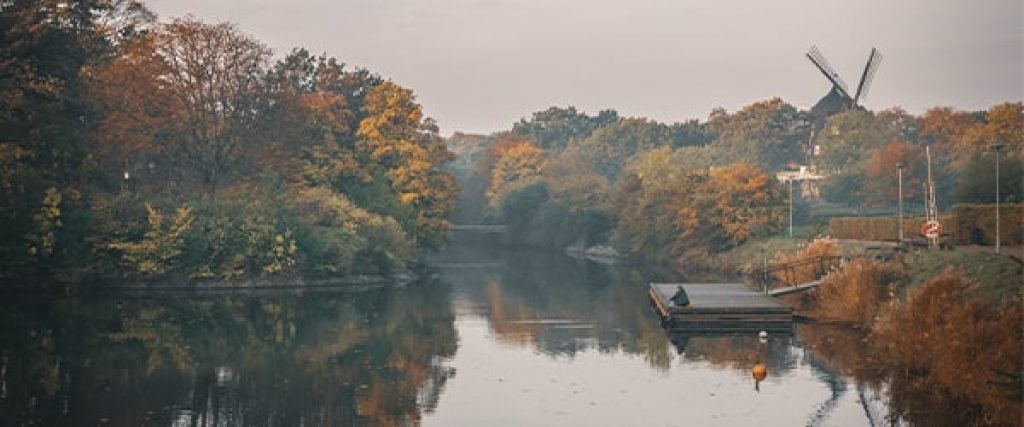 Since the beginning of the 1800s, the city of Malmö has been on a mission to build parks throughout the city, usually functioning as hubs between neighborhoods—with walk and bike paths, cozy canals, public activity areas, interesting landmarks, themed playgrounds, carefully placed greenery, and nearby schools and preschools.
Here are the top parks in Malmö: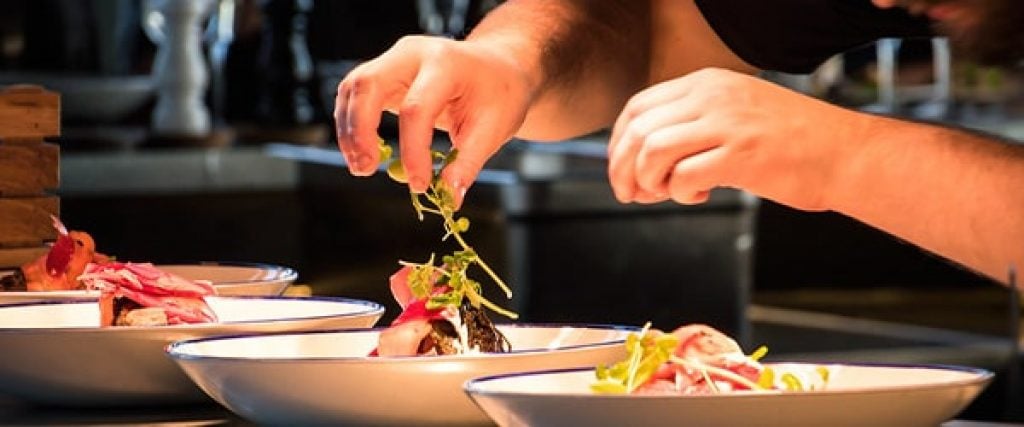 Malmö has taken gastronomical leaps as far as the number of quality food spots goes in the recent decade.
Here are some of the top restaurants and food spots in Malmö: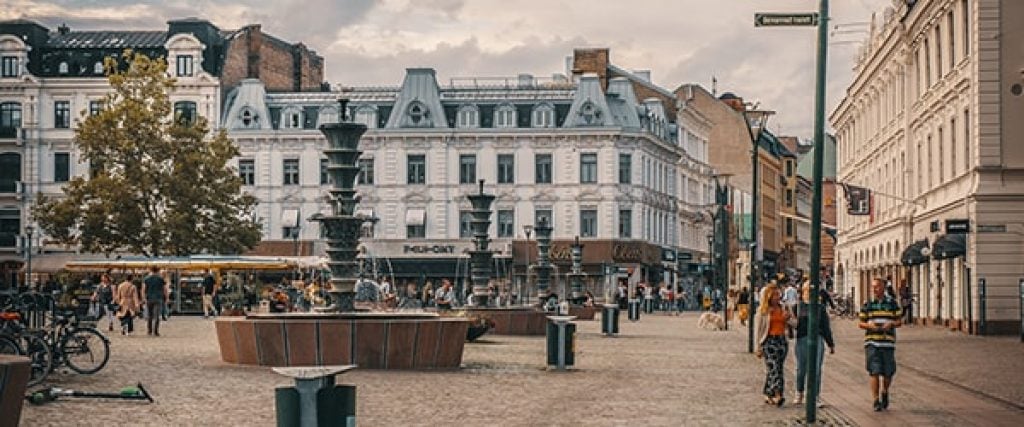 Malmö is uniquely walkable and is one of few cities where most sights and activities are within very pleasant walking distance. Stockholm and Gothenburg are definitely also pedestrian-friendly (especially Stockholm a.k.a. "The Biggest Small Town in the World"), but you'll always need to hop on some public transportation at some point if you'd like to see and experience all the city has to offer.
This is also why Malmö scores higher than any other Nordic city—and 2nd highest in Europe—in a recent survey done by the European Union measuring satisfaction with Public spaces such as markets, squares, and pedestrian areas. Malmöites really like their public spaces, and with good reason!
Malmö has a small-town feeling but with big city vibes and aspirations, with a picturesque and cozy old town—Gamla staden—which is usually split in half under the names Gamla väster and Gamla öster. And it's not just that you can walk most places, you'll also be likely to enjoy the walk along a pedestrian street lined with cafes and shops, a walking path through a park, or a cozy alley filled with quaint little houses.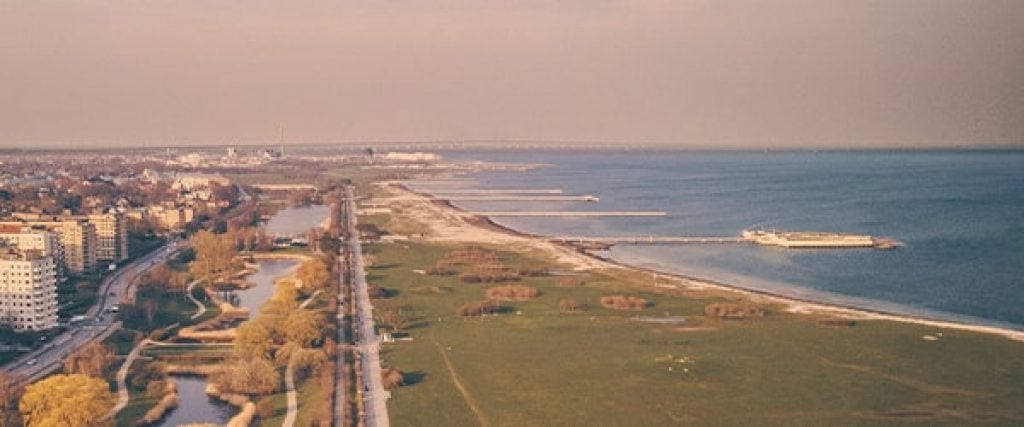 If you want to venture a bit out of the city there is also:
Lomma beach (gorgeous and far-reaching sand dunes) ↗️ Google Maps
Klagshamn, (cozy and idyllic smaller beach with a kiosk and pier you can jump from) ↗️ Google Maps
Skanör-Falsterbo (long paradise beaches with unique hidden gems everywhere). ↗️ Google Maps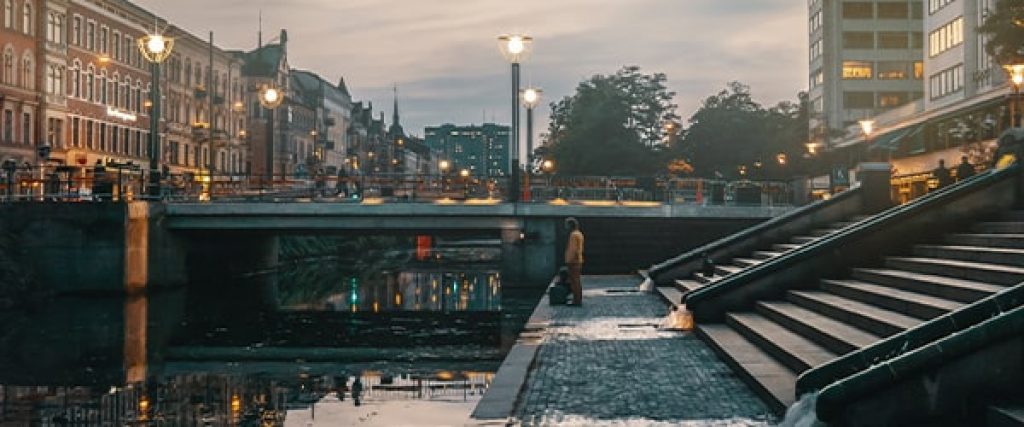 Malmö's canals are old remains of the fortifications that used to surround the city in medieval times. Today they provide beautiful waterways connecting the old parts of the city with the surrounding parks, and you can rent a paddleboat or a regular boat to cruise around at a leisurely pace in the summer months.
There are also guided canal tours (such as the classic Rundan) in English and Swedish, that make for a great way to see Malmö's inner city for those preferring to kick back and relax while seeing the sights.
The popular raft Flotten also makes the occasional appearance with live music, good food, and great company floating down the canal—not the worst way to spend a sunny Scandinavian evening. You can bring your own food or order catered food ahead of time.
There are also SUP (Stand Up Paddling) classes in the canal during the summer if you want to work on your core while enjoying the city waterways.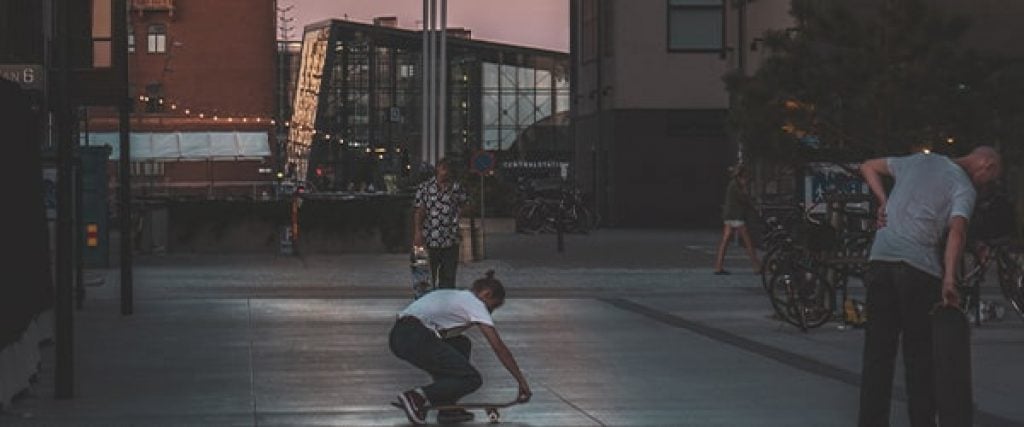 The creative spirit in Malmö is a fundamental part of the city's culture, and wherever you walk you'll bump into creative outlets of different kinds. Art galleries, street art, public art, artists standing and painting, photographers snapping pictures, musicians playing music—whatever it may be, there is a strong creative pulse in the city.
Here are some of the more creative spots of Malmö: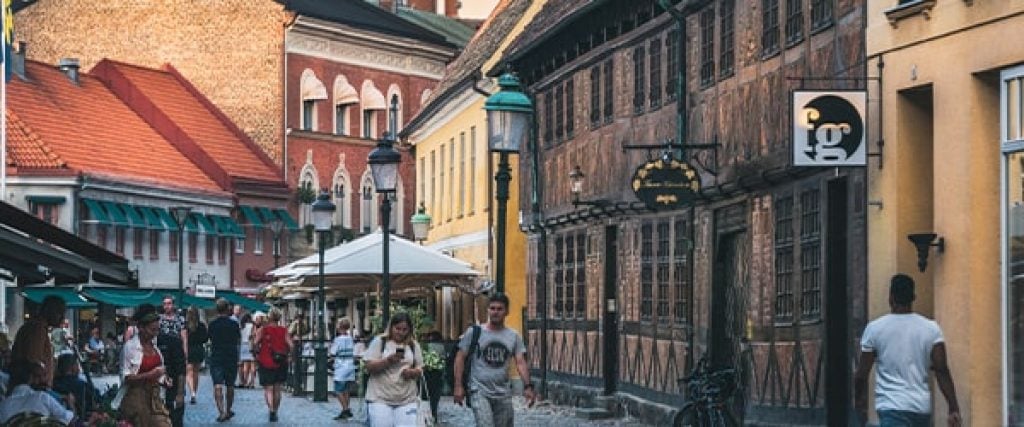 Doesn't matter if you call them piazzas, places, or plazas—there's nothing more European than cozy squares, lined with restaurants. and filled with happy people. And Malmö has plenty of that to go around!
Here are the top squares in Malmö: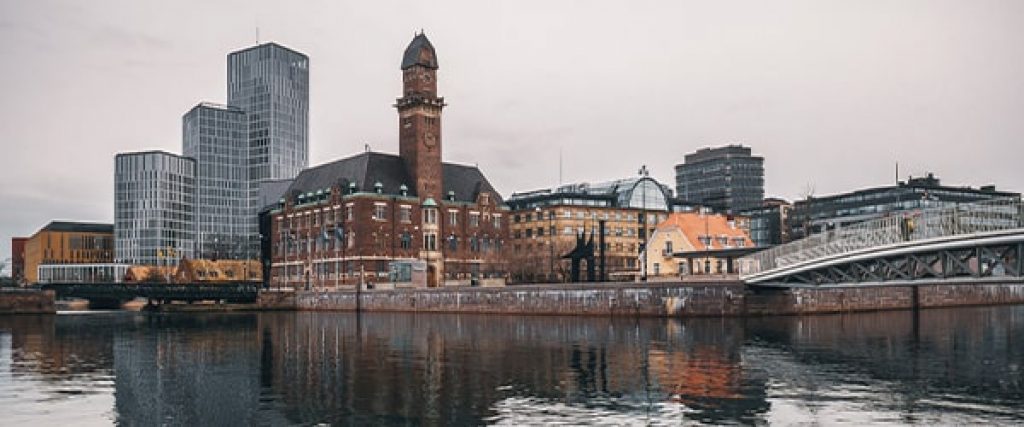 Malmö is rich with historical artifacts and modern marvels. One minute you are walking past Flensburgska gården—built in 1525—and the next you marvel at the neo-futuristic and award-winning Turning Torso, built in 2005 (and the tallest building in the Nordics).
One neighborhood in particular would be of interest to the architecturally inclined, an area in Västra hamnen known as Bo01, which also goes the nickname "City of Tomorrow" and incidentally where the aforementioned Turning Torso is located.
This neighborhood was part of the European Housing Exposition in 2001, and features modern houses, walkable blocks, peaceful canals, and quaint alleys—all of it built with a holistic approach that goes along with both sustainable design and high-quality living. The area was used as the basis of the rest of the neighborhoods on the artificial island, and has been praised for its urban planning and many interesting buildings.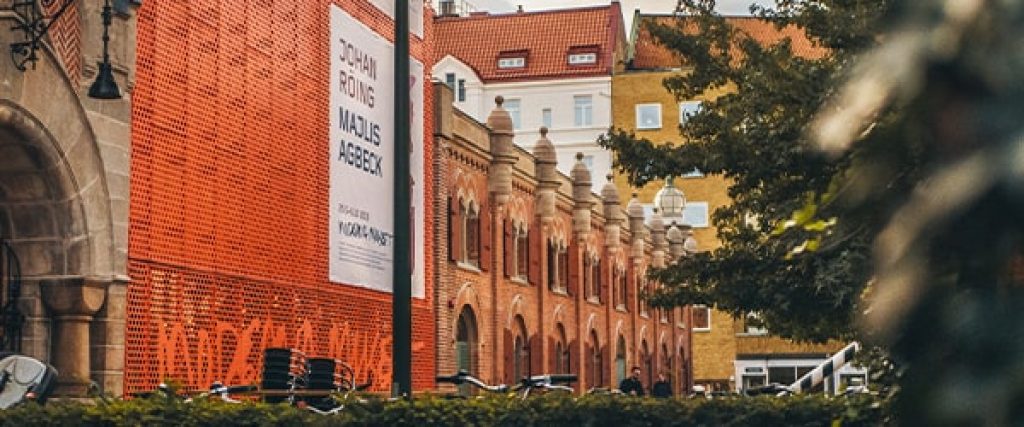 Walk around in the central parts of Malmö and you'll likely stumble upon a local art gallery. Ranging from local artists to international galleries, there is something for most art aficionados in Malmö.
The Gallery Night (or more recently Gallery Week as it has been so popular they had to extend it) is a magical event for anyone interested in the creative arts. The whole central area of Malmö comes alive at night for a week in September, when every single gallery and loads of popup galleries on top of stay open all night for art lovers to browse, drink, buy and enjoy themselves. And, perhaps more importantly, it gives local artists a unique opportunity to reach the people of Malmö.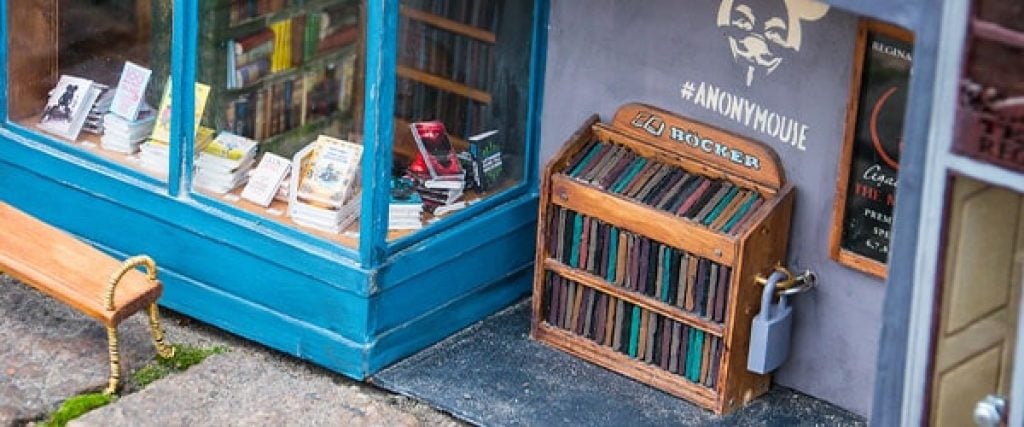 Walking around Malmö you might accidentally come across a tiny and often cheese-oriented art exhibition by the local artist Anonymouse, but you could also walk right by if you don't pay attention (and no one could really blame you). Scattered around the city are little fictional mouse-related businesses, such as Ricotta Records, Barbershop Hair and Furever, or Sacrebleus Jazz Club. Some are in nearby Lund, and there is even one on Isle of Man for whatever reason!
The tiny worlds are not only meticulously laid out and beautifully built, they are also very cleverly placed in areas one would not shed one thought on had it not been for the tiny mouse establishments temporarily occupying the space, forcing you to pay attention to the smallest details of the city streets.
The city itself hasn't been late to embrace this new art form, and has even dubbed itself "The Mice Capital of Scandinavia" in this video that highlights Anonymouse's mouse amusement park:
The most recent project was a cozy harbor in a fountain at the hospital area, where health workers, locals, and visitors could marvel at the tiny boats, docks, clock towers, and restaurants included in the exhibit.
The miniature work of Anonymouse has made worldwide headlines because of how unique it is, and if you get a chance to view one of them in person, it's definitely a unique treat.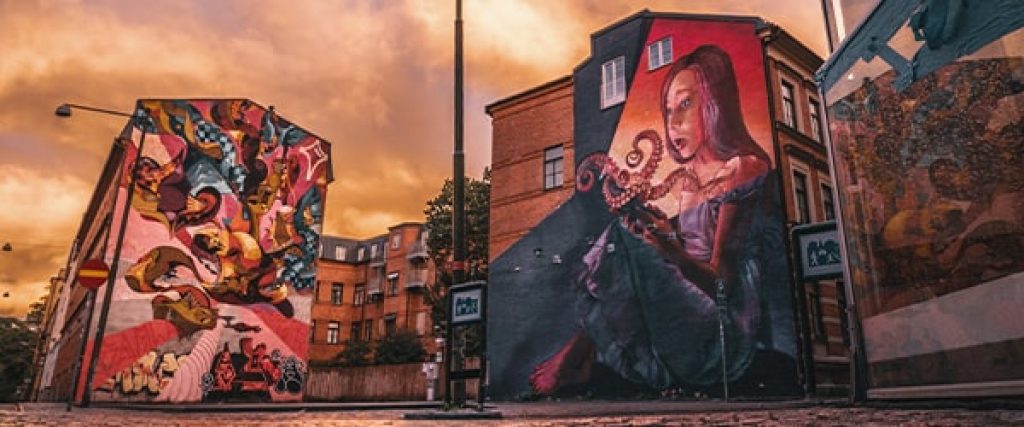 From the amazing street murals scattered across the city, to the ever-changing graffiti walls; street art is not only embraced in Malmö, it is Malmö.
The Artscape initiative started in Malmö in 2014 and created Europe's first street art festival responsible for most of the murals all over the city. 2021 saw the launch of a new Artscape project centered around the Sofielund neighborhood, where murals from both local and international artists have started appearing on the walls.
Head over to Folkets park south-western corner for an ever-changing graffiti gallery displaying the voice of Malmö. Or the designated wall at parking garage P-huset Anna, located a bit more central, where you almost always see someone working on something new.
The street murals at Grynbodgatan/Ostindiefarargatan (pictured above) brighten up an otherwise drab parking lot, as do the murals in Holma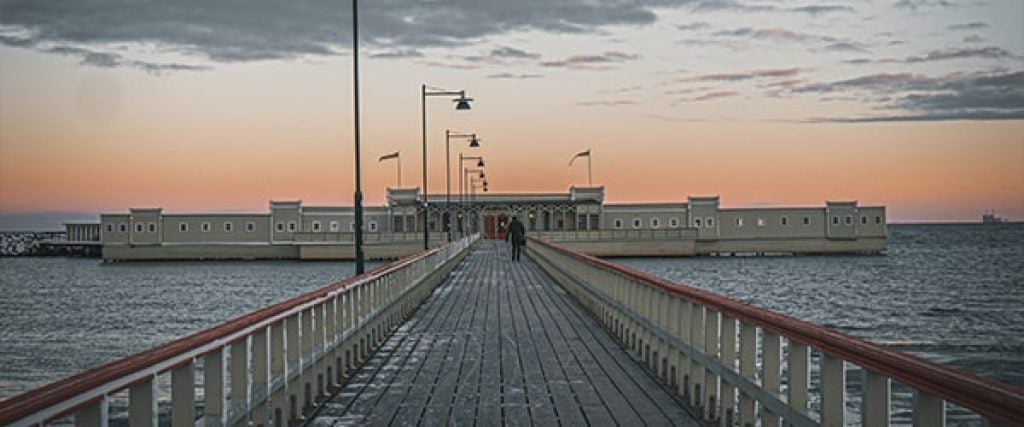 Ribban beach—very popular during the warmer months—can be a great destination even deep into southern Swedish winter (which usually hovers around 0°C/32°F). All throughout winter, the people of Malmö can be seen walking out on Ribersborg's Pier 1 for a uniquely Nordic experience; ice-swimming at Kallis. Or at least very-cold-water-swimming, since Öresund isn't always covered by ice in the winter.
Ribersborgs kallbadhus (as it's officially called) is an open-air public bath open for skinny dipping all year long and nothing short of a Malmö classic.
Located on Ribersborg beach pier 1, the bathhouse has two separate sections for men and women, each with two saunas and a hot tub to get warm after the cold dip. There is also a mixed sauna for those who prefer that, and a cozy cafe/restaurant in connection to the bath.
Ice-dipping is a very popular winter activity in most of the Nordics, and is used as a well-being tactic to strengthen your immune system and create bonds with friends and family. The ice-cold water has been observed to elevate your body's production of white blood cells, which in turn make you more resistant to common colds and the likes.
So what better way to spend a grey winter day in Malmö, than to do the most Nordic thing you could and boost your immune system in the process?
↗️ Open in Google Maps
ℹ️ Website
📞 Phone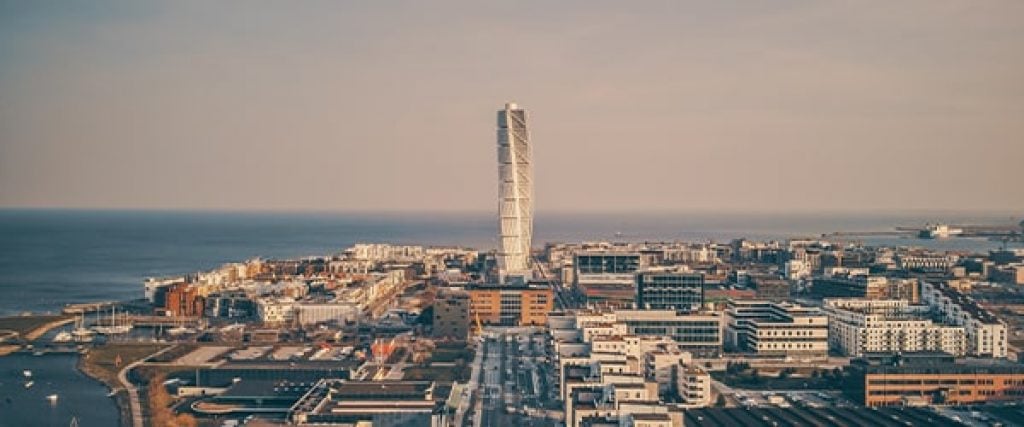 Turning Torso is a brainchild of award-winning architect Santiago Calatrava, the neo-futurist twisting tower reaches 54 stories and 190 m/623 feet up in the air, which makes it the tallest building in the Nordics.
The building turns 90 degrees from bottom to top, and was planned as part of the extravagant Bo01 housing exhibition area that surrounds it in Västra hamnen, an innovative, sustainable, and super walkable neighborhood with cozy alleys and canals mixed with ocean boardwalks and… an enormous twisting skyscraper tower.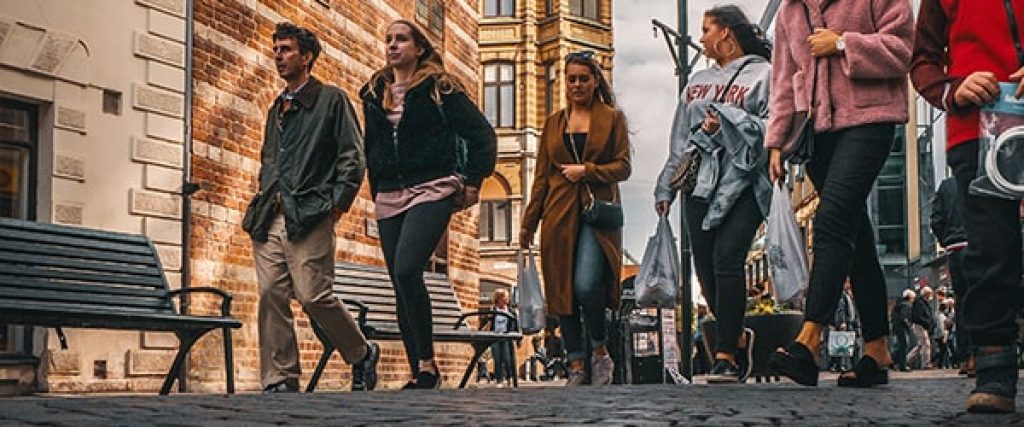 The most Malmö way to shop might be to walk along the so-called "shopping streets" that are going through the central parts of the city, from the Central station going south through Södergatan, Gustav Adolfs torg, Södra förstadsgatan, Triangeln, and all the way down to Södervärn/Möllevången. For the most part this is a pedestrians-only street packed with shop after shop.
The square markets are generally a good source of fruits and vegetables, and are mostly happening at Möllevången or Gustav Adolfs torg.
At "Möllan" you'll also find the very hipster-friendly shopping mall Mitt Möllan, as well as a whole bunch of smaller unique international food shops. For fashion and vintage head on over to Davidshall for an endless amount of cute little vintage shops.
Malmö is also home to one of the biggest malls in Scandinavia, the Emporia shopping mall located by the Hyllie Station on the south side of Malmö. Other malls that may be worth visiting if that's you're kinda thing is Hansa, Triangeln, and Mobilia.
Gågatan / Shopping street
↗️ Open in Google Maps
Mitt Möllan
↗️ Open in Google Maps
Emporia Shopping Center
↗️ Open in Google Maps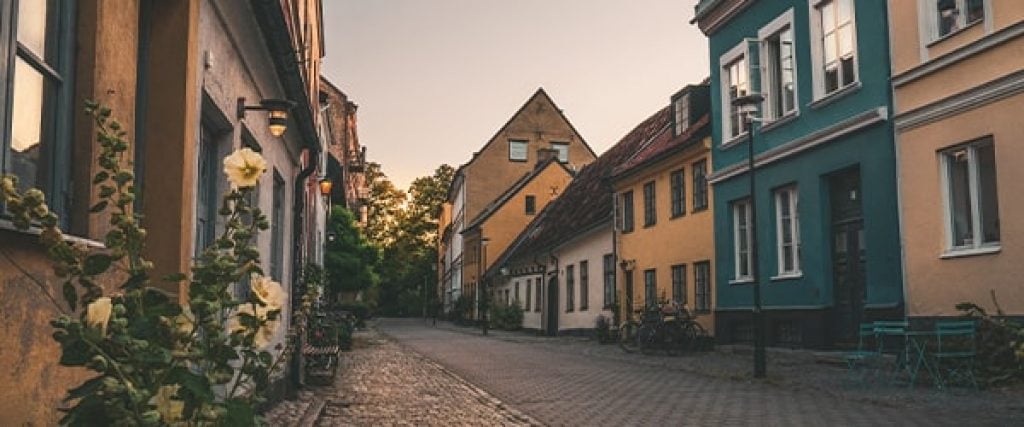 Whilst wandering around Gamla väster it's tempting to just sit down at one of the many spots on Lilla torg and call it a day, but if you've been there, done that, there's plenty more spaces tucked away in the neighborhood.
Let's head over to Slottsstaden for some more cozy spots:
Finally, it doesn't get much cozier than plopping down in one of the parks for a bite or a coffee, for example: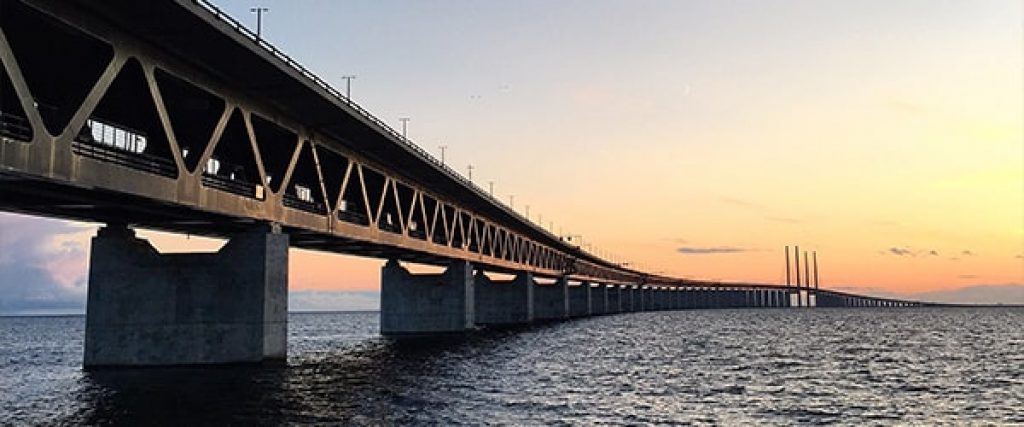 Most recently made famous in the award-winning Nordic Noir series The Bridge, the Öresund Bridge has been arguably the most important construction project the city of Malmö has ever undertaken.
The bridge is a joint effort between Sweden and Denmark, and more specifically Malmö and Copenhagen which are the two cities the bridge connects. As Malmö was losing jobs and inhabitants in the 1990s due to financial crisis and the crash of the city's industrial sector, the city looked down and out up until the extremely elaborate and revolutionary building project was underway.
When the bridge open for traffic in 2000 the city started an upward swing that hasn't stopped since, and with talks of an underground tunnel connecting central Malmö to central Copenhagen, the by now strained capacity between the two cities will become larger to accommodate the huge demand.
You should be able to see the bridge from most coastal spots in Malmö, but there is also an official viewpoint (↗️ Open in Google Maps).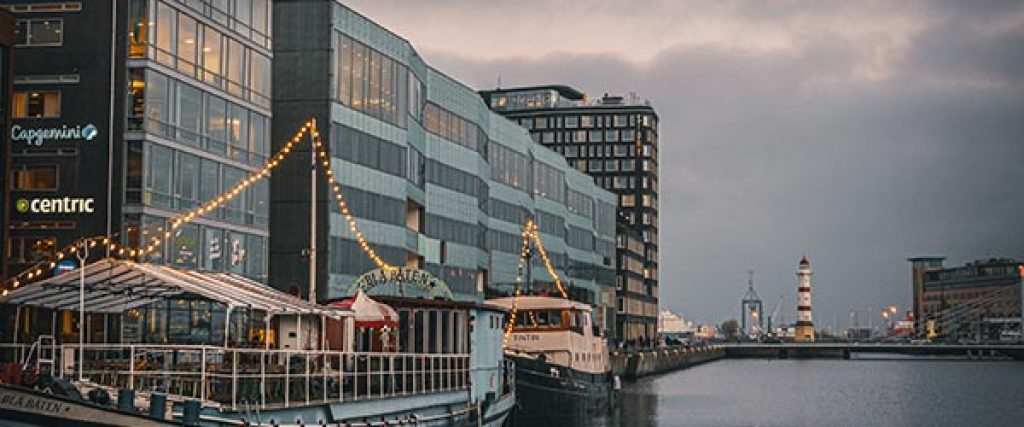 The University of Malmö has 24 000 students and has risen the academic ranks in recent years, but still has not earned the same type of reputation as the nearby Lund University has. It is still a good university located very centrally in the city of Malmö—which may be a winning formula, as Malmö has won the Swedish student city of the year 2021-2022.
The university library Orkanen along the harbor is worth a visit if only just to stroll next to it on the boardwalk walking up towards the trendy Studio. The exterior of the building is fittingly lined with famous lines of text on top of the modern facade.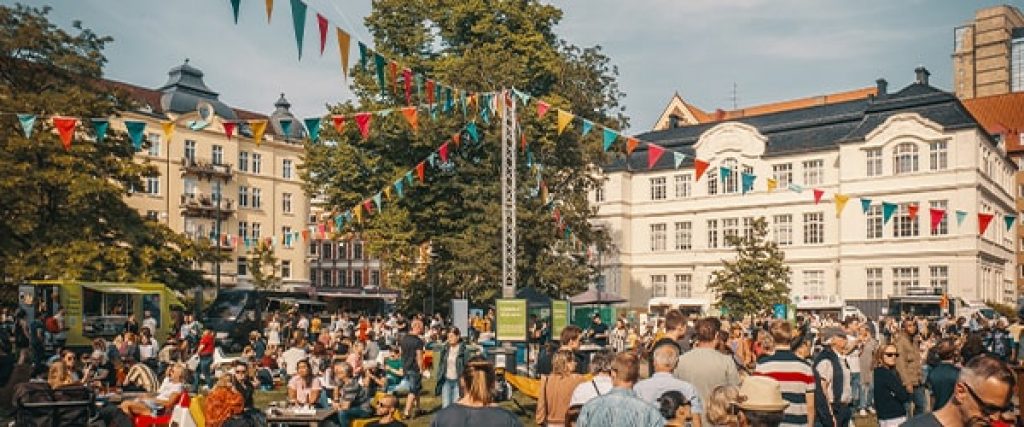 The culture of Malmö is unique as far as Swedish cities go, and this is something other Swedes generally are quick to point out whenever they meet a Malmöite. From "continental" and "multicultural", to "cocky" and "boisterous"—the people of Malmö have been called many things over the years, most of the time—but not always— in a tounge-in-cheek kind of way because, well… Malmöites can usually take it, and are usually at least some of those things.
I've written a more detailed article about the culture of Malmö, if you are interested in finding out more.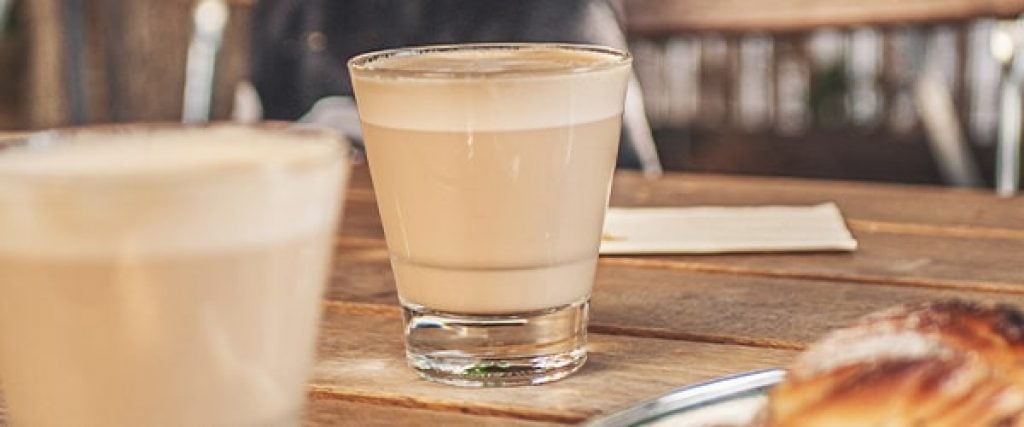 Fika is an institution in Sweden (the act of sitting down and having coffee and something sweet with friends for the uninitiated), and that holds true in Malmö as well. A lot of really good cafés has already been mentioned, but for those that are craving some good coffee and cake ("kaffe och kaka") and want the whole list in one spot, here is a list of all the best Malmö cafés: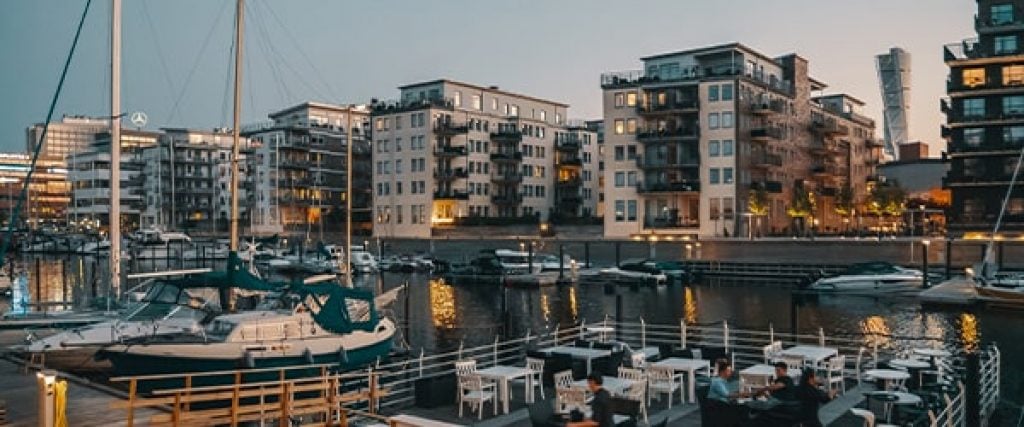 Arriving by boat? No problem! Malmö has a bunch of marinas that can care for your boat while you're exploring the city, but perhaps more importantly these marinas make for great places to hang out and watch the boats for those of us who don't have one but like the atmosphere (and let's get real, that's probably most of us).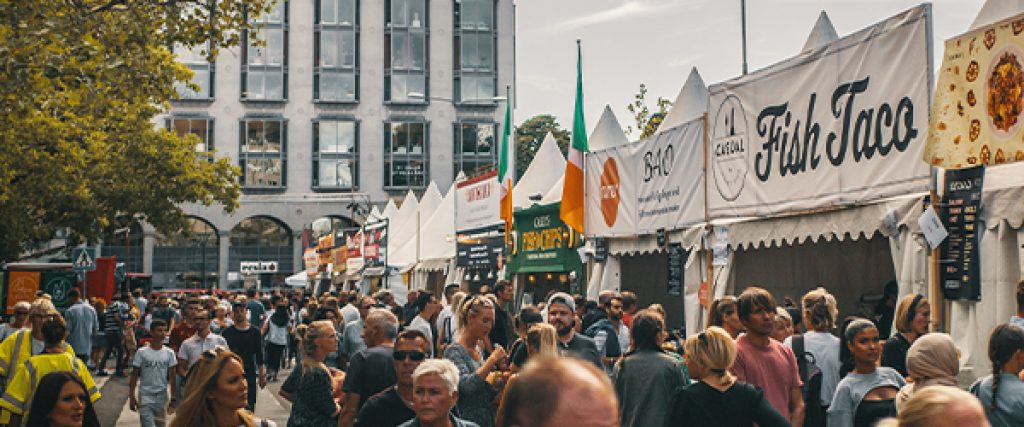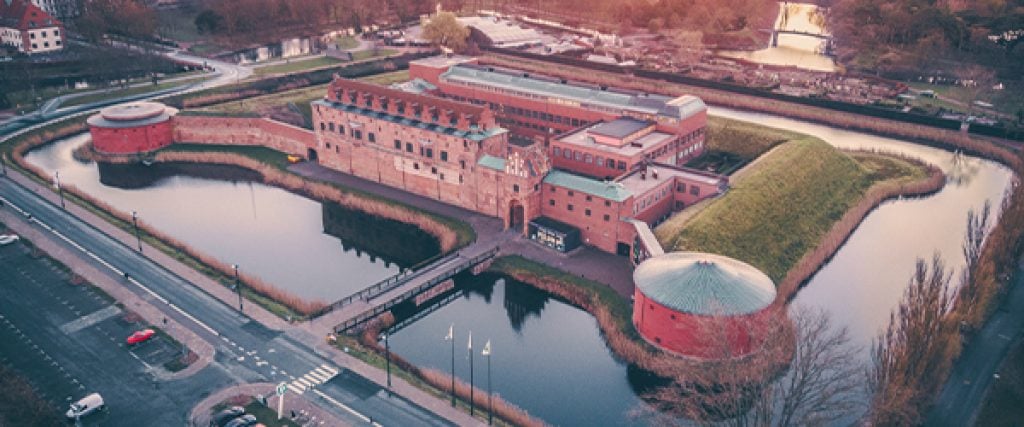 Malmöhus Castle is the Nordics' oldest renaissance castle and was originally built in 1434, and then expanded in the mid-16th and mid 17th centuries to its current form. It has been a museum since 1937, and parts of Eric of Pomerania's original fort still remain here to this day.
The castle offers a unique and picturesque exterior with its moat and red bastions, and on the inside there is an aquarium, café, castle exhibit, and usually a changing exhibit that has some connection to Malmö.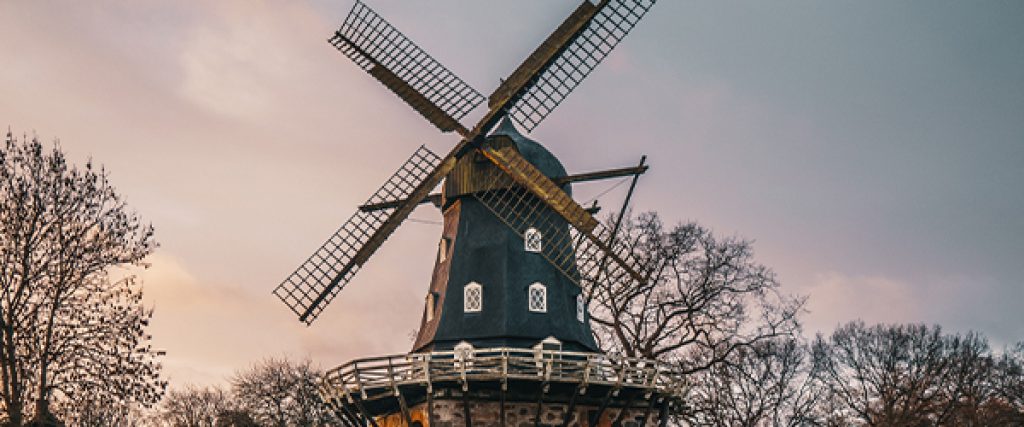 Malmö and its surroundings have some charming windmills that will take you back to simpler times, the primary one being Slottsmöllan right next to the Malmöhus Castle.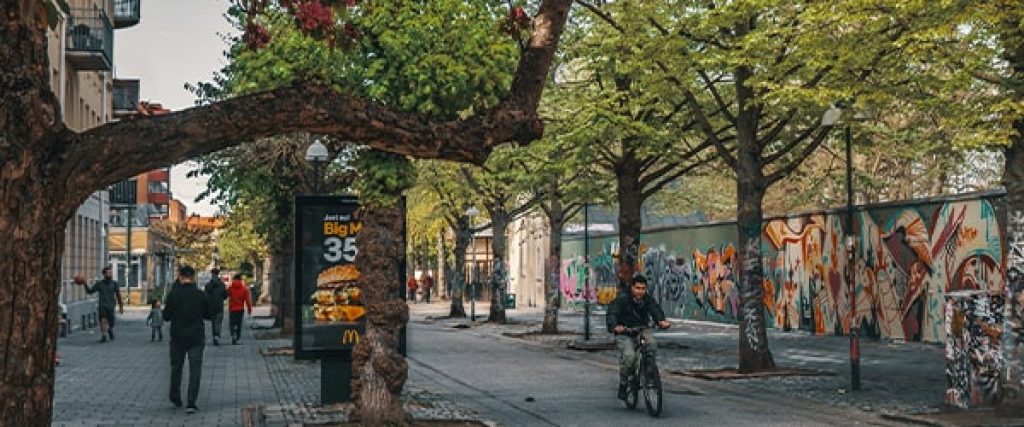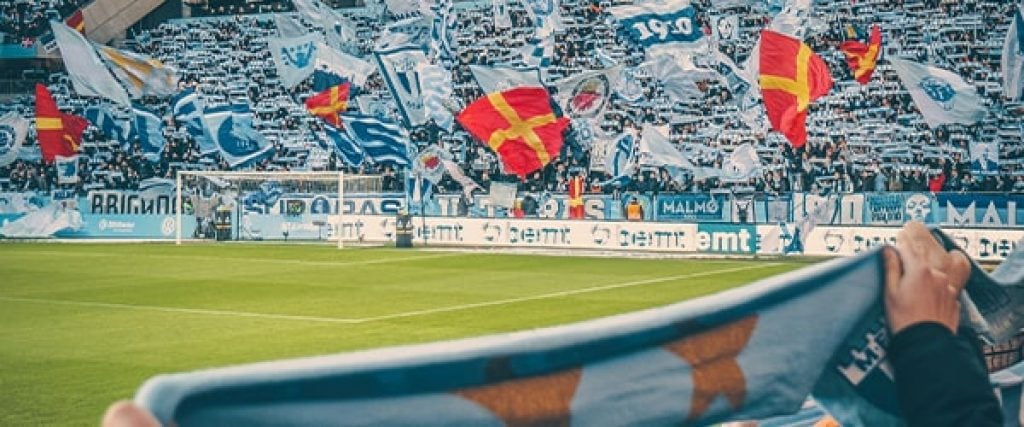 If you visit Malmö during soccer/football season and you are into sports, a Malmö FF game on the team's home stadium Nya Malmö Stadion (cap. 22 500) is guaranteed to be a unique experience and a good opportunity to catch a glimpse of Malmö culture.
The stadium (also called Eleda Stadion) has earned the nickname Hechenkessle ("witch kettle" in german), first by RB Salzburgs manager Adi Hüttler, and later by European media in general after Malmö hosted game after game in the European cups where the atmosphere was extremely lively and loud.
MFF supporters does indeed hold the record for the loudest game in Sweden with 127 dB registered, so don't fret if it gets rowdy around you; it's just another game day!
↗️ Open in Google Maps
ℹ️ Website
📞 Phone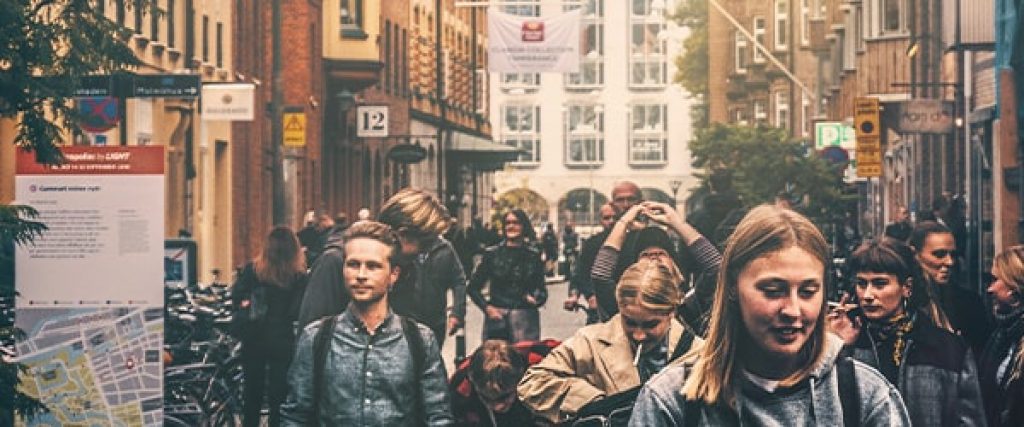 Malmö has some of Europe's most walkable streets, with a huge push in recent years towards a pedestrian-first approach in the city's residential neighborhoods. Streets where cars previously thundered by have been transformed into calm and cozy pedestrian-only streets where the cafes/bars/restaurants have been given extended access to the street with more outdoor seating, and people can walk around without worrying about cars or the noise they bring.
One of the classic Malmö ways to go shopping is to stroll up and down one of the first pedestrian-only streets; Gågatan ("the shopping street"). Essentially stretching from the Central Station via Stortorget, Södergatan, Södra förstadsgatan, to Triangeln and Johannestorget. It does now technically extend into Friisgatan as well, as the cafe- and restaurant-packed street has recently been assigned a pedestrian-only street by the city.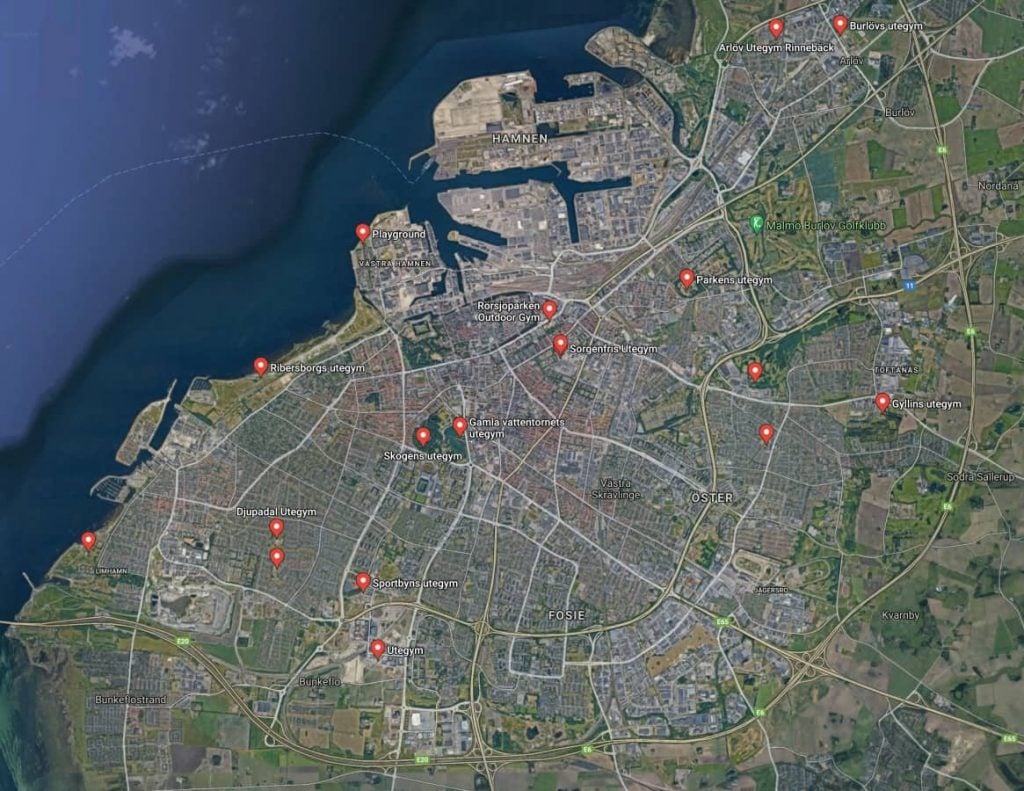 Malmö is way cheaper than Copenhagen, Stockholm, Gothenburg, and Oslo when it comes to total travel cost, according to both Budget Your Trip's user surveys as well as my own numerous experiences over the years.
Granted, Malmö may not be able to compete against the capital cities in many other ways, but the city does still have a lot to offer for a lot less than the other top 5 biggest Scandinvian cities.
This goes for cost of living as well, which is why so many people live in Malmö and work in Copenhagen (as close as 20 min away by train or car).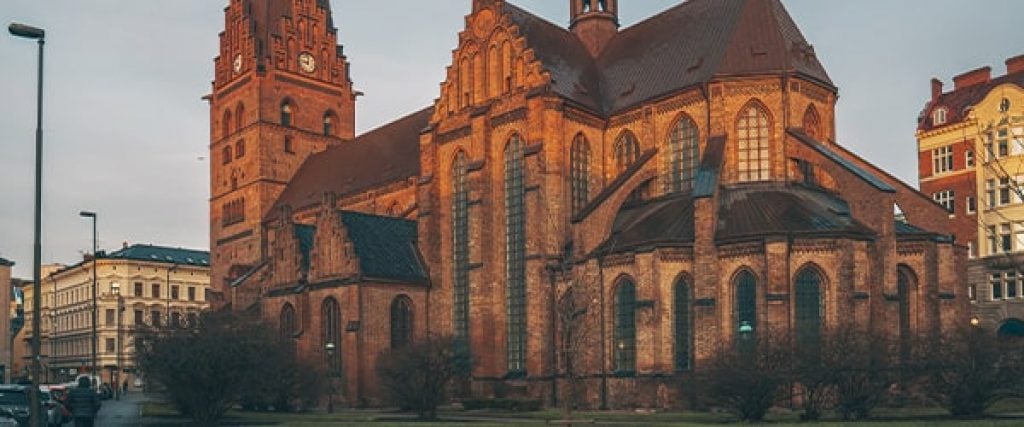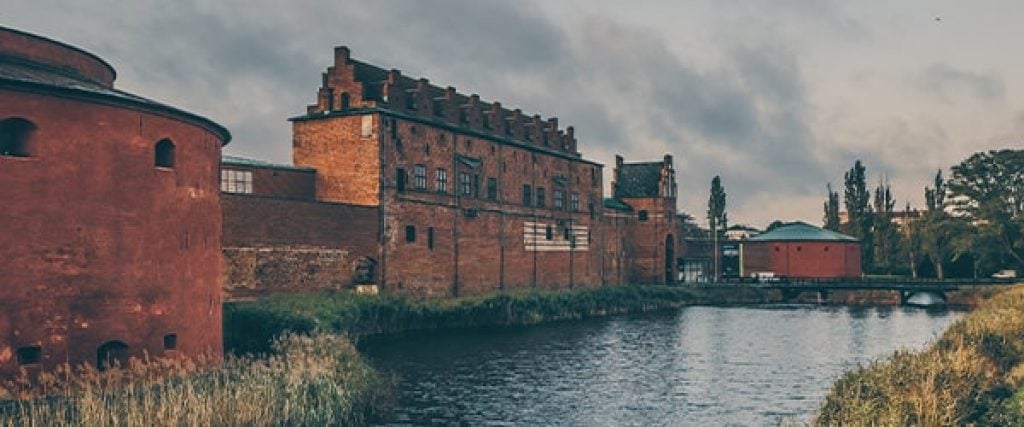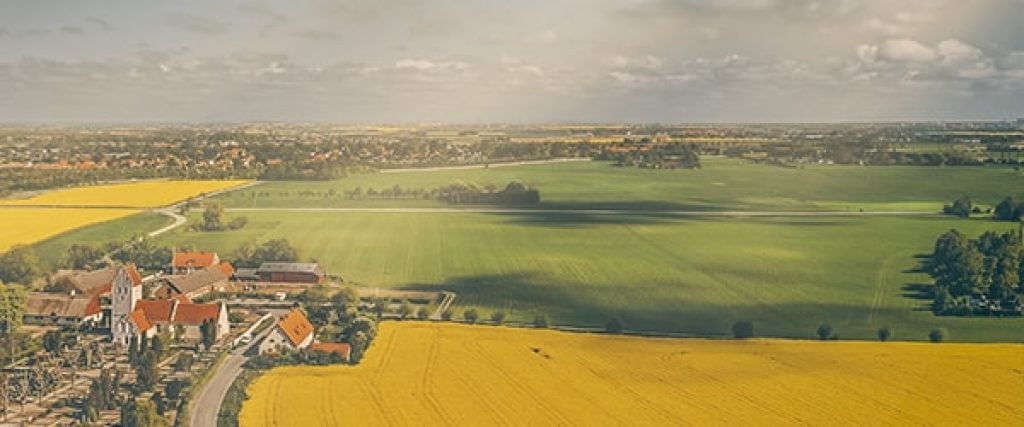 Lund
Malmö might be southern Sweden's largest city, but it ain't the oldest. That honor goes to Lund, founded in 980 by Harald Bluetooth (yes, that Bluetooth) and the main city in Skåne before Malmö took over that title. This is where you'll find Lund Cathedral, a Romanesque-style building from the 1100s; Lund University (est. 1666), sister school to UC Berkeley and frequently one of the top 100 universities in the world; a whole bunch of cozy alleys with timber-framed houses; and beautiful squares such as Mårtenstorget, Clemenstorget, and Bantorget.
Skanör med Falsterbo
If you are a beach lover and feel like Ribban beach is a bit too busy for you, take a trip down to the southwestern tip of Skåne: Skanör med Falsterbo. The two towns are situated on the Falsterbo peninsula, and have miles and miles of perfect sandy beaches (as we mentioned closer to the top) along with 1902 hours of annual sunshine. Hang out on the beach and swim in the ocean, eat lunch at Skanörs Fiskrögeri (specializing in smoked fish), and stroll around in the old towns.
Lomma
Lomma is situated a mere 15 min train-ride north of Malmö, and is home to Lomma beach which attracts loads of sun-worshippers in the summer and offers a ton of beach activities. There is also a small harbor and a boat tour that takes you along the Höje stream. Bokskogen For the nature lovers, Bokskogen (near Torup) is a true oasis just outside the city. Marvel at Torups Castle, take a walk in the magical forest, or enjoy one of the many free activities the city of Malmö offers here during the summer and fall.
Jakriborg
Go to Jakriborg if you're interested in the New Urbanism movement (like the Poundbury project in England by Prince Charles). It's an estate located halfway between Malmö and Lund, and was built in a New Classical style starting in the late 1990s. It is a cozy small village inspired by the Hanseatic cities of pre-industrial Northern Europe, and is thus built in an organic way with many small and maze-like alleys and not a straight street in sight.
---
Start Planning Your Trip to Malmö
One thing's for sure, Malmö has a ton of things to do and places to go. And it still feels like I haven't even scratched the surface on what to do in Malmö when you visit. I hope you'll get a chance to visit and try any (or all?) of these things, and if you do—make sure you let me know how it goes! So whatcha waiting for? Book your flights, find your accommodation, and start mapping out your travel plans today!
Curious how Malmö stacks up against other major Nordic cities? I've written an article on how Malmö stacks up as a travel destination, specifically compared with Copenhagen and Stockholm.
---
Sources:
https://www.malmobusiness.com/app/uploads/2017/12/Vad-%C3%A4r-Malm%C3%B6-Rapport.pdf
http://www.diva-portal.org/smash/get/diva2:829925/FULLTEXT01.pdf
https://ec.europa.eu/regional_policy/sources/docgener/work/qol2020/quality_life_european_cities_en.pdf