The stereotypical Viking is often depicted as tall as a tree and strong as an ox—but is there actually any proof of this, or is it just a myth? Let's explore the evidence archeologists have gathered over the last few decades, and settle once and for all how tall and strong the Vikings actually were.
How Tall Were Vikings Actually?
Vikings were quite tall even by modern standards, with the average Norse male found to average around 176 cm (5 ft 9¼ in) in height, based on three different studies of Viking skeletons from Sweden, Norway, and England. The taller Vikings reached around 190 cm and the shorter ones around 170 cm.
Fairly recent mass-grave findings in Sweden also show Scandinavians from the Viking Age who reached around 180–190 cm tall (around 5'9″–6'3″), and the largest Viking DNA study ever embarked upon (published in Nature in 2020) shows that Vikings in general were highly likely to be tall based on their DNA.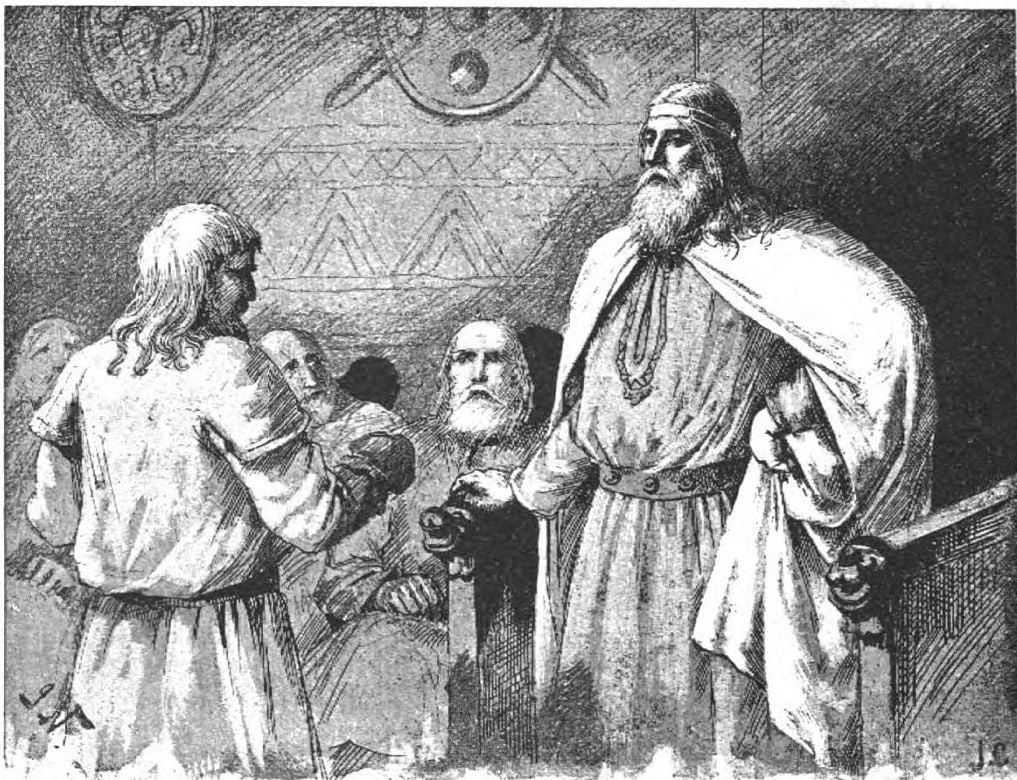 So yes—the Vikings were definitely tall, and to give you a better sense of their relative height, here are the average heights of adult males during the Viking Age, derived from sizable archaeological findings around Europe (including Vikings, Anglo-Saxons, and Romans):
Avg. height of adult males during the Viking Age (in cm)
| | |
| --- | --- |
| Vikings, England (C Falys 2014) | 176.0 cm (5 ft 9¼ in) |
| Vikings, Norway (W Short 2010) | 176.0 cm (5 ft 9¼ in) |
| Vikings, Sweden (R Gilberg 1976) | 176.0 cm (5 ft 9¼ in) |
| Northern Europeans Average (R Steckel 2004) | 173.4 cm (5 ft 8⅛ in) |
| Vikings, Iceland (J Steffensen 1958) | 172.3 cm (5 ft 7⅝ in) |
| Vikings, Scandinavian Average (E Roesdahl 1987) | 172.1 cm (5 ft 7⅝ in) |
| Anglo-Saxons, England (G Galofré-Vilà 2017) | 172.0 cm (5 ft 7⅝ in) |
| Norse, Denmark (A Winroth 2014) | 171.0 cm (5 ft 7⅜ in) |
| Global Average (based on archeological findings) | 170.0 cm (5 ft 7 in) |
| Romans 500 BCE–500CE, Italy (G Kron 2005) | 168.0 cm (5 ft 6⅛ in) |
If you're thinking to yourself, "that actually doesn't seem so tall", keep in mind that the current average male height in the US and England is 175.3 cm (5 ft 8⅞ in), and humans on average are a lot taller today than they were a thousand years ago (due to a more plentiful diet mainly).
How Tall Were the Anglo-Saxons?
The average Anglo-Saxon during the Viking Age was around 172.0 cm, or 5 feet and 7⅝ inches, according to a 2017 study by G Galofré-Vilà. This was about 3 centimeters (or 1.2 inches) shorter than the average Viking based on skeletal remains from Viking graves in England, Sweden, and Norway.
The Arab chronicler Ibn Fadlan reaffirms the assumption that Vikings were comparably tall, being quite impressed with the size of a group of Norse "merchants" (specifically Rus, Vikings with Swedish origins) he encountered on his travels near the Volga river. He describes them this way:
I have seen the Rus as they came on their merchant journeys and encamped by the Volga. I have never seen more perfect physical specimens, tall as date palms, blonde and ruddy; they wear neither tunics nor caftans, but the men wear a garment which covers one side of the body and leaves a hand free.

Ibn Fadlan
We also hear about figures in the Norse sagas such as "Thorkel the Tall", and Göngu-Hrólfr (who was so tall he apparently couldn't sit on a horse), who were described as giants compared to other men.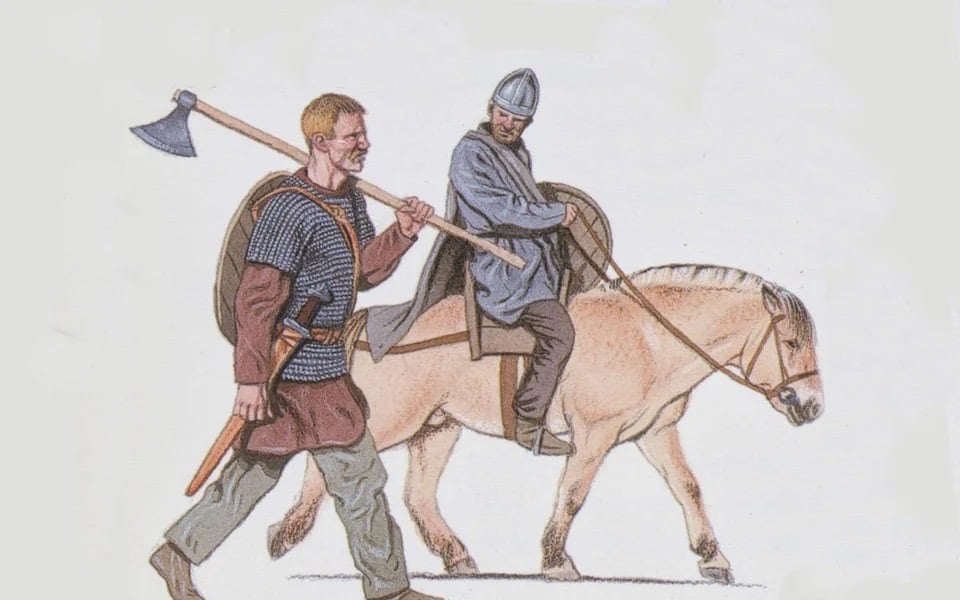 But are the sagas actually reliable when it comes to the size of the heroes they portray? Well, William Short, author of Icelanders in the Viking Age, believes that when "the sagas describe feats of extraordinary strength" they "may not entirely be heroic exaggeration".
We'll explore this more in the next section, where we take a look at how strong the Vikings actually were.
How Big and Strong Were Vikings Really?
Vikings have been found to weigh up to 140 kg (309 lbs) based on archeological findings, and were documented as stronger (on average) than most people they encountered.
The sagas and annals of the Viking Age reveal feats of great strength, such as the Norse axeman who single-handedly kept the English army at bay in the battle of Stamford Bridge, killing some 40 Englishmen before dying himself (as documented in the Anglo-Saxon Chronicle).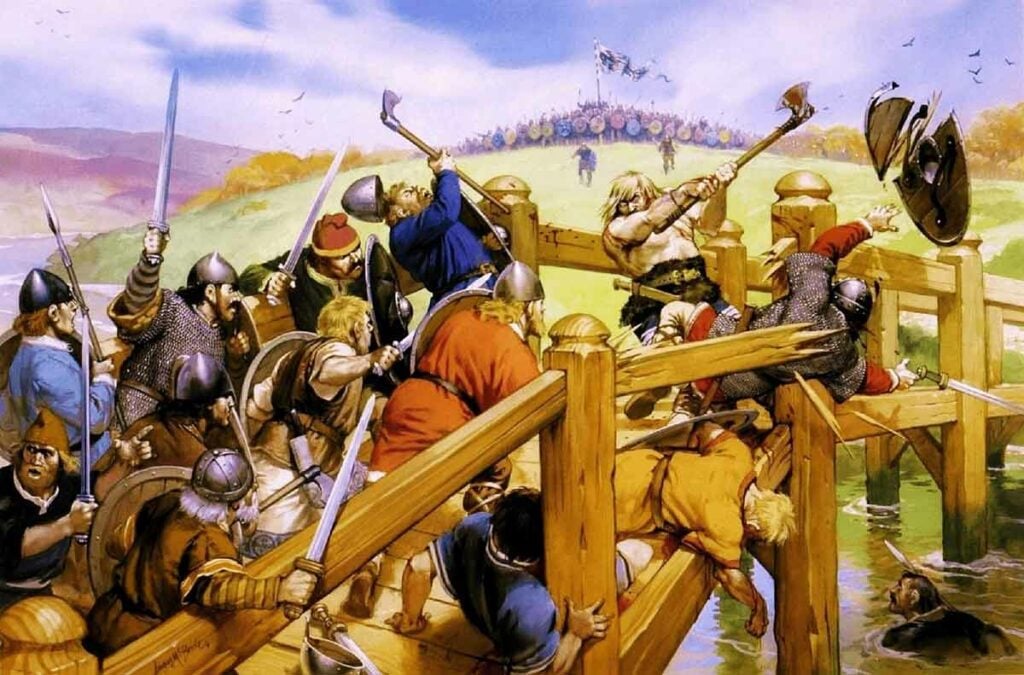 While some stories may be exaggerated, analysis of skeletal remains shows larger-than-average muscle mass in Norsemen from the Viking Age.
Archeological evidence on display at the Viking Museum of Oslo shows some very large Norsemen that are believed to have weighed around 130-140 kilograms, which amounts to 287-309 pounds.
The size and strength of Vikings are also discussed further in William Short's Icelanders in the Viking Age, where he writes the following:
One significant way in which Viking-age Scandinavians differed from modern people is in their physical strength. It is likely that people in the saga age routinely had strength capabilities greater than those typical of modern people. The sagas often tell tales of exceptional strength, which is supported by several forms of archaeological evidence.

William Short, Icelanders in the Viking Age: The People of the Sagas (2010)
And if we look at the Norse sagas specifically, many of the Vikings described in these were named after their abnormal strength, size, or general prowess:
Gǫngu-Hrólfr ("Walking Rollo"; too big to ride a horse)
Björn Ironside (legend said he could not be harmed in battle)
Thorkell the Tall (incredibly skilled warrior and leader of Jomsvikings)
St. Olaf the Stout (the only Viking to be canonized, and evidently very large)
What Were the Factors Behind the Stronger-Than-Average Vikings?
Vikings were genetically disposed to be tall on average (A. Margaryan et. al. 2020), and started training to become capable warriors from a very young age based on what we know of Norse society in the Viking Age.
We also know they had a diet full of carbs (bread), protein, and fat (fish, pork) based on DNA studies and the Norse sagas, which combined with constant physical activity from a young age is likely to produce stronger-than-average men and women.
It's also worth keeping in mind that being a Viking was more of a profession than ethnicity, and seeing as that profession included raiding, pillaging and striking fear into the minds of their enemies, it makes sense that these folks were a bit larger and stronger on average.
---
Sources:
https://www.jstor.org/stable/pdf/27702690.pdf
https://www.nature.com/articles/s41586-020-2688-8
https://books.google.se/books/about/The_Annals_of_Fulda.html
https://www.ox.ac.uk/news/2017-04-18-highs-and-lows-englishman%E2%80%99s-average-height-over-2000-years-0
https://www.arkeologi.uu.se/Research/Projects/viking-phenomenon/
https://www.researchgate.net/publication/270795692_St_John's_College_Oxford_St_Brice's_Day_Massacre_Chapter_3_A_Late_Saxon_Mass_Grave_The_Human_Bone
https://books.google.se/books?id=E26YDwAAQBAJ
https://books.google.se/books?id=XZ4ZDAAAQBAJ
https://arkeologerna.com/bloggar/kyrkoarkeologi/okand-kyrkogard-hittad-i-vreta-kloster/
https://varldenshistoria.se/civilisationer/vikingar/vikingar-slaktades-och-slangdes-i-massgrav
http://pediatrisk-endokrinologi.no/2008/1/Werner_2008_1.pdf
https://forskning.ku.dk/soeg/result/?pure=da/persons/26558
Similar Posts: