What is a typical Swedish dinner? You'd expect Swedish classics such as meatballs to be undisputed favorites here, but instead Swedish dinner tables are dominated by Italian courses such as Spag Bol and Pizza, or Mexican ones such as Tacos. You'll find plenty of traditionally Swedish food as well, of course, but the foreign courses are currently the most popular for Swedes.
So if you for whatever reason want to start eating dinners Swedish style, or if you just want to prepare yourself mentally before a visit, I'll be walking you through everything you need to know about Swedish dinner eating habits below.
ℹ️ This is an unbiased article based on data from legitimate polls and studies. Still, being a native Swede myself I've included personal references or perspectives when it can provide some value. Smaklig måltid! (bon apetit!)
What's a Typical Swedish Dinner?
An everyday dinner for the majority of Swedes consists of a protein source primarily made up of ground beef or pork (meatballs, meat sauce, sausage, etc.), chicken or fish, combined with carbs in the form of pasta, potatoes, or rice. It's also common to eat pickled and preserved vegetables and fruits such as cucumbers and lingonberries, as well as a sauce of sorts (gravy, tomato, etc.).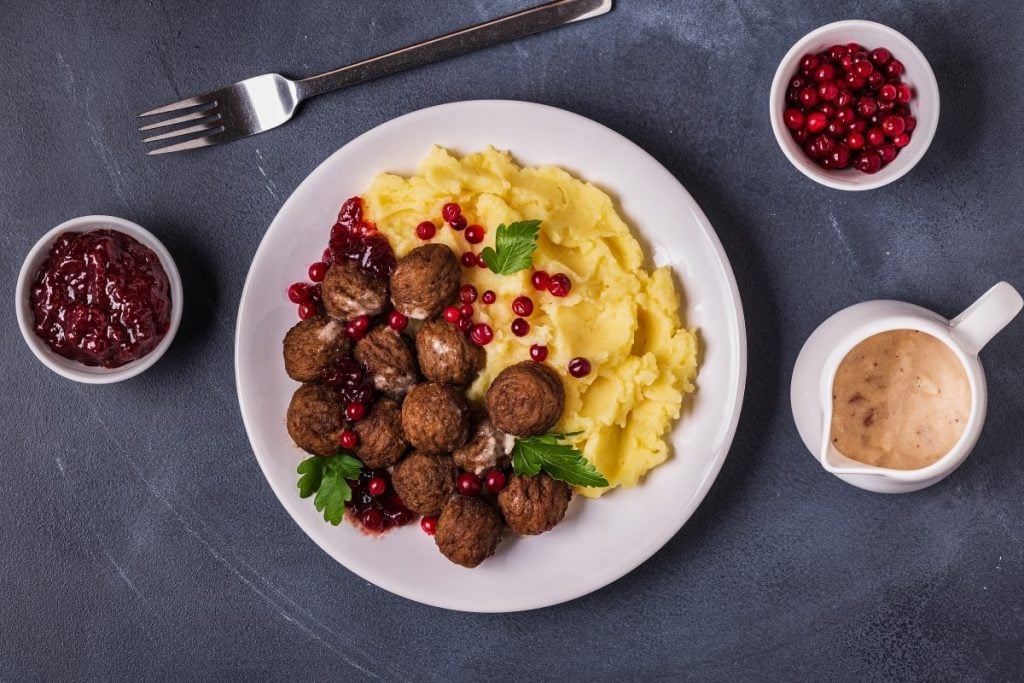 What is the most popular everyday dinner in Sweden?
Here are the top 10 most popular everyday dinner choices among Swedes according to Food Friends Matrapporten 2021:
Spaghetti Bolognese 9.5%
Chicken and side dishes 9.1%
Pasta dishes 8.9%
Fish 7.2%
Korv Stroganoff 4.5%
Salmon 3,7%
Meatballs and side dishes 3.5%
Sausage and side dishes 3.2%
Soups 3.1%
Sallad 2.1%
In our family, I'd say Spaghetti Bolognese takes the number one spot as well, and when I do the cooking it's often Korv Stroganoff that gets requested by the kiddos.
While I was growing up and living with my parents, we often had Spaghetti and Korv Stroganoff as well, along with Fish, Meatballs, Sausage, Chicken, and Salmon.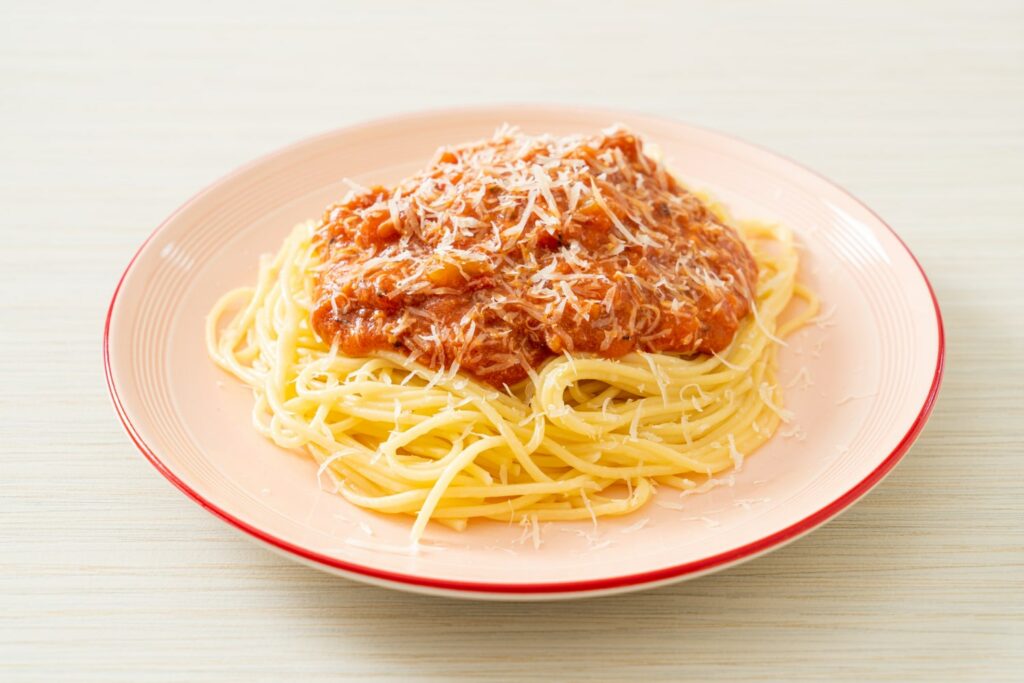 What is the most popular weekend dinner in Sweden?
Tacos 9.3%
Pizza 9.1%
Beef with side dishes 8.7%
Chicken 7.4%
Fish with side dishes 5.9%
Pasta 4.9%
Grilled meat 4.9%
Hamburgers 4.3%
Salmon 3.2%
Pork tenderloin 2.5%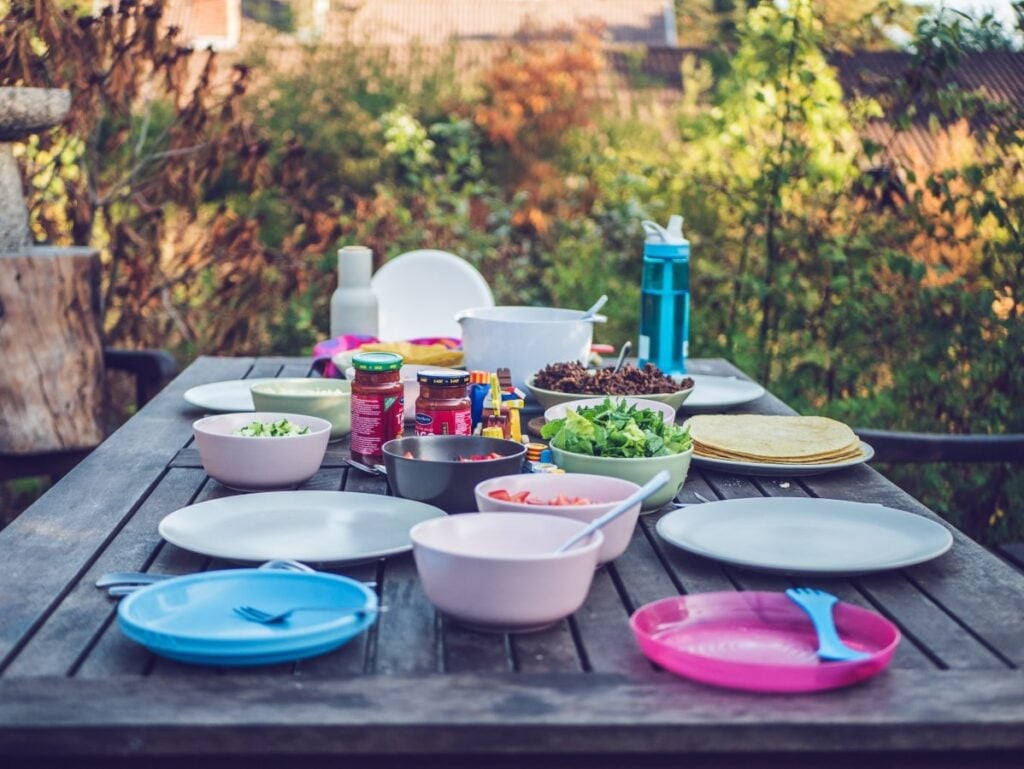 I'd estimate the majority of Swedish families are eating Swedish-style Tacos on most Fridays, as there is a massive Taco-Friday movement in Sweden that borders on meme status at this point.
And although the actual statistics only give a 9.3% chance of Tacos on Swedish dinner tables over the weekend, it's still enough for Tacos to claim the #1 spot as the most popular weekend dinner course in Sweden.
What do Swedes generally drink with their dinner?
The vast majority of Swedes (66%) drink tap water along with their dinner. After tap water, Swedes prefer either sparkling water (26%) or milk (22%). The most popular alcoholic drink with Swedish dinners is beer (11% between strong and light beer) followed by wine (7%).
Here is a full list of drinks Swedes prefer around the dinner table, along with the percentage who picked each option:
Tap water 66%
Sparkling water 26%
Milk 22%
Soda 14%
Juice 11%
Fruit drink (not juice) 8%
Wine 7%
Light beer 6%
Strong beer 5%
Non-alcoholic beer 4%
Plant-based drink 3%
Non-alcoholic wine 2%
Other 3%
Different Types of Dinner Courses Common in Sweden
Meatballs and Mashed Potatoes with Brown Sauce, Lingonberries, and Pickled Cucumbers – Sweden's signature dish is a classic loved by kids and adults alike. Cannot be served without lingonberries.
Spaghetti Bolognese with shredded Parmesan cheese – The Italian classic is the most popular dinner course in Sweden for a reason; it's just damn good and fairly uncomplicated.
Korv (Falukorv) Strognanoff with rice – Definitely not to be confused with Beef Stroganoff, this comfort food course is based on the Swedish version of Bologna or Luncheon sausage, cooked in crushed tomatoes, and served on rice. My kids claim this as a favorite of theirs.
Swedish-style Mexican tacos – Seasoned ground beef, hard shells and soft tortillas, salsa, sour cream, cheese, vegetables (diced cucumbers, tomatoes, onion and lettuce). Does not taste very Mexican, still a damn good meal every time.
Pork Tenderloin with Potato Gratin and Bearnaise Sauce – Usually a weekend treat, this nicer cut of Pork is usually served with bearnaise sauce or similar, as well as potato gratin or fries.
Grilled pork with potato salad (summer only) – Every Swede who has ever had access to a grill love to cook and eat the simple combo of grilled pork and potato salad. The pork can be anything from the the cheaper "Flintastek", to the juicier pork loin.
Pytt-i-Panna – Diced potatoes, sausage, beef, and onion (basically everything but the kitchen sink; perfect when you have a bunch of leftovers) served with fried eggs and red beets. A traditional Swedish classic that can be wipped up in no time.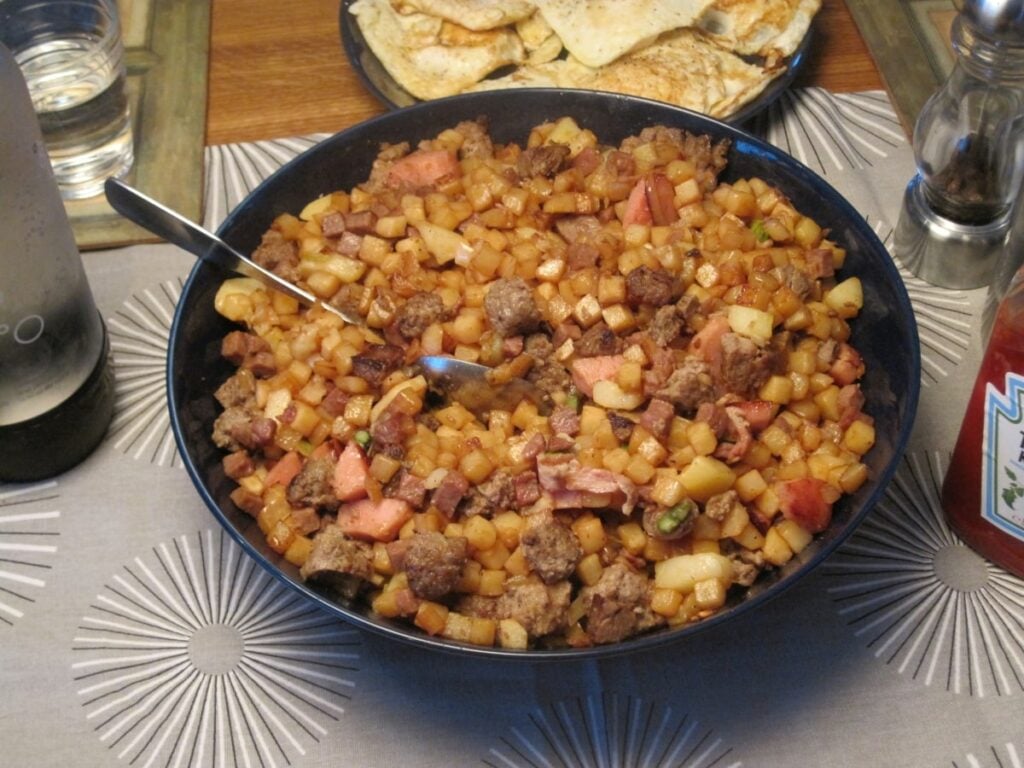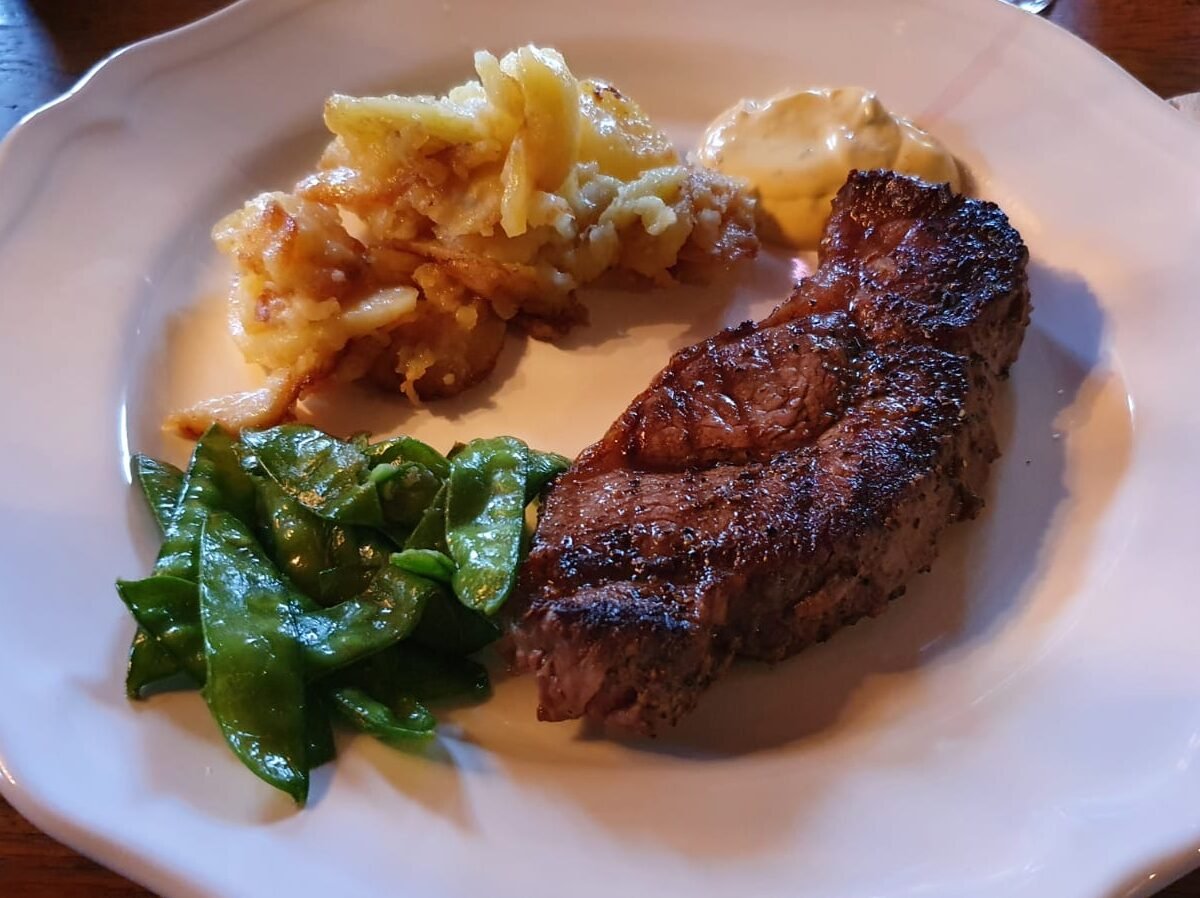 Do Swedes eat similar types of dinners every day?
Most Swedes generally follow a similar weekly food menu, composed of some type of fish on Tuesdays, one random day of Korv Stroganoff & Rice, Tacos on Friday, and either Pizza or barbecue on Saturday depending on the season.
Most Swedes love following daily and weekly routines, and take great collective comfort in their repetitive nature (I am for sure guilty of this myself in certain ways).
How Swedes actually eat dinner
Do Swedes eat as a family most evenings?
9 out of 10 Swedes eat dinner as a family most evenings, but only 1 in 5 do this every evening.
Do You Regularly Eat Dinner With Your Family?
Middagsrapporten 2021
Do You Always Eat Dinner With Your Family?
Middagsrapporten 2021
It is worth noting that 56% of Swedes also report that they feel like they are eating together less as a family today, which hints of a growing trend to split up dinner time within families.
Do Swedes like to invite friends over for dinner?
Swedes do like to invite friends over for dinner, with 1 in 3 saying they have friends (of kids or adults) over for dinner regularly.
But perhaps this is still not as much as other cultures do, as many Swedes can tell tales of awkward moments when they had to sit and play in their friend's room while they were eating dinner (something many cultures could not imagine doing).
Do Friends (of Kids or Adults) Regularly Eat With Your Family?
Middagsrapporten 2021
Do Neighbors Come Over For Dinner Every Now and Then?
Middagsrapporten 2021
At the same time, 40% of Swedes feel like they invite friends over less often today, which could definitely be related to changes in behaviors due to the pandemic.
How Much Takeout & Delivery Do Swedes eat?
Do You Eat Takeout or Delivery At Least Once Per Week?
Middagsrapporten 2021
Swedes love their takeout (a.k.a. "take-away") and the fleets of food delivery drivers are growing rapidly in most bigger cities in Sweden, which certainly spurs on the growing Swedish mood for outsourcing dinner.
Do Swedes Eat TV Dinners often?
One in three Swedes report that they eat in front of the TV or computer at least once per week, which is a growing trend globally speaking inspired by American culture primarily.
Do You Eat In Front of Your TV or PC At Least Once Per Week?
Middagsrapporten 2021
When do Swedes usually eat dinner?
At home: Around 5pm–7pm (most work days end between 4-6pm)
At restaurants: Around 5pm-9pm
Swedish vs. American Dinner
The typical Swedish dinner is, while the typical American dinner usually consists
Here are the most popular dinner dishes in each respective country:
| Sweden 🇸🇪 | USA 🇺🇸 |
| --- | --- |
| 1. Spaghetti and meat sauce | 1. Rice, chicken, and salad |
| 2. Chicken and side dishes | 2. Potato, cheese, and beans |
| 3. Pasta dishes | 3. Bread, egg, and bell peppers |
| 4. Fish | 4. Fries, beef, and tomato |
| 5. Korv (Sausage) Stroganoff | 5. Quinoa, turkey, and broccoli |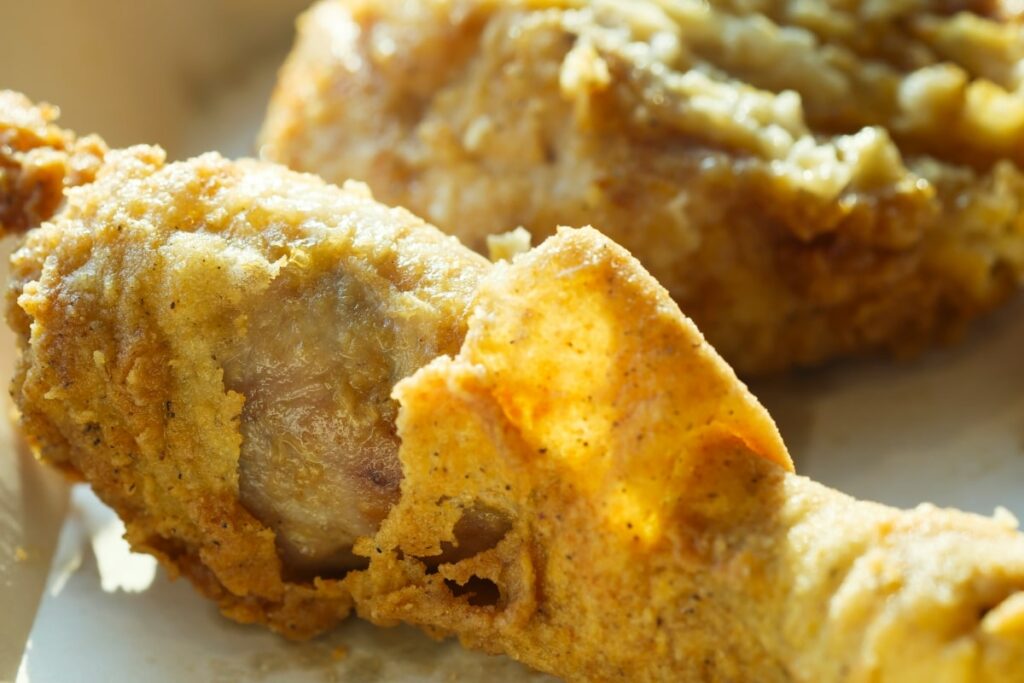 Swedish vs. English Dinner
The UKs favorite meal is a roast dinner according to a recent poll conducted by Hammonds. Looking at family meals, the UK and Sweden seem to share a common appreciation for Italian food according to research commissioned by Belling, with Spag Bol claiming the #1 spot in both countries :
| Sweden 🇸🇪 | UK 🇬🇧 |
| --- | --- |
| 1. Spaghetti Bolognese | 1. Spaghetti Bolognese |
| 2. Chicken and side dishes | 2. Pizza |
| 3. Pasta dishes | 3. Roast chicken |
| 4. Fish | 4. Fish fingers |
| 5. Korv (Sausage) Stroganoff | 5. Fish and chips |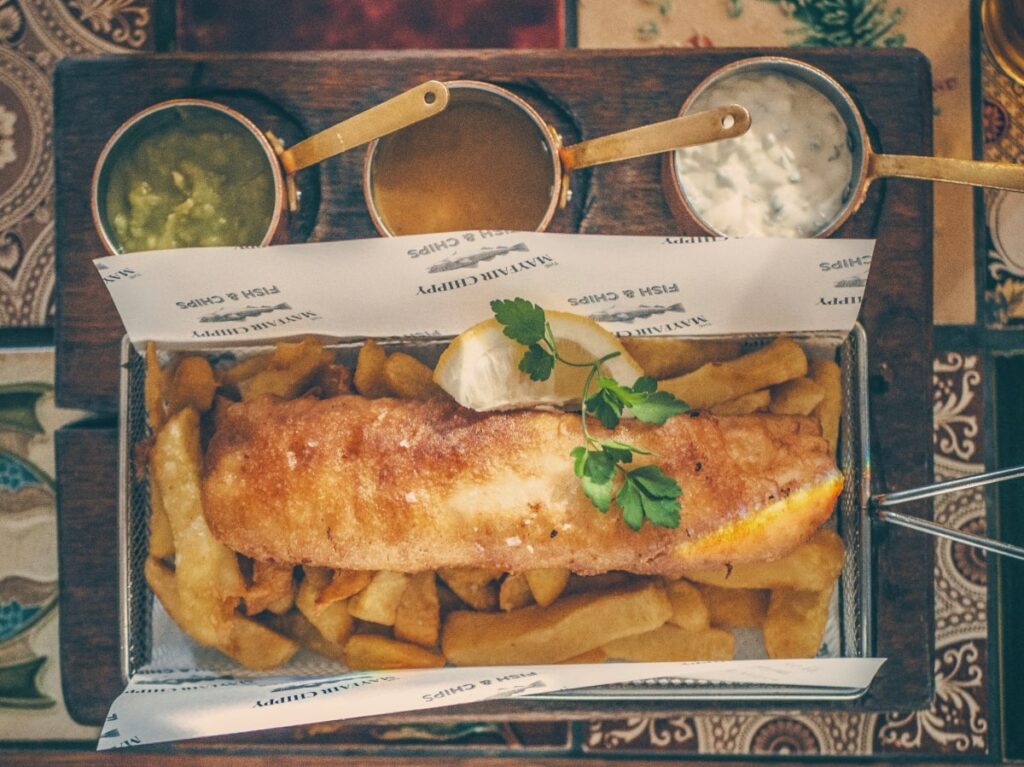 ---
Sources:
https://www.livsmedelsverket.se/en/food-habits-health-and-environment/dietary-guidelines
https://www.foodfriends.se/wp-content/uploads/2021/07/Matrapporten_2021_web.pdf
https://www.foodfriends.se/wp-content/uploads/2019/06/Matrapporten_2019_web.pdf
https://issuu.com/tulipfood/docs/tulips_middagsrapport_a4_21_pdf
https://www.healthline.com/health/food-nutrition/what-americans-eat-for-dinner
https://www.thesun.co.uk/news/7954553/britains-most-popular-meals-revealed/
Similar Posts: