If you're like me, you like to make sure that TV shows are actually good before you invest your time in binging every episode of every season. Can't risk sinking too much time into something that will only disappoint in the end, right?
Now, I don't want you to simply take an internet stranger's (that would be me) word here either, so I have gathered and compiled unbiased and reliable data that will give you a pretty good idea of how good Vikings is overall, per season, and per episode.
So, Is Vikings Actually Any Good?
Vikings has received an average rating of 8.5 on IMDb, placing the show alongside series such as Mr. Robot, The Newsroom, Generation Kill, and Sons of Anarchy (all with a 8.5 rating). It's safe to say that if you could see yourself enjoying a Viking age action drama in general, this will be a good watch for you.
The show has received similarly good ratings across different media rating services around the web, with both critics and audiences agreeing that the series is well worth watching, producing an average score of 87% across all media rating services covered in this article.
Vikings
Average rating across different media rating services for History Channel's 'Vikings'.
Rotten Tomatoes Critic Score
9.3
Rotten Tomatoes Audience Score
8.5
In the end, I think any show that sets out to tell the story of Ragnar Lothbrok's adventures is going to be interesting and gripping if told well. And I think the showmakers did succeed in many ways with this show, at last in making the stories from the Norse sagas exciting and educating all at once.
That said, Vikings shouldn't be taken as historical gospel, as the showmakers chose to take hefty liberties with historical characters and dates, in order to make the story more interesting.
After all, the series creator has not claimed to present an accurate account of history, but instead admits the main objective is to be entertaining first, and not educating.
A show that does focus more on historical accuracy is The Last Kingdom, where we follow the Viking invasion of Britain and the conflict between the Danes and the Saxons.
Related reading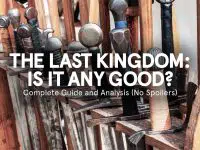 Is The Last Kingdom Worth Watching?

I've written an article for anyone who wants to know more about The Last Kingdom and figure out if it's any good. So if you've considered watching the show
The Last Kingdom
but haven't decided if it's worth the watch yet,
read the article
.
The fact still remains that the show opened up many people's eyes to the Norse world and the historical events that took place in the Viking age, and I for one think that's great.
But how did it hold up over the six seasons?
How Good Each Season is In Vikings vs. Game of Thrones vs. The Last Kingdom
I think Vikings is very entertaining and extremely hard to stop watching for the first four seasons. It is very much comparable in quality to other shows delivering a similar type of entertainment, such as Game of Thrones and The Last Kingdom.
That said, I personally hold GoT (minus the last two seasons) at least one notch higher than Vikings, and I do prefer the more muted and "realistic" style of The Last Kingdom as far as representations of the Viking Age goes.
I still do love the style of Vikings, and although it goes a bit over the top from time to time, it has an excellent music score laid over beautiful cinematography throughout the show. The music really helps in setting the right mood, and in transporting you back in time to the harsh realities of life in Viking times.
But don't just take my word for it!
Let's see what other viewers think by taking a look at how each 'Vikings' season rate on IMDb, and also compare it to The Last Kingdom (another Viking Age TV series that I think is well worth watching), and Game of Thrones (a similar-ish show most of you have likely seen or at least heard of).
Vikings vs. Game of Thrones vs. The Last Kingdom: IMDb Rating Per Season
Vikings ratings do not quite reach the heights of either Game of Thrones or The Last Kingdom, but it does come pretty close for the first 4 seasons.
Related reading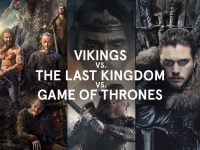 Vikings vs. Last Kingdom vs. Game of Thrones
Curious how The Last Kingdom compares to Vikings, and how they both compare to Game of Thrones? I've compared them thoroughly in different categories and analyzed what online critics on IMDb and other sites think, in order to answer which show is the best of the three. Check it out if you're curious!
Read Article Now
We can see a huge improvement in average rating from seasons 1 to 2 that lasts into seasons 3 and 4. However, after season 4 the show hits a sharp decline in the average rating from IMDb viewers, with seasons 5 and 6 ultimately receiving much worse ratings than the previous seasons, and even worse than season 1.
Is Vikings Worth Watching After Season 4?
If you like the new characters and storylines, it's worth watching seasons 5 and 6 as there are some great episodes. However, the overall quality suffers in these two seasons and there are many who would suggest skipping them altogether if you don't want to be left disappointed.
There are still plenty of interesting storylines left to tell, and if nothing else you'll see where the characters you've grown to like end up.
This Is How 'Vikings' Episodes Rate Over the Seasons
There is no doubt the quality of 'Vikings' varies from season to season, but how exactly do the seasons compare? Let's take a look at each episode's IMDb rating and compare.
Season 1: Starts and ends with episodes that are rated fairly low by viewers, but episodes 2 to 8 all receive a rating of 8 or higher on IMDb which can be considered pretty good for TV series.
Season 2: The show receives higher average ratings across the board in season 2, culminating in an epic last episode that received an average rating of 9.3 on IMDb.
Season 3: This season is the highest rated season on IMDB, and much like season 2 it starts off with some really good episodes, and ends on a fantastic 9.3-rated final episode.
Season 4: Instead of the usual 10 episodes, this season saw 20 episodes in two parts. It also follows the trend of the previous two seasons; starting with really good episodes and ending on even better ones. Episode 15 is the highest-rated episode of the whole series.
Season 5: From season 5 the show starts receiving lower scores in general, with only a few episiodes going against the stream with a rating of around 8.5, in a season that otherwise hovers around 7-7.5 in average rating (which is still good, but not quite as good as previous seasons).
Season 6: Much like the previous season, we see many tops and valleys in this one. This season also receives a low average rating overall, mixed with a couple of really good episodes here and there.
Summary
Vikings is a highly rated TV series that is well-liked by viewers and critics alike. The first four seasons are especially highly rated, with the final two seasons receiving noticeably lower ratings despite a few great episodes. Episode 15 of season 4 is the highest-rated episode of the show, with a 9.6 average rating on IMDb.
---
Was this article helpful?
---
Sources:
https://www.imdb.com/title/tt2306299/
https://www.history.com/shows/vikings