You might consider a trip—or even a relocation—to Sweden, and you might wonder about any potential language barriers. Can you get by with English in Sweden? Do Swedes in general understand and speak English well? Short answer: Yes, but there are some things to consider.
ℹ️ Why should you trust me?
As a native Swede with an American better half and three Swedish-American kids, we hang out with many English-speaking expats living and working in Sweden.
In other words, I have seen first-hand how countless Americans and Brits get by with English in Sweden, as well as what limitations there are to keep in mind.
Key takeaway
Can You Survive in Sweden With English?
You can likely visit, study, work, and live in Sweden and get by just fine with English only, as long as your job or studies do not require Swedish proficiency.
Studies show that almost all Swedes can speak, understand and write in English (Nordic council 2021, EF 2020), mainly as they are taught English from the 3rd grade, consume lots of English media, travel a lot, and as the languages and cultures share common Germanic roots.
As I'll show further down I this article, there are also plenty of jobs and school programs available that only require knowing English, however most jobs in Sweden still require knowing Swedish as well.
So you can likely get by just fine with English only in Sweden, but in order to fully integrate into Swedish society and culture, you will have to learn Swedish at some point.
That's my take and personal recommendation after having researched this in detail, and taken my own and my English-speaking friends and family's personal experiences into account.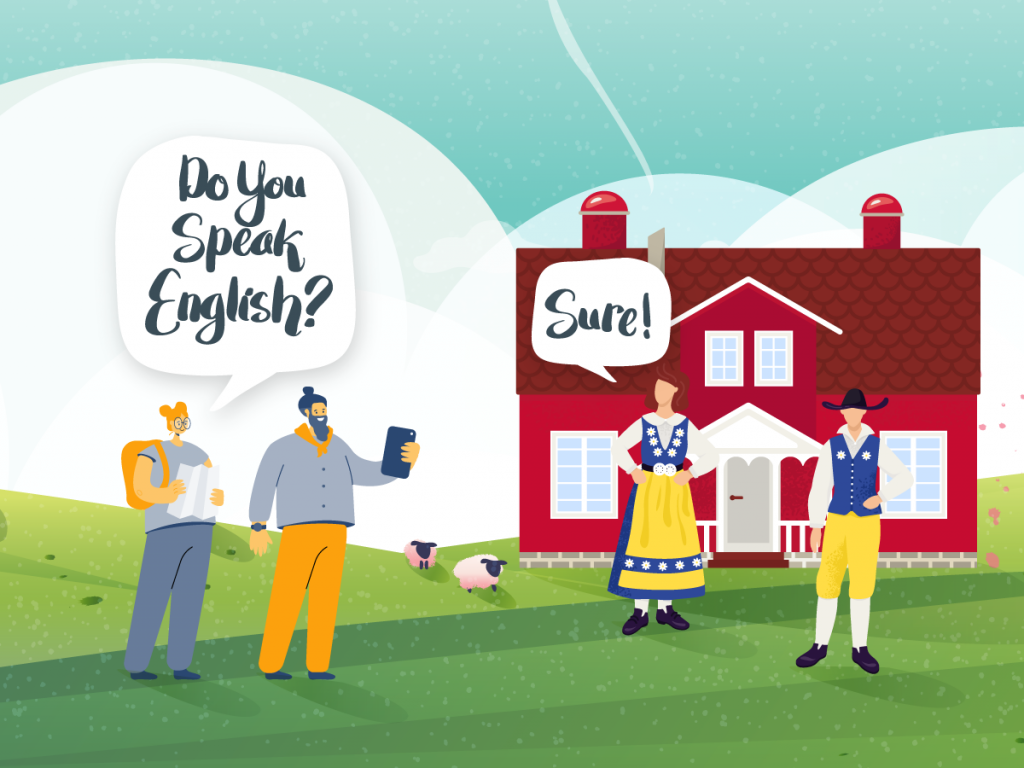 Still not convinced? Let's look at what the scientific data says about how well Swedes speak English.
English Proficiency in Sweden: What the Science Says
Most Swedes can speak and understand English quite well (though there are exceptions in the more rural parts of the country). This is both my own experience and something we can see in recent scientific surveys and research papers.
One such example is a major study conducted by the Nordic Council in 2021, in which we gain an intriguing insight into how young people in the Nordics understand and use English in their daily life.
Let's start with the understanding part. Here's how young Swedes responded when asked how easy they thought Danish, Norwegian, and English is to understand:
"It's easy to understand…"
2000 young Nordics were asked about their language comprehension. Source: Nordic Council 2021
So in plain words: Young Swedish people generally understand English better than the neighboring Danish and Norwegian languages.
My own experiences line up with this; almost all the Nordic people I have come across whilst travelling prefer to converse in English rather than in any of the Scandinavian languages.
The only exception is if you move to or work in a different Scandinavian country, in those cases we tend to learn and use the native language (or at least use an adapted version of our own language that can be understood) instead of English.
So while many Nordics can understand and converse in multiple Scandinavian languages, English is commonly the preferred language to communicate when traveling within the Nordic region.
So Why Do Swedes Know English So Well?
Every Swede starts learning English in school from 3rd grade and onwards (with some schools starting in 1st or 2nd grade), and we love to consume movies, series, and music in English as well. Swedes also travel a lot, tend to be highly educated, and of course as they share common Germanic roots and history with the English language.
What does that mean exactly? Well, as English and Swedish are both Germanic languages stemming from the same Nordic Bronze Age culture, they share many words and even some grammar.
A shared history and ancestry (the Angles, Saxons, Vikings, and Normans all originated from Scandinavia) also means many shared language elements that go back a long time, hidden as they might be to our modern ears.
But it's not just historically speaking, as the younger generation of Swedes especially seem to know English well; with more than 95% of young Swedes being able to understand and 94% being able to speak and write in English (a common trait in the Nordic region as you can see in the table below).
| Country | Can understand English | Can Speak & Write in English |
| --- | --- | --- |
| 🇩🇰 Denmark | 96% | 94% |
| 🇫🇮 Finland | 93% | 92% |
| 🇮🇸 Iceland | 95% | 98% |
| 🇳🇴 Norway | 95% | 93% |
| 🇸🇪 Sweden | 95% | 94% |
| 🇫🇴 Faroe Islands | 93% | 96% |
| 🇬🇱 Greenland | 78% | 78% |
| 🇦🇽 Åland | 99% | 97% |
| Nordic Region | 95% | 93% |
Source: Nordic Council 2021
And if we look at the population as a whole, Swedes score 4th in EF's 2020 English Proficiency Index with a "very high" English proficiency.
| Rank & Country | English proficiency level | EF EPI score |
| --- | --- | --- |
| 01. 🇳🇱 Netherlands | Very High | 652 |
| 02. 🇩🇰 Denmark | Very High | 632 |
| 03. 🇫🇮 Finland | Very High | 631 |
| 04. 🇸🇪 Sweden | Very High | 625 |
| 05. 🇳🇴 Norway | Very High | 624 |
| 06. 🇦🇹 Austria | Very High | 623 |
| 07. 🇵🇹 Portugal | Very High | 618 |
| 08. 🇩🇪 Germany | Very High | 616 |
| 09. 🇧🇪 Belgium | Very High | 612 |
| 10. 🇸🇬 Singapore | Very High | 611 |
| 11. 🇱🇺 Luxembourg | Very High | 610 |
| 12. 🇿🇦 South Africa | Very High | 607 |
Source: EF 2020 English Proficiency Index. Very High Proficiency corresponds to CEFR levels C1 and C2.
(Note: The EPI is based on TOEFL test results taken by a mix of young adults and adult language learners from a broad range of ages.)

Why You'll Get By Just Fine With English in Sweden
Swedes don't only have a very high English proficiency, most of us also love a chance to practice our English with a native English speaker.
In fact, many of my American and British friends and family have more or less struggled to learn Swedish because they rarely need to speak it to get by in everyday life.
So why is that? Well, Swedes are generally quick to switch to English as soon as they hear that someone is from countries such as the US, Canada, or the UK, for a few main reasons:
They want to practice their own English (so they can use it when traveling)
It's easier (and less awkward) to communicate in English for both parties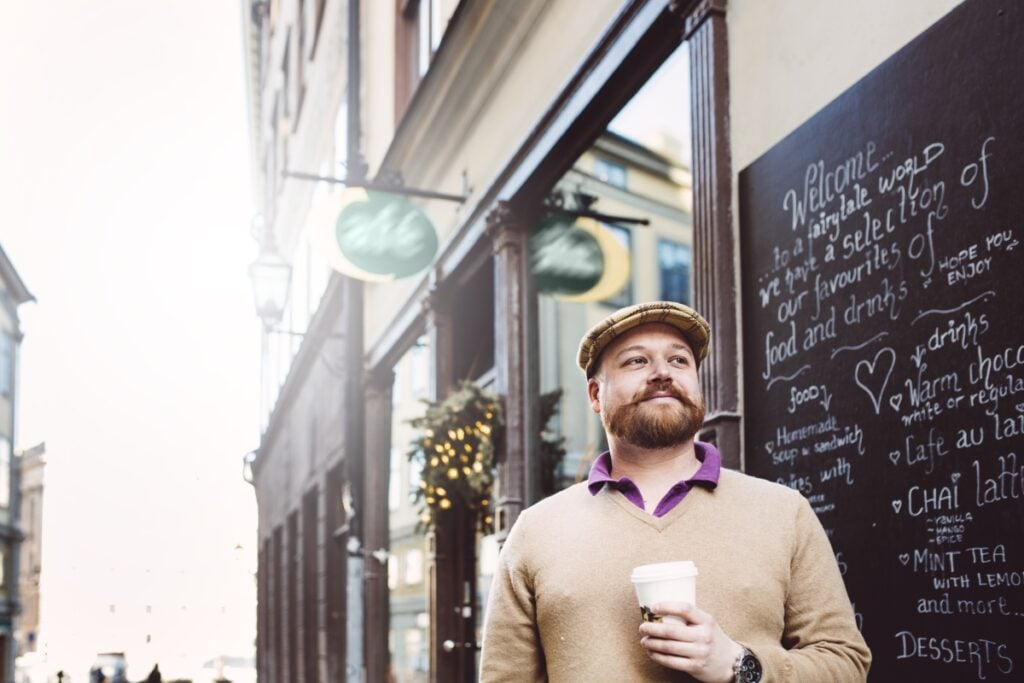 Can You Work in Sweden if You Only Speak English?
It is generally possible to work, live, and study in Sweden knowing only English for two main reasons:
Almost all Swedes speak and understand English very well,
There are plenty of job listings and university programs where English is the preferred language.
You'll find plenty of English-speaking jobs in the three biggest cities especially (Stockholm, Gothenburg, and Malmö), as shown in the data below from Swedish job portals Indeed and Jooble:
English-speaking jobs make up 19.6% (or 12201) of all jobs on Indeed, and 34.7% (or 20282) of all job listings on Jooble, giving you a good idea of how many jobs there are where English will be enough (and even a prerequisite).
It should be noted that some of these jobs are remote jobs, but they are all based out of Sweden at least.
Either way, Swedish employers have also been instructed to ease their Swedish language requirements from 2021 and onwards by the Swedish Employment Agency, opening up even more opportunities to work and live in Sweden for English natives.
That said, I strongly believe that anyone planning to relocate to a Sweden should try to immerse themselves in the Swedish culture and language.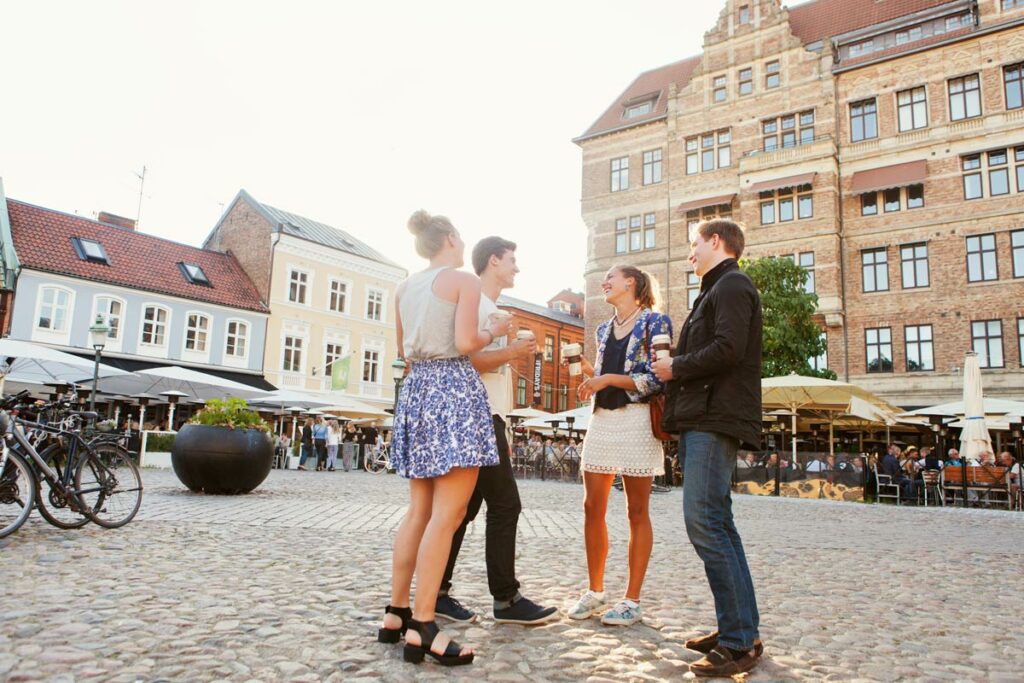 Here's Why You Should Still Learn Swedish (Even if You Can Get by With English)
Learning Swedish will not only help you immerse yourself in and learn the Swedish culture, but it will also greatly improve your chances of getting a job and making friends in Sweden.
Need more reasons? Learning a second language will improve your executive brain functions and your cognitive abilities (in other words: make you smarter!), as many studies have shown.
I also want to specifically note that a lot of situations and jobs in Sweden will require understanding and being able to speak Swedish, and in the last decade I've seen many examples of people having the competency but lacking the required Swedish language skills to land their dream job.
Stockholm residents are furthermore among the least proficient in English out of the Nordic capitals, which is of course still really good generally speaking.
Still, it shows that you'll be better off learning Swedish if you plan to stay here for a longer period of time.
---
All in all, you will encounter few instances in everyday life in Sweden when English won't be enough to make yourself understood — wether you're a visitor or a resident.
I also strongly recommend that you immerse yourself and learn the language (as you should in any other country), or you might miss out on a huge part of the Swedish experience.
Sources:
https://pub.norden.org/nord2021-004/
https://www.diva-portal.org/smash/get/diva2:1334908/FULLTEXT01.pdf
https://www.ef.se/blog/language/sverige-inte-langre-nast-bast-i-varlden-pa-engelska-ef-epi/
https://uu.diva-portal.org/smash/get/diva2:1337476/FULLTEXT01.pdf
https://se.babbel.com/popularaste-sprak-europa
Similar Posts: